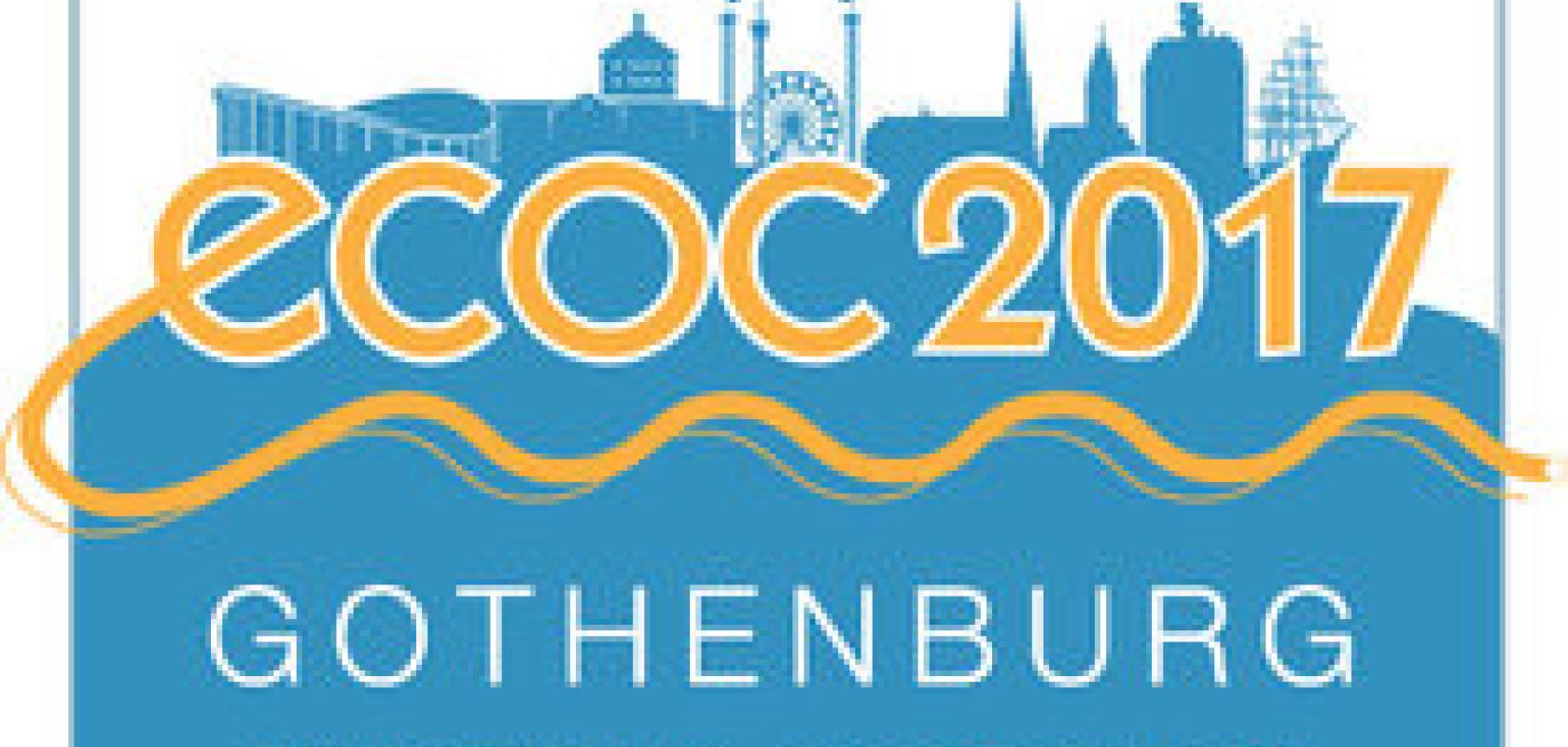 The European Conference on Optical Communications (ECOC) is Europe's largest conference and exhibition dedicated to the optical communications industry. This year the event heads to Gothenburg, Sweden in the heart of Scandinavia, a region renowned as a high-tech innovation hub.
The technical conference and workshop programme are complemented by a three-day exhibition where vendors can showcase their latest innovations in components, network systems and test instruments. Here are some highlights coming up in the exhibition hall.
Amphenol ICC will be introducing a new high-speed optical module, the Leap On-Board Transceiver (OBT), which is more compact, cost and power efficient than conventional data centre pluggable modules. The Leap OBT can be placed in a two-dimensional layout grid with a one-inch pitch between adjacent transceivers. These embedded transceivers are capable of handling speeds up to 28Gb/s with distances up to 100m, and incorporate features for transceiver optimisation, connection discovery, channel diagnostics and signal status monitoring. The devices have independent clock and data recovery circuits for each transmit and receive channel, which can be turned on or off individually. The Leap OBT is designed to install easily, connect reliably and ensure high system performance, Amphenol said.
www.amphenol-icc.com/product-series/leap-on-board-transceiver.html
---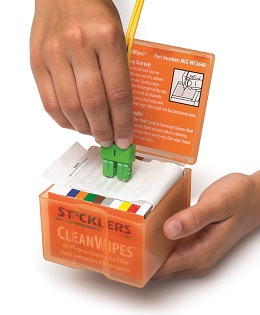 On stand #273, exhibition visitors can see the new and improved CleanWipes from Sticklers by Microcare. CleanWipes 640 optical-grade cleaning wipes provide a fast and efficient way of cleaning connectors, jumpers and bare fibre prior to splicing. They come packaged ready-to-use within a ruggedized plastic box ensuring the wipes can be transported easily and provide high-performance cleaning even in wet or dusty environments. An update to the popular CleanWipes 400 product, CleanWipes 640 includes a host of subtle innovations that field technicians will understand and appreciate, according to Sticklers. The capacity has jumped to 640 cleanings, an increase of 60 per cent over the older design, and the number of cleaning slots has doubled, so that multiple cleanings can be performed on the same piece of fabric, saving money with each cleaning.
www.sticklerscleaners.com
---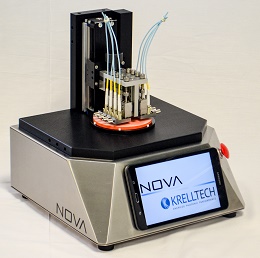 Optical polishing experts KrellTech will showcase the NOVA optical polishing system on stand #170. KrellTech has combined the proven performance and features of its Scepter, Trig and FLex polishers into the NOVA platform to create a configurable and cost-effective system that supports a variety of polishing applications, from connectors to waveguides and bare fibres to custom components. Nova is scalable to suit R&D projects, mass production, and the rigors of high-reliability field installation. Wireless tablet control provides the programming freedom required for research, as well as simplified step-by-step operation for manufacturing technicians. Workholder fixtures are easily interchangeable for each task, and optional videoscopes are available for real-time process monitoring and in-line surface inspection. Whether developing new optical devices, improving component performance or manufacturing Telcordia compliant cable assemblies, Nova is the ideal polishing system, the company claims.
www.krelltech.com
---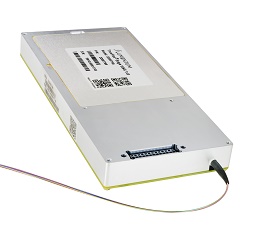 On display at Lumentum's booth #159 will be the next-generation TrueFlex Nano 1x9 wavelength selective switch (WSS), which is 42 per cent smaller, and requires less operating power than its predecessor. It is a low-profile LCOS-based (liquid crystal on silicon) optics platform, designed to support gridless networking including various modulation formats and super-channels. The TrueFlex Nano 1x9 WSS is ideal for network edge and core applications, according to Lumentum. The module supports a conventional broadcast-and-select ROADM architecture and, in a dual-deployment model enabled by its small size, also route-and-select applications.
www.lumentum.com/en/products/trueflex-nano-1x9-wavelength-selective-switch-wss
---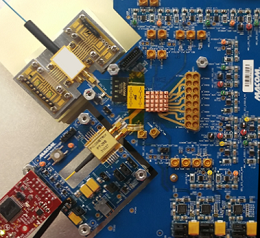 Macom will demonstrate its new 100G single-lambda solution at ECOC 2017 – the first public demonstration of a 100G serial optical link, according to the company. The 100G demonstration uses Macom's 53Gbaud PAM-4 technology to deliver 100G throughput over a single wavelength, dramatically reducing the number and cost of optical components typically housed in an optical transceiver module. Built in an advanced 16nm FinFET process node, Macom's Prism mixed-signal PHY (MATP-10025) that underpins the 100G single lambda solution is a generation ahead of competing PHYs developed at larger, planar geometries. Designed for 53Gbaud PAM-4 operation with integrated linear laser driver, forward error correction and a flexible DSP based equaliser, the Macom Prism has been designed for ease of integration, enabling cloud-scale economics and cost structures. Members of Macom's product management, engineering and applications teams will be available on booth #117 to answer questions.
www.macom.com/products/product-detail/MATP-10025
---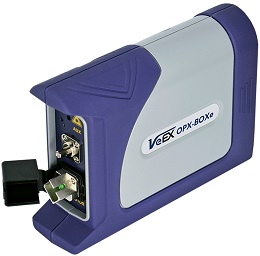 VeEX will display its highly versatile, pocket-sized mini optical time-domain reflectometer (OTDR) on booth #310. Launched this summer, the OPX-BOXe is an ultra-compact, ruggedised OTDR that can be operated remotely via Bluetooth or Wi-Fi, allowing technicians to test from a safe distance or clean, convenient location. Wireless remote control is provided by Fiberizer software running on Windows, iOS, Linux or Android devices. Traces and link data can be stored internally on the host device until they can be uploaded Fiberizer Cloud directly. The unit comes in multimode and singlemode versions and suits a variety of wavelengths and dynamic range requirements. Light source and visual fault locator (VFL) options can be added to the unit. The OTDR is optimised for both point-to-point or passive optical network (PON) architectures.
www.veexinc.com
---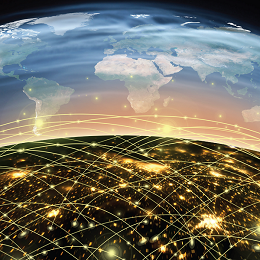 At the ECOC Exhibition 2017, Keysight Technologies will showcase the latest test instruments designed to enable the evolution of data centre technology. Applications addressed include 400G, PAM-4, 600G, silicon photonics, and more. Three new products will be introduced at ECOC this year, including a PAM-4 and NRZ receiver test instrument for signalling speeds up to 64Gbaud, and a 400G optical receiver stress test platform supporting IEEE 802.3bs Ethernet specifications. ECOC will also see the worldwide launch of Keysight's M8290A system, a rack-mountable modular 400G coherent component and system test system.
Additionally, Keysight will host flash seminars at its booth #239 on a variety of topics, such as the latest market trends and technical innovations in the field of optical communications. Presenters include technical experts from Keysight, Ixia, and several corporate and university partners. Keysight completed its acquisition of Ixia in April 2017 and will host Ixia in its booth at ECOC.
www.keysight.com/find/ECOC2017
---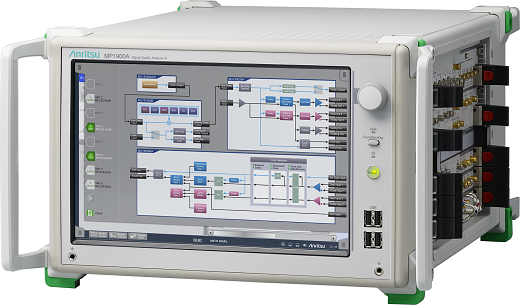 Visitors to Anritsu's booth #304 will see demonstrations of the recently released MP1900A Signal Quality Analyzer-R, a high-performance bit error rate tester (BERT) that accurately measures both high-speed electronic and optical interfaces in communications equipment, including those for M2M and IoT applications, and optical transceivers used in high-end servers. One demonstration will highlight the MP1900A's multichannel testing capability by showing simultaneous generation of high-quality 26.5Gbaud and 53Gbaud PAM-4 signals with extremely low intrinsic jitter and high linearity. A second demonstration in partnership with Teledyne-LeCroy will show coverage of all required test phases for PCIe Gen3 and Gen 4 interfaces, from stressed signal full auto calibration, to Rx/Tx device testing, link training verification and jitter tolerance automatic validation. Also on display at Anritsu's booth will be the new 100G Multirate Module for the Network Master Pro MT1000A, and the BERTWave MP2110A for simultaneous BER measurements and eye pattern analysis.
www.anritsu.com/en-gb/test-measurement/products/mp1900a
---
At the ECOC Exhibition, Optoscribe will launch a unique transceiver photonic platform configurator, OptoFigurator. The new tool allows customers to design photonic interconnects that couple light from laser arrays – both vertical cavity surface-emitting laser (VCSEL) or distributed feedback (DFB) types – to optical fibres inside optical transceivers. Visitors are invited to booth #124 to configure their custom transceiver design using the new configurator. Optoscribe's 3D photonic integrated circuit platform includes waveguides with full 3D flexibility; mirrors for 90-degree light turn; 'V' grooves for precise passive alignment of fibre; and precise fiducial markers. The platform can be customised for specific transceiver designs to help customers eliminate active alignment processes and alleviate packaging constraints, in order to reduce assembly time and enable automated high-volume assembly processes.
www.optoscribe.com
---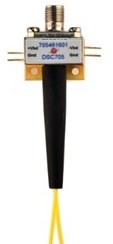 Discovery Semiconductors, which has been manufacturing balanced detectors since 2001, will introduce high-power balanced photodiodes with 5GHz bandwidth aimed at quantum key distribution (QKD) applications. The DSC705 is a balanced InGaAs photodiode in 'push-pull' configuration with each photodiode capable of handling high optical power up to +17dBm (50mW). As a pair, they will handle +20dBm (100mW). These balanced photodiodes are ideal for QKD detection schemes because they are shot noise limited. Their broad wavelength response from 1060nm to 1650nm allows one device to detect multiple wavelengths, which reduces operational and inventory cost for customers. The high-powered balanced photodiodes are available in either a K-connectorised package or Discovery's easy-to-use, self-contained Lab Buddy instrument. Find out more on booth #189.
www.discoverysemi.com/Product_Pages/DSC705.php
---
Visit Infinera at booth #585 of the ECOC Exhibition to experience the Infinera Express mobile demonstration lab with the company's end-to-end portfolio of packet-optical platforms for long-haul, metro and cloud. The demonstration includes the newest Infinite Capacity Engine (ICE) based products supporting 1.2Tb/s of line-side capacity in a compact 1RU form factor. This is part of Infinera's range of products to empower network operators to scale bandwidth while accelerating service innovation and automating optical network operations. This year Infinera is also emphasizing developments that support fibre-deep access architectures such as 5G in mobile and Remote PHY in cable networks. These technology innovations will radically simplify network deployments and will play a critical role in the rollout of the next generation of access networks, according to Infinera.
www.infinera.com
---

At this year's ECOC Exhibition, Viavi Solutions (booth #201) will introduce FiberChek Sidewinder, which it says is the industry's first fully autonomous and automated MPO inspection probe. Technicians can receive automatic pass/fail results for all 12 MPO fibres in less than 12 seconds. This means a typical job of certifying 100 MPO connectors can be completed in less than 20 minutes, compared to the industry average of 4.3 hours – a 92 per cent reduction.
Viavi experts will also be presenting the latest technology developments at the ECOC Market Focus Forum. On 19 September, from 3:30pm to 4:00pm, Dr Paul Brooks, high-speed transport product manager, will discuss how the novel aspects of 400G Ethernet pose significant test and measurement challenges. Next up, from 4:05pm to 4:35pm, Guylain Barlow, metro product manager, will cover the evolution of operational requirements in data centres with a focus on new methods for installation and maintenance of cabling infrastructure.
www.viavisolutions.com/en-us/events/2017/ecoc
---
Albis Optoelectronics, the specialist in high-speed photodiodes, will be showcasing its extended portfolio of photodiodes designed for PAM-4 applications. These high-performance devices act as key building blocks inside 100G, 200G and 400G receiver optical subassembly (ROSA) modules. The extended range consists of 10 different designs including single-channel and array photodiodes, available as bare die chip or mounted on a ceramic carrier. The bandwidth of these high-speed components ranges from 20GHz to 40GHz. The PAM-4 photodiodes are the latest addition to Albis' portfolio of Telcordia-qualified indium phosphide and gallium arsenide based components for datacom and telecom applications. The company says all products are manufactured in-house in fully owned clean-room facilities. Find out more by visiting booth #315.
www.albisopto.com
---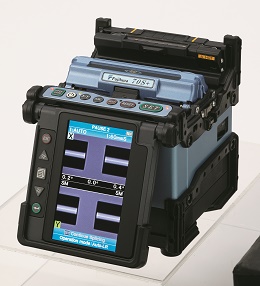 Fujikura Europe will launch a new line of Bluetooth-enabled fusion splicers at ECOC 2017. The new 70S+ and 70R+ include the same high-performance features as the original splicers, such as an automatic wind protector, true core-alignment splice performance, and extreme robustness. Using the Bluetooth function, users can pair their tool with the accompanying 'Splice+' Smartphone application, allowing them to quickly and simply update the settings and firmware on the tool. Also on display will be Fujikura's Bluetooth-enabled RS02 and RS03 ribbon fibre strippers – which were specially developed to suit the stripping and splicing needs of Fujikura's SpiderWeb ribbon technology – as well as a range of specialty splicers, cable connectors, cleaners and cabling systems. Learn more about Fujikura Europe at booth #439.
www.fujikura.co.uk
---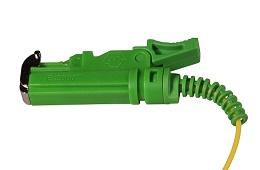 Connectivity specialist Huber+Suhner will be showcasing its wide range of products for 5G applications on booth #277. As next-generation mobile networks increasingly depend on fibre-optic technologies, Huber+Suhner will provide customers and partners with the know-how and support on their journey towards the emerging mobile network. The company will display products for optical switching and multiplexing in the deployment of 5G networks. During the show, Huber+Suhner will also be unveiling a new fibre-optic connector, the upgraded E-2000TM, which features pre-assembled housing, outstanding bending performance for pigtails, and increased performance thanks to the new design.
www.hubersuhner.com
---
On booth #175 ProLabs will debut a new range of 'Green' optical transceivers, which consume 30 per cent less power than a typical transceiver while offering the same great performance. These new transceivers apply innovative silicon optical bench technology to reduce optical losses and achieve impressive efficiencies for customer applications. The first part in the range will be a QSFP28-100G-SR4 module. The Green range of optical transceivers are part of ProLabs' expansive portfolio of more than 8,000 optical transceivers. Servicing data rates from 100Mb/s to 100Gb/s, the portfolio is compatible with more than 55 optical switching and transport OEM platforms.
www.prolabs.com
---
NeoPhotonics (booth #340) will feature its range of 64Gbaud components for coherent systems, which enable double the symbol rate compared to standard components designed for 100G optical transport. Higher symbol rates increase bandwidth while maintaining superior optical signal to noise ratio (ONSR), spectral density and reach performance versus the equivalent bandwidth increase from higher-order modulation constellations. For example, a single-wavelength 400G system based on 64Gbaud and 16QAM has a reach of about 200km compared to just 40km using 32Gbaud and 64QAM. NeoPhotonics' 64Gbaud range now includes a micro-modulator as well as micro-intradyne coherent receiver (ICR). The 64Gbaud polarisation-multiplexed, quadrature micro-modulator – which is now being sampled to major customers – features a co-packaged indium phosphide modulator with linear, high-bandwidth differential drivers in a compact format. The high-bandwidth Class 40 micro-ICR supporting 64Gbaud data rates is already in volume production.
www.neophotonics.com
---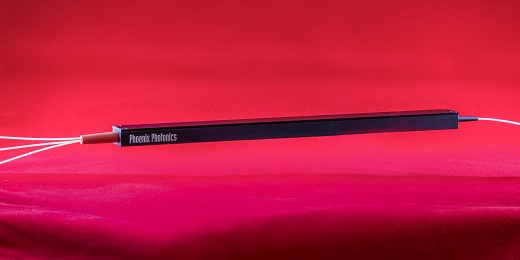 Phoenix Photonics will be showcasing its new mode-selective multiplexer instrument range for space-division multiplexed (SDM) systems. Designed around the company's proprietary Photonic Lantern multiplexers, the instrument comprises separate mode multiplexer and demultiplexer with full polarisation control on each channel. Using Phoenix-designed software, each channel polarisation is computer controlled to optimise the orientation of the higher-order modes and provide good isolation from demultiplexing. Visit Phoenix Photonics at booth #346 to see a demonstration of the instrument together with the company's full range of SDM and polarisation-control products.
www.phoenixphotonics.com
---
EXFO is excited to demonstrate agile and revolutionary test instruments for network manufacturers' R&D and lab applications, as well as high-speed test equipment for webscale companies and data centres on its booth #543. The network testing company will be launching what it describes as 'the telecom industry's most advanced and full-featured testing solution for 400G technologies' and showcasing the FTBx-5255 Optical Spectrum Analyzer (OSA), its latest OSA for use in live network testing.
In addition, EXFO will be demonstrating interoperability between its 400G test instruments and the Xilinx UltraScale FPGA VCU140 design platform. On Monday, September 18 at 3:15pm, join François Robitaille, EXFO's senior product line manager, optical business unit, for a featured panel speaking session entitled 'In-service OSNR characterization of pol-mux signals subject to fiber non-linearity in coherent transmissions system'.
www.exfo.com
---