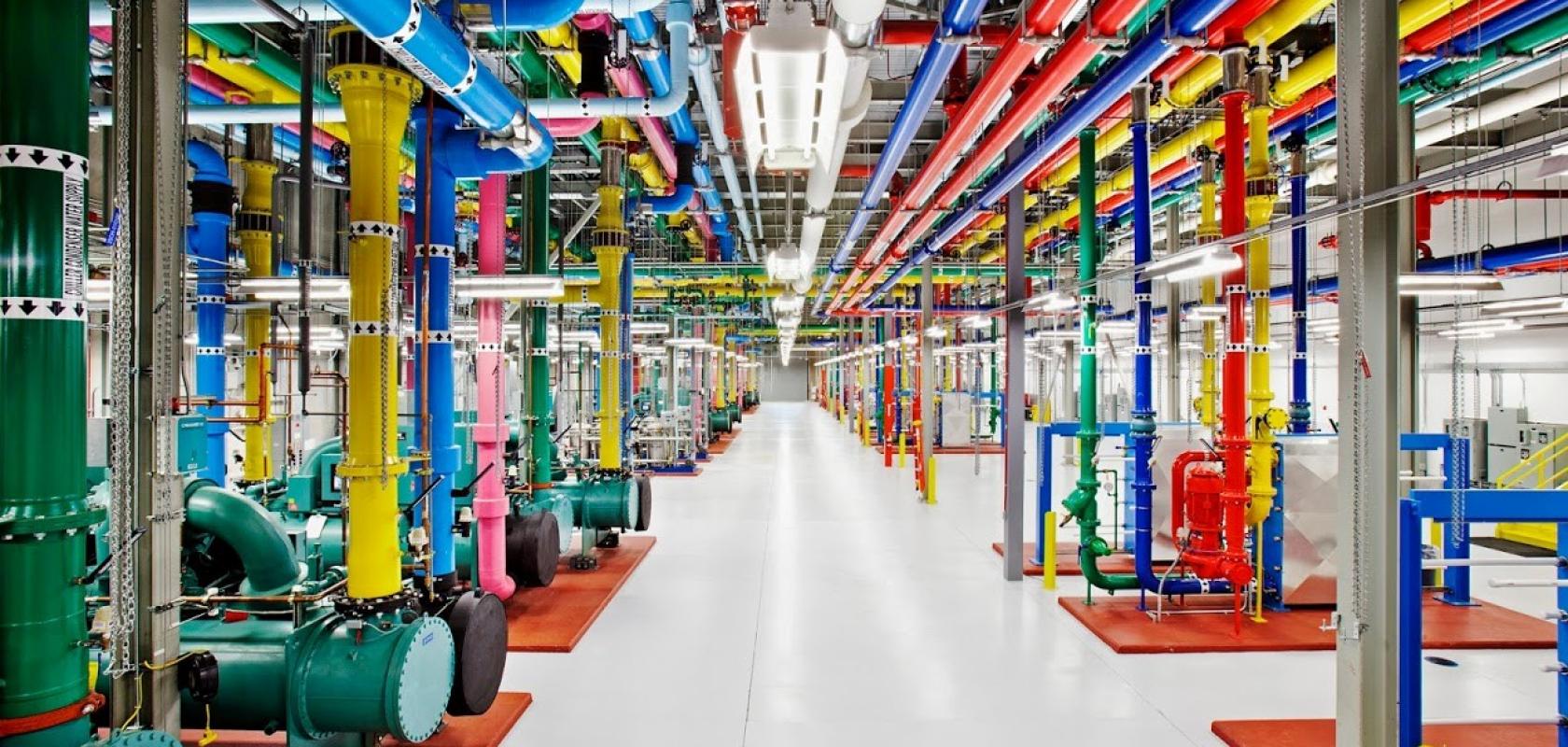 A new implementation agreement for low-power consumption will see small modules push technological barriers, finds Andy Extance
One of few things to match large webscale internet content providers' power in the modern world is their hunger for data. Consequently, they are shaping the optical communication industry to get the benefits of high-speed 400G technology in just the format they like. 
The OFC event in San Diego in March therefore saw some critical announcements and demonstrations surrounding 400ZR implementation agreements (IAs). 400ZR is being developed to link switches in separate data centres up to 80km apart as an Ethernetbased networking interface, defined by the Optical Internetworking Forum (OIF). It specifies 400Gb/s optical transmission over a single wavelength for dense wavelength division multiplexing (DWDM) deployments, providing massive interconnect bandwidth. 
It is part of the trend that sees coherent optical technology entering many network types, according to Helen Xenos, senior director, portfolio marketing at network solution provider Ciena. '
All the benefits of being able to scale the network for capacity, lowering cost per bit year-on-year, makes them more competitive
,' she said. 
However, the requirements for these coherent solutions diverge in different networks, which is why 400ZR is needed. 
Looking to downsize 
Traditional performance-optimised coherent solutions maximise fibre capacity and the spectral efficiency with which they transmit information on the wavelengths used, reducing transport costs. But this is evolving to provide short distance, high capacity links between data centres in the hyperscale networks running large distributed sites such as Facebook or Google. 
'We're seeing the need also for footprintoptimised solutions, where, instead of maximising fibre capacity, it's more important to get this very small solution,' Xenos explained. 'Predominantly, it will be a coherent pluggable – and 400ZR plays in this space.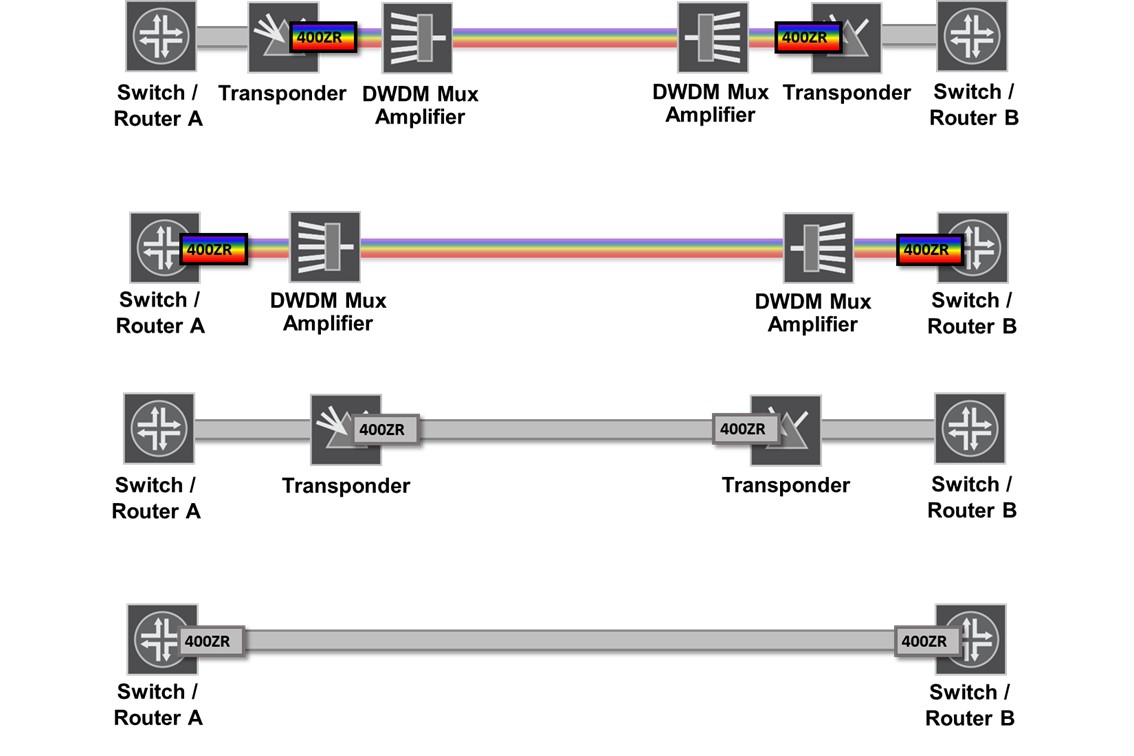 400ZR can be used with amplification (coloured examples) or without (grey examples)  Credit: OIF
The companies involved with hyperscale networks want small 400ZR components that are available from multiple vendors. Consequently, 400ZR IAs are in process for coherent optics and software management interfaces. 
These are perfect examples of the OIF's industry role, according to Karl Gass, optical vice chair of its physical and link layer working group. 'OIF's goal in all its work is to identify gaps in the market that are not being served with definitions that will allow multivendor interoperability,' he explained. 'As an organisation, that is truly member-contributiondriven. 
'These two projects reflect the needs of membership, which represents a cross section of the leading component and optic suppliers, equipment providers, test and measurement companies, and network operators that make up the telecom, cloud and enterprise markets that OIF serves.' 
At OFC, the OIF demonstrated two aspects of 400ZR, explained Jeffery Maki, chair of OIF's physical layer user group working group. One, a static demo, outlined a framework for future demonstrations of a 400ZR data centre use case. This 'will continue to be fleshed out with operational products as they become available' said Maki. A second, active demo accompanied this, showing error vector magnitude (EVM) measurements. This demonstrated the maturity of a test methodology established for characterising transmitters for coherent applications as an extension of the International Telegraph Union Telecommunication Standardization Sector's (ITU-T) 100G work. 'The measurement methodology demo provides a future platform to showcase our Integrated Coherent Transmit-Receive Optical SubAssembly (IC-TROSA),' he said. Yet the technology supporting the IAs remains at an early stage. 
Solid progression 
Nathan Tracy, president at OIF, said the OFC demos 'did not imply or otherwise communicate that 400ZR is ready to be introduced'. 
'The challenge of defining interoperable coherent optics is not a simple task, but it is proceeding forward solidly. The objective of the demo at OFC was to communicate OIF technical progress, EVM measurements, and details of the interoperable coherent application use case.' 
The form factors determining the size and shape of the 400ZR transceivers able to plug into sockets found in switches are important. But 400ZR IA contributor firms have defined it to be 'form-factor agnostic', Tracy said. 
The aim is to fit the solution into mechanical form factors such as the quad small form factor pluggable double density (QSFP-DD), Consortium for On Board Optics (COBO) and octal small form factor pluggable (OSFP). Targets include minimising power consumption and volume, while maintaining link distance. 
'We understand the size and power restrictions for "targeted" module form factors,' Tracy said. 'It should be assumed that different form factors, built to the 400ZR implementation agreement, should communicate with each other over the full reach.' 
Beyond hardware, OIF is defining the standardised software management interface specification for 400ZR modules that is also critical to support multiple vendors on a common system. 'While form-factor agnostic, OIF tries to look at the ecosystem and ensure all the aspects are ready for deployment,' said Maki. At the moment only one form factor suitable for 400ZR – the form-factor pluggabledigital coherent optics (CFP2-DCO) – has standardised software registers to support coherent modulation, he added. 'This will change soon.' 
Working together 
In order to ensure interoperability, IAs must consider the data plane, according to Tracy. Here, they must enable a receiver to understand bits from a different vendor's transmitter, decode the forward error correction (FEC) used, and correct errors. Digital Signal Processing (DSP) is central to this, especially when the components doing the DSP at each end of a link are different, he explained. 
These DSP systems will be produced using the latest 7nm CMOS lithographic processes, making them fast enough to meet the specifications for 400ZR modules. The biggest challenge to 400ZR interoperability is preservation of performance, including reach. Tracy said that defining vendor interoperability over a specified reach is a crucial aspect of OIF's efforts. 
In the first instance, Ciena is designing products to fit into a QSFP-DD form factor, Xenos said. However, if customers need OSFP or other packages, Xenos is confident that Ciena can fit the same capabilities into those formats. She stressed that the firm has both the coherent DSP and electro-optical technology to achieve the necessary performance level. These are embodied in the company's WaveLogic 5 range, which it announced at OFC. 
In particular, WaveLogic 5 Nano 'will be optimised to deliver the smallest footprint low-power solutions', Xenos said. 'It's going to be a range of solutions from 100 to 400G, and one of these would be the 400ZR pluggable solution. Target availability for 400ZR is mid-2020.' 
It's important to move to 7nm to deliver higher quality DSP that consumes less electrical power. 'The transistors are smaller and they're closer together,' said Xenos, 'so there's less energy required to perform the logical functions. For 400ZR, specifically it allows us to perform the functions that we need to get this 400G wavelength into the smallest size and consume the lowest power possible.' 
In its WaveLogic 5 range, Ciena pairs this coherent DSP technology with silicon photonics electro-optics. Xenos highlighted the company's experience in advanced packaging that brings all these functions in this very small form factor. Ciena will also offer the important ability 'to be able to deliver these products, and the ZR in particular, in volume,' she says. 
Full support 
Also at OFC, NeoPhotonics showed off its own silicon photonics offering targeting 400ZR. 'We demonstrated live operation of our our silicon photonics-based 64GBd Coherent Optical Sub-Assembly (COSA) operating at 16 QAM for 400G per wavelength over ZR distances,' said Ferris Lipscomb, NeoPhotonics' vice president of marketing. The company announced limited availability of the 'Nano' version of its ultra-narrow linewidth integrated tuneable laser assembly (ITLA) at the event. This Nano-ITLA is shipping in limited quantities to customers now, and the company's COSA will begin sampling later in the year.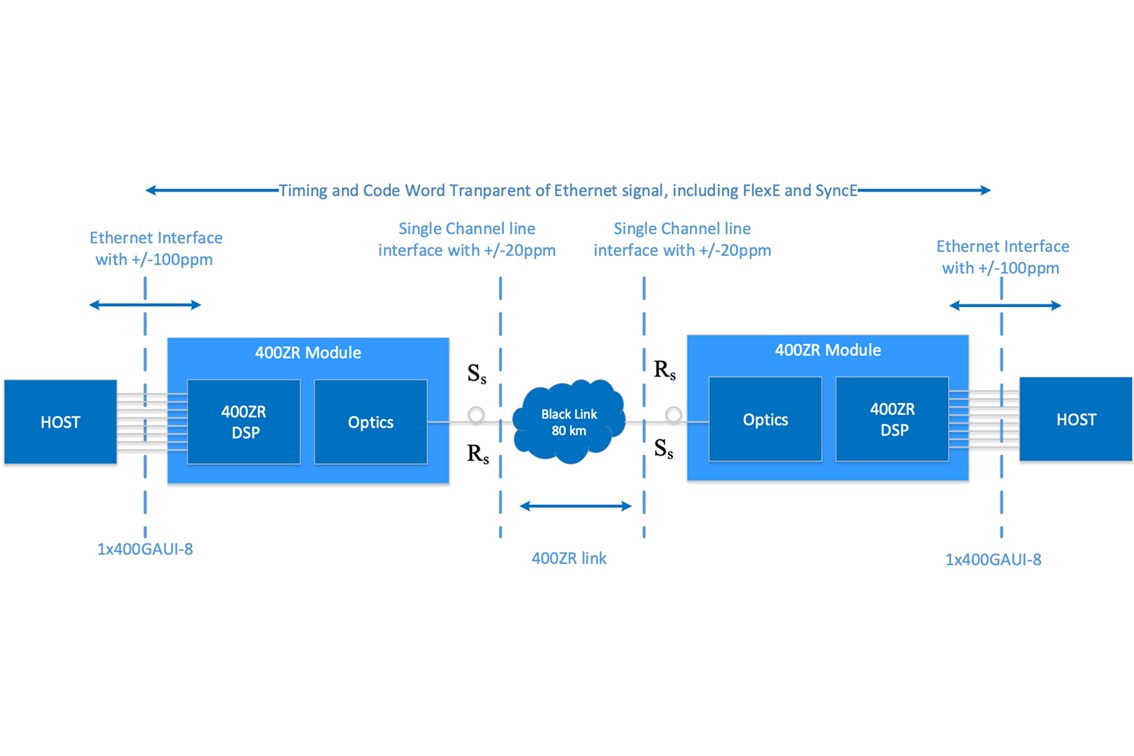 400ZR is intended to span 80km links optically, then connect with hosts via Ethernet interfaces Credit: OIF
'Both of these devices are suitable for use in small form factor pluggable modules, like OSFP and QSFP-DD,' added Lipscomb. 'These parts provide all of the optical components and analogue chips required for 400ZR. Our aim is to have the optical components ready to mate up with the 7nm DSPs as they become available for an expeditious introduction of the final product to market. Given a reasonable DSP power consumption, we are focused on making sure the optics that support both form factors will be available.' 
NeoPhotonics seeks to bring the highest speed and performance optics to this new format, Lipscomb added. 'Our external cavity tuneable laser has the narrowest linewidth and lowest noise in the industry, and is used by most of the industry leaders for their most demanding applications,' he said. 
'Our Nano-ITLA maintains this performance advantage in a form factor suitable for 400ZR. Similarly, NeoPhotonics has brought a 64GBd modulator and receiver together in its COSA. In terms of modules, the company is shipping coherent CFP-DCO, and demonstrated CFP2- DCO at OFC.'
Beyond interoperability? 
This differentiated product performance enables the small size and low power required by OSFP and QSFP-DD form factors, Lipscomb said. It will also determine the limits of what can be achieved with 400ZR+, which builds on 400ZR. 400ZR+ brings the potential to extend the use of pluggable modules into metro markets, serving the networks that connect up metropolitan areas. As such, this 'would significantly increase the volumes needed', said Lipscomb. 'Furthermore, this enhancement will require higher performance optics, which leverages our strength.' 
The OIF's Gass stressed that extending the 400ZR specification in this way is likely to introduce products that may not be interoperable. '400ZR+ is a marketing term, developed outside of the OIF to try to differentiate vendor-specific features,' he said. 'We have no current plans to standardise 400ZR+ in the OIF, as we did for 400ZR. We are defining software management interface specifications that will facilitate 400ZR+ modules. 400ZR+ simply means anything other than 400ZR that can be accommodated in the same form factor, or potentially even in a common module part number. 400ZR+ might include longer reaches, muxponder applications, and support for lower data rates, including 100, 200 and 300G.'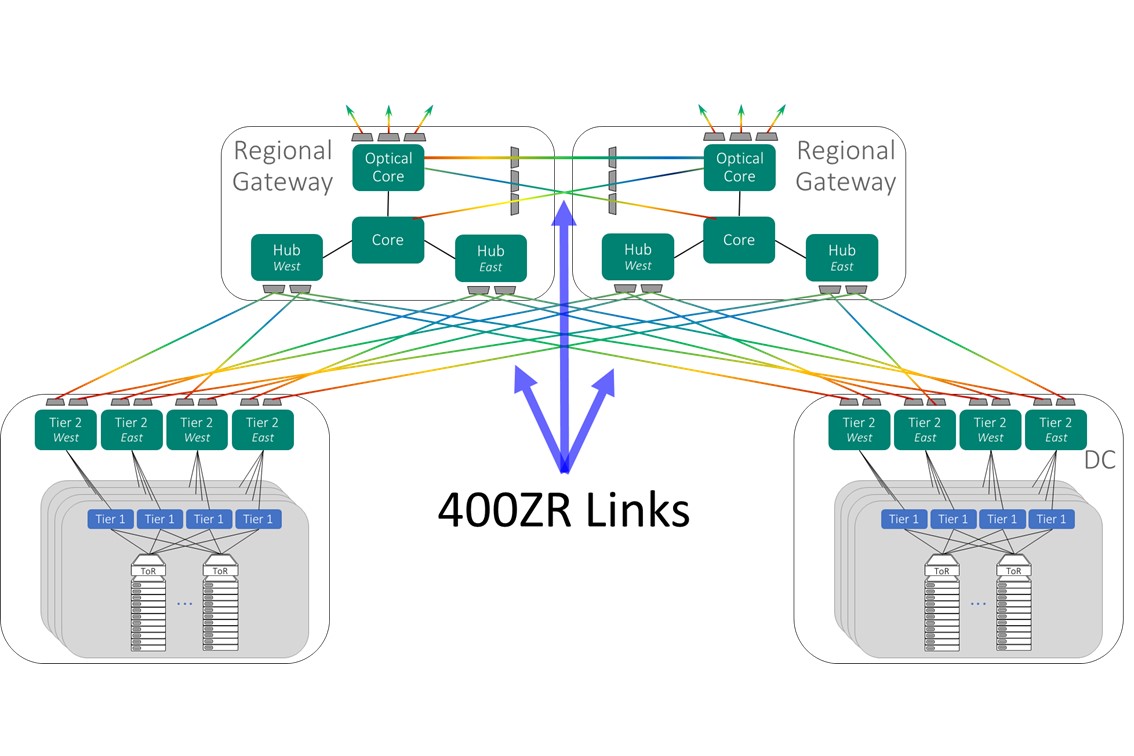 400ZR will help connect data centres in hyperscale networks run by web giants. Credit: OIF
Xenos feels that there is a lot of industry interest in 400ZR+, because the specific ranges and applications that 400ZR offers relate to a market with large overall volumes. However, she thinks the market is still limited, yet there are many ideas for how to extend it to 400ZR+. 
'One interpretation is that we take aspects of 400ZR, the 400G line rate and the pluggability, and change the technical spec so that there's a longer reach, to be able to address a larger metro market,' Xenos explained. 'ITU is defining a 450km specification, which some people in the industry are calling 400ZR+.' 
On the plus side 
Xenos explained the requirements involved if 400ZR+ simply expands its basic 400G capabilities to a larger metro market, and why interoperability may be less important in those cases. 'We have again the performanceoptimised integrated optical solution,' she said. 'Network performance means higher capacity per wavelength. It means that you can go a certain capacity for a longer distance. You don't need to add regenerators. All these capabilities translate to lower cost per bit. In the majority of cases, our customers are looking for highest performance solutions. When maximum spectral efficiency is not a requirement, a 400ZR+ solution is very attractive for the metro market. Vendor-specific high-performance modes, rather than interoperability, will be more popular for this application.' 
400ZR+ will also likely defy expectations, Xenos added. 'One perception that people have in 400ZR+ pluggables is that they can only be deployed in switches and routers,' she said. 'In fact, pluggables are going to be deployed across a range of products, switches and routers, as well as optical transport equipment. The right product is going to depend on factors such as what customer operational requirements are, what the network architecture is, and traffic growth rates.' 
Consequently, companies that are set to use 400ZR are assessing their network architectures 'and seeing what makes sense for them', Xenos said. 'There are so many options right now. There's a lot of analysis going on. The actual 400ZR products become available next year. We expect to see some ramp starting at the end of 2020, and moving forward after that.'
Andy Extance is a freelance science writer based in Exeter, UK
Main image: The companies involved with hyperscale networks want small 400ZR components that are available from multiple vendors Credit: Google