Cignal AI: 2017 will be the year of metro 200G
More than half of the metro WDM bandwidth deployed in 2017 will be coherent 200G or above, with the highest volume coming from compact data centre interconnect (DCI) equipment used by cloud and colocation providers, according to the most recent Optical Applications Report from Cignal AI, a networking component and equipment market research firm.
Coherent optics based on 200G per wavelength was a small market in 2016 as Nokia and Ciena were the only companies with 200G in production. But it's a widespread technology now with Cisco, Fujitsu, Coriant, Huawei, and ZTE all coming to market, aided by a broader supply chain of coherent digital signal processors, modules and components, says Andrew Schmitt, lead analyst for Cignal AI.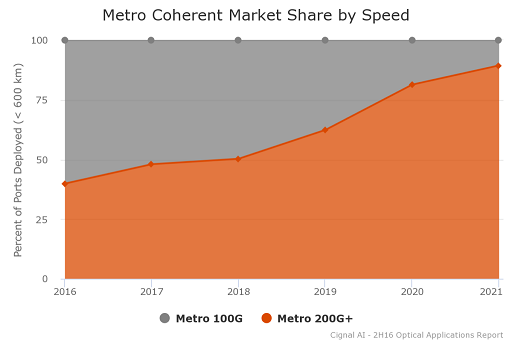 The report also finds that demand for coherent optics at 100G and above will shift this year as the market slows in China but grows in Western markets. China alone accounted for 55 per cent of worldwide 100G coherent shipments in 2016. Outside China, 61 per cent of ports shipped at 100G and above in 2016 were from three companies: Infinera, Ciena and Nokia, in that order.
"After doubling in 2016, demand for 100G+ coherent WDM in China will slow this year. But our forecasts show that Western markets will offset this decline as cloud/colo providers, cable MSOs and traditional incumbents expand use of DCI products in their networks. These companies want to deploy the most cost-effective technology, which is why we expect that more than half of all metro bandwidth deployed around the world in 2017 will be in the 200G format," Schmitt commented.
The market for compact DCI equipment is expected to grow 65 per cent annually for the next five years. Cloud and colocation providers like Google and Microsoft are the main customers today, but cable, wholesale and incumbent telco operators are also interested in deploying this technology.
Infinera captured well over half the market in 2016, capitalising on its position as first to market with a compact DCI product (see Infinera turbocharges the DCI market with Cloud Xpress 2). Customer loyalty in this market is scarce, however; the cloud companies are prepared to switch suppliers to gain access to the latest technology. Thus, Infinera will face significant pressure from Ciena, Cisco and Fujitsu, whose products are now in production.
The report also considers advanced switching equipment, which is a $2 billion global market currently and expected to keep growing at a rate of 20 per cent annually through to 2021. Demand for these systems comes from incumbent service providers such as Verizon, China Mobile and Telefonica, which are converging their transport networks with new platforms that integrate wavelength, OTN and Ethernet switching into a single chassis. Ciena and Cisco are poised to reap the benefits of Verizon's move to advanced switching, while Nokia is the beneficiary of a similar move by Telefonica.
Produced twice a year, Cignal AI's 'Optical Applications Report' provides revenue-based market share and forecasts for three key optical equipment markets: 100G+ coherent WDM, compact DCI equipment and advanced optical switching. The current report examines market share through the second half of 2016, and looks ahead to prospects for 2017. It also includes detailed port-based vendor market share and forecasts for 100G shipments for edge, metro, and long-haul applications.
Save