Cloud operator spend on optical hardware reached $1bn in 2018, says Cignal AI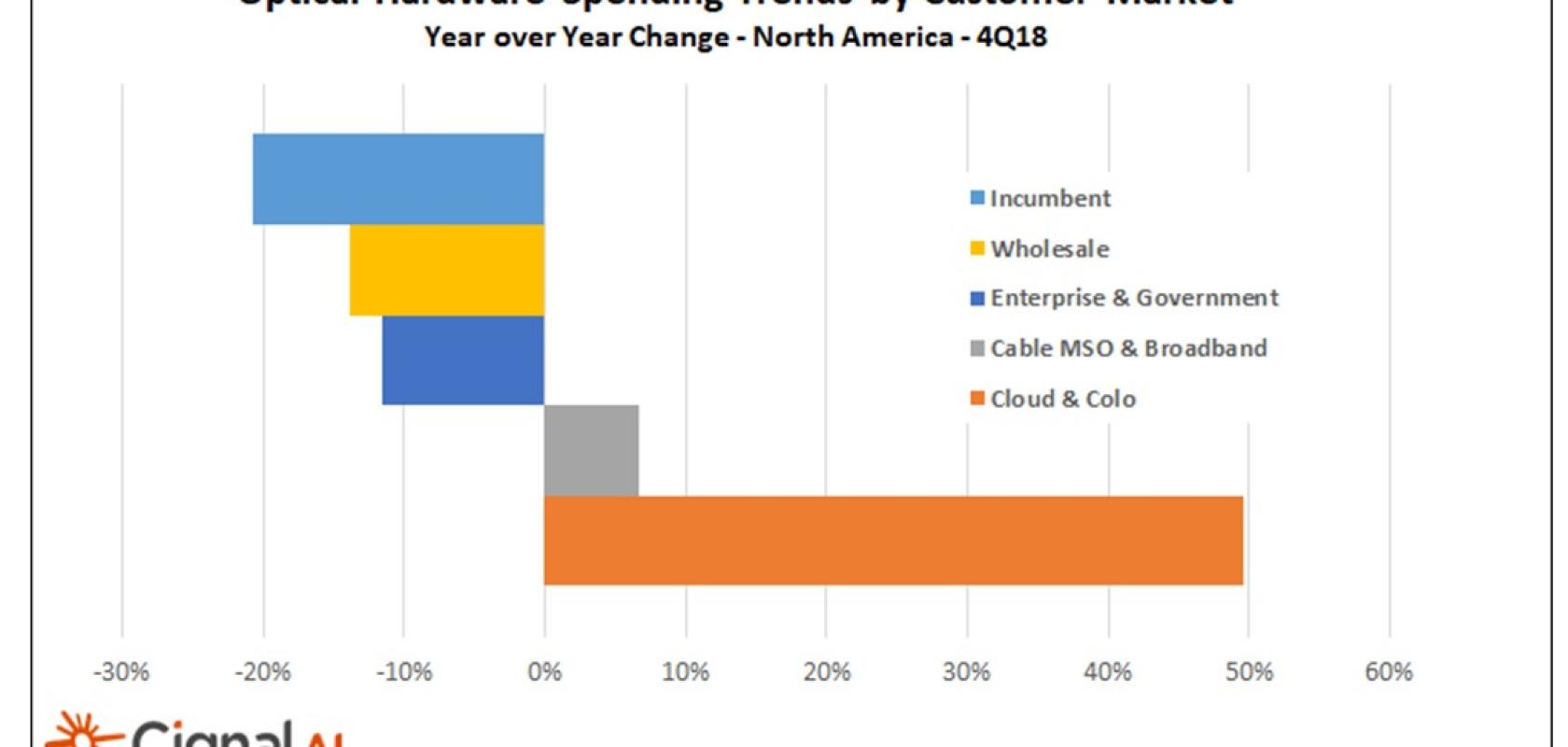 Cignal AI's Optical Customer Markets Report, covering quarter 4 of 2018, found that operator spending on optical hardware grew almost 50 per cent year-over-year to reach over $1 billion in 2018.
The quarterly report from the industry market research company tracks optical equipment spending by end customer market type. It provides forecasts based on expected spending trends by regional basis and includes revenue-based market size for all end customer markets across all regions, with market share for sales to the cloud and colo segment broken out on a worldwide basis. It quantifies optical equipment sales to five key customer markets: incumbent, cloud and colo, wholesale, cable MSO, and enterprise and government.
Cloud operators remain the fastest-growing segment, according to the report, which found that North American cloud operators spent nearly as much on optical hardware as incumbents such as AT&T and Verizon in Q4. New builds drove growth in EMEA, making cloud and colo the fastest-growing worldwide customer segment in 2018.
Said Scott Wilkinson, optical hardware lead analyst for Cignal AI: 'Cloud network operators such as Google and Microsoft were the only customers in the optical market to exhibit significant spending growth last year. While still the largest segment overall, incumbent spending on optical hardware was down last year, particularly in North America.'
According to the report, Ciena extended its market lead among cloud operators, having supplied more than a third of the global market and doubled its lead over its nearest competitor. Others in the top five include Cisco, Huawei, Nokia and Infinera.
Incumbent spending, meanwhile, will see growth remain in low single digits through 2023.  This, says Cignal AI, is because, while incumbents still purchase most optical hardware, their spending is static when compared with new network operators. Updated forecasts indicate a decline ahead in North American incumbent spending. Spending growth by cable/MSO operators was found to be weak, while market consolidation resulted in slowing wholesale optical network deployments.