First light for Intel's silicon photonics transceivers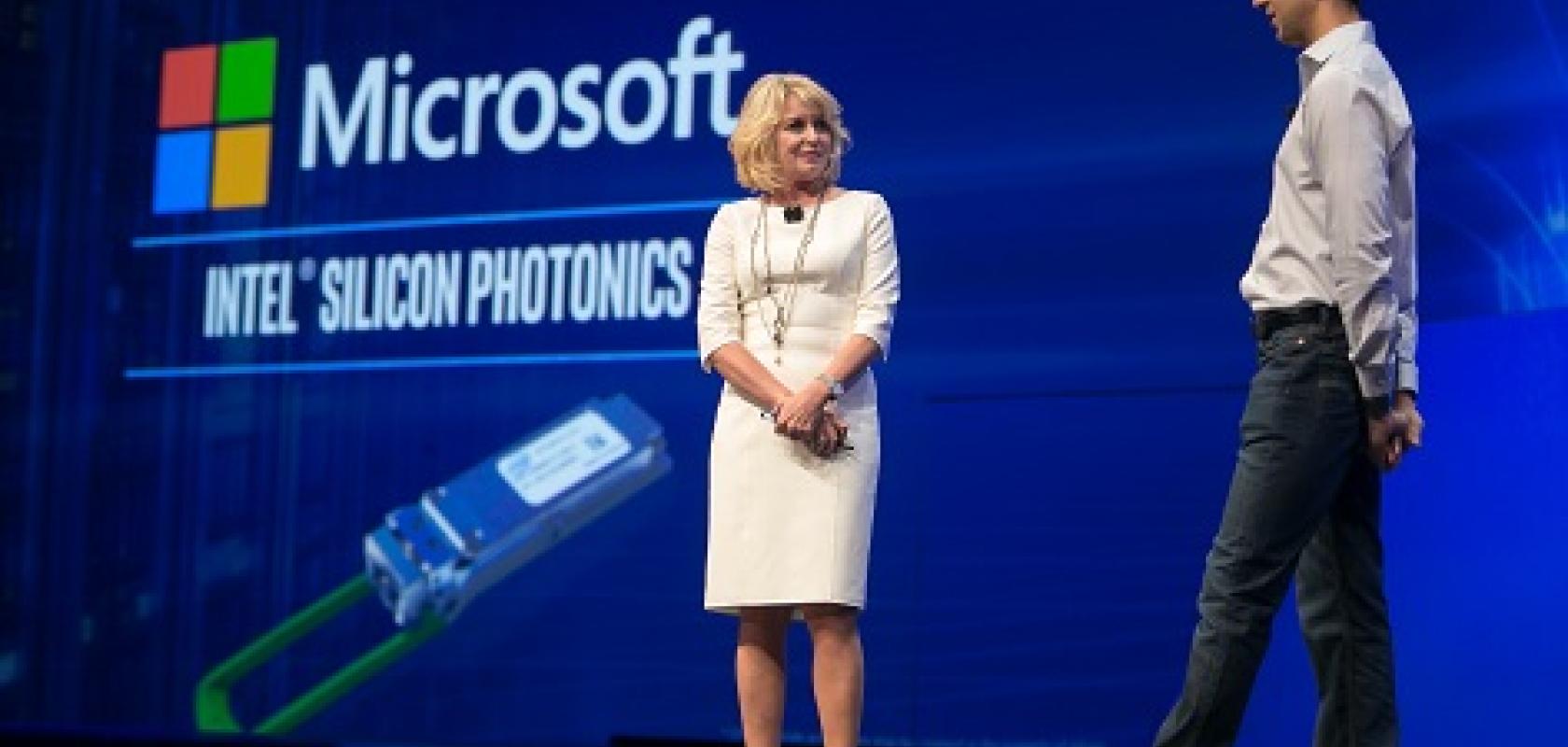 On August 17 at the Intel Developer Forum in San Francisco, Intel announced that its silicon photonics platform is now in volume production and shipping in the form of 100G optical transceivers.
The announcement highlights the maturity of this technology, as demonstrated by the commercial availability of the first products, the company asserts.
Two products are on offer to enable 100G connections reaching up to 2km over singlemode fibre, to connect switches inside data centres. The new modules meet the specifications for the 100G PSM4 (parallel single mode 4-lane) and, separately, for CWDM4 (coarse wavelength division multiplexing 4-lane) multi-source agreements. Both come in the compact QFP28 form factor.
The company is also highlighting how silicon photonics will allow data centres to scale their connectivity requirements into the future.
For the presentation, Diane Bryant, executive VP of the data centre group was joined on stage by Kushagra Vaid, general manager, Azure Cloud hardware engineering from Microsoft, who spoke about the explosive growth of traffic inside their data centres, and how he sees silicon photonics as a key enabling technology for optical connectivity that will support this traffic growth both now and in the future.
Intel notes that its silicon photonics products are already being deployed to connect switches to switches in large data centres. During her address, Bryant and Vaid spoke of Microsoft's success using Intel Silicon Photonics.
In the future, as bandwidth to the server increases, optics will also connect servers, displacing the copper interconnects that are increasingly limited in reach as bandwidth goes up. On the switch side, Intel expects 100G will give way to 400G within a couple of years. Density requirements will push the front-plate pluggable optics to on-board optics, and ultimately to integration with the switch ASIC, as electrical I/O bandwidth and density will be unable to support the total switch bandwidth and number of connections.
Intel believes its silicon photonics platform is uniquely positioned to enable and lead these developments, as the most flexible and compact optical integration platform available. To get there, the electronics giant expects to see increases of up to 100x in bandwidth density at the faceplate and improvements by up to three times in power consumption per Gb/s.
'The announcement … at IDF marks the beginning of this; more than announcing a product, we are celebrating the maturity and readiness of a technology platform that offers the density, bandwidth, reach, and cost required for future data centres and their optical connectivity needs,' wrote Alexis Bjorlin, vice president, Intel Data Center Group and general manager, Connectivity Group.
Commenting on the development on Intel's IT Peer Network website, she said: 'The commercialisation and high-volume deployment of silicon photonics has been anticipated by the industry for years, with optical networking vendors and operators looking towards the day when we would see the integration of optics onto silicon CMOS technology, with all the scale and manufacturing capability that it brings. That day is here.'