Gigabit internet is going mainstream, Viavi finds
The popularity of gigabit services has soared over the past year, and there are now at least 603 operations around the world offering gigabit internet services, a jump of 72 percent since June 2016, according to test and measurement vendor Viavi Solutions.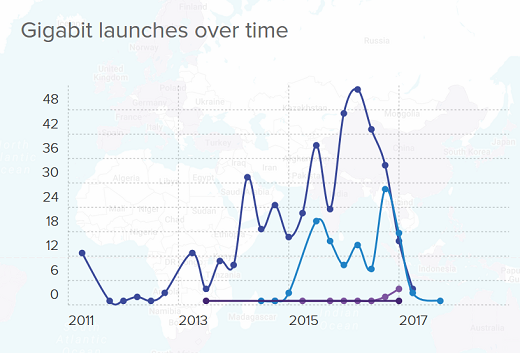 Viavi has gathered publicly available data about current and planned gigabit deployments around the world and presented it in the Gigabit Monitor, a visual database of showing the current state of gigabit internet provision in all 41 countries where it is available.
The site has been overhauled since its launch in 2016 to include population coverage estimates, giving a clearer picture of gigabit progress across the world. The company reports that around 219 million people globally now have gigabit internet available to them, equating to roughly three per cent of the global population.
"2016 was a turning point for gigabit connectivity, as many cities around the world reached the point whereby gigabit internet was available to most of its residents," said Sameh Yamany, chief technology officer, Viavi Solutions. "Yet the gigabit revolution shows no signs of cooling down in 2017. As bandwidth increases, so does consumer appetite for it. Likewise, new business models have been quick to take advantage of new bandwidth, as we've seen with streaming video and audio in the recent past – and which we believe will continue in the near future with VR, AR and the Internet of Things."
Viavi has analysed the data and found that the United States has the highest number of people with access to gigabit internet (56.4 million) with a population coverage of 17 per cent. Singapore currently has the highest proportion of citizens with gigabit internet availability at 95 per cent. South Korea has the second highest number of citizens with gigabit internet availability (46.7 million), representing 93 per cent of its population.
Of the gigabit installations tracked by Gigabit Monitor, unsurprisingly, 91 per cent are based on fibre – with cellular connections accounting for 3.65 per cent, cable accounting for 5.26 per cent, and WiFi making up less than one per cent. However, 25 mobile operators are currently lab-testing 5G, with 12 of those reporting that they have progressed to field trials, which could lead to gigabit cellular connectivity becoming more widely available soon.
Naturally, as the number of operators offering gigabit services increases (and some of those service areas may overlap), it becomes ever harder to ensure accuracy of the data. Viavi points out that the Gigabit Monitor is not intended to be an exhaustive resource and invites feedback from users to help it keep the tool up to date.
Viavi says the database is updated regularly as operators announce new deployments via press releases or local newspaper reports. Each country's gigabit internet profile displays the estimated population coverage, global ranking, gigabit launches over time and a listing of local gigabit providers. Curiously, service providers marketing speeds 'up to 1Gb/s' but not explicitly advertising 1Gb/s service were not included.