SEA-ME-WE 5 submarine cable achieves 100 per cent capacity increase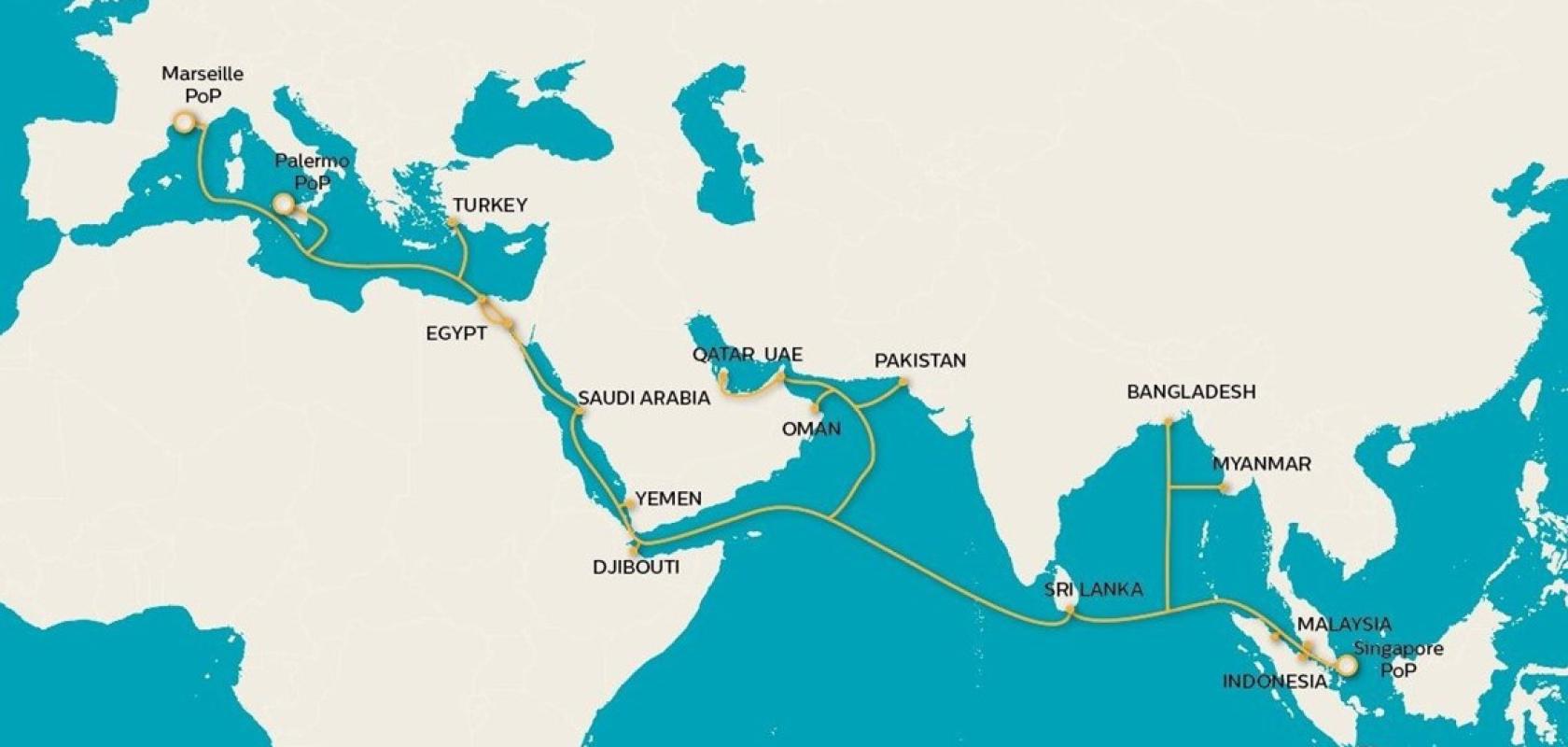 Ciena has completed an upgrade to the SEA-ME-WE 5 (South East Asia – Middle East – Western Europe 5) submarine cable system, resulting in a 100 per cent active capacity increase.
The 20,000km cable system spans more than 17 countries, from Southeast Asia to Western Europe. It was originally designed with a capacity of 24Tb/s and is currently under upgrade to more than 36Tb/s on three-fibre pairs. This is to ensure it is capable of accommodating the future demand of data from bandwidth-intensive applications such as enterprise data exchange, internet TV and online gaming.
The cable's 100Gb/s technology is expected to meet the predicted quadrupling of bandwidth demand between Europe and Asia, providing the lowest latency and further enhancing the network diversity and resilience to the heavily loaded Asia to Europe route. Its main endpoints are carrier-neutral/open Points-of-Presence (PoPs), rather than cable landing stations (CLS).
Ciena's GeoMesh Extreme, which supports an open architecture, was chosen to enable the cable's customers to rapidly scale capacity, protect traffic from faults, and lower total cost of network ownership. It features the 6500 Packet-Optical platform to meet unpredictable traffic demands and provide new levels of capacity and flexibility. Additionally, the company's WaveLogic Ai platform will help lower the cost per 100Gb/s by increasing the capacity per wave up to 300Gb/s. SEA-ME-WE 5 will also leverage Ciena's Manage, Control and Plan (MCP) domain controller software to get real-time visibility into the performance of the network.
Luigi Sangiorgio and Mukthar Bin Embong, PG co-chairs for SEA-ME-WE 5 said 'Ciena is helping us take on future network challenges and maximize the SEA-ME-WE 5 cable with state-of-the-art technology. With Ciena, we are able to deliver the benefits of greater capacity and flexibility to our customers sooner than expected as this latest cable upgrade was completed ahead of schedule.'
Added Ian Clarke, vice president of global submarine sales at Ciena: 'SEA-ME-WE 5's latest upgrade is a great reflection of the dynamic digital transformation that's taking place along the Europe to Asia route, which is experiencing an overwhelming demand for capacity. Ciena's strength in developing subsea innovations affords us a keen understanding of the right mix of technologies needed to transition to adaptive networks that leverage intelligence, scalability and programmability.'
Ciena's GeoMesh Extreme architecture was also selected earlier this year to enhance two submarine networks in the Caucasus and Latin America regions.