NTT presents FASA concept for virtualised optical access
Nippon Telegraph and Telephone Corporation (NTT) has introduced the Flexible Access System Architecture (FASA) concept, which aims to provide greater flexibility in optical access equipment through the use of network functions virtualisation (NFV).
Instead of using purpose-built hardware, NTT has modularised the various functions of access equipment as much as possible. This is the first time that the modularisation concept has been applied to access equipment, the Japanese company asserts.
"The use of generic hardware will free operators from having to develop new equipment from the device level by striving to achieve a set of common generic components. The creation of such components can also be expected to lower equipment costs and make maintenance simpler by reducing the number of component types that need maintenance," NTT explained.
Equipment has been separated into software modules, generic hardware and external modules. By combining these three component types, operators can create customised but low-cost equipment whose functionality can be easily changed or upgraded, while still maintaining service quality.
Functions like optical transmission that are difficult to address with either software components or generic hardware are implemented using external modules, which can be swapped out for new as operator requirements change.
The example given by NTT is for a virtual optical line terminal (OLT) for next-generation passive optical networks. The company envisages that this could be used to facilitate converged networks, allowing operators to update their optical access systems to accommodate the rapidly evolving requirements of mobile traffic. Service providers could begin providing new services sooner with FASA's generic hardware, timely software component add-ons, and the use of external modules.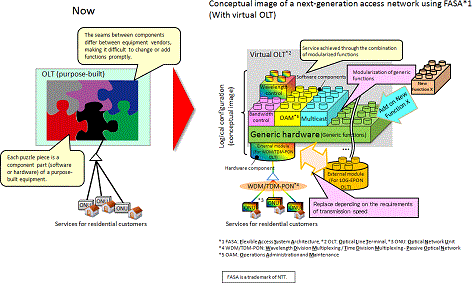 Click to enlarge
FASA is part of NTT's new NetroSphere concept, which takes modularisation right down to the component level. NTT has already started testing FASA in NetroSpherePIT – a space for testing out these new technologies, named with reference to a pit in automobile racing. The company plans to give FASA a public test-run at the NTT R&D Forum 2016 on 18–19 February.
NTT notes that it will be necessary to introduce an application programming interface (API) to handle the exchange of data. The first API release scheduled for May 2016.
For the effort to succeed, it will require strong partnerships with equipment vendors and carriers, NTT says. Collaborative testing has already begun with some partner companies, and API brush-up work will also be conducted jointly with partners who support the project's core concept.