Sticklers CleanWipes 640 cleans duplex connectors with one pass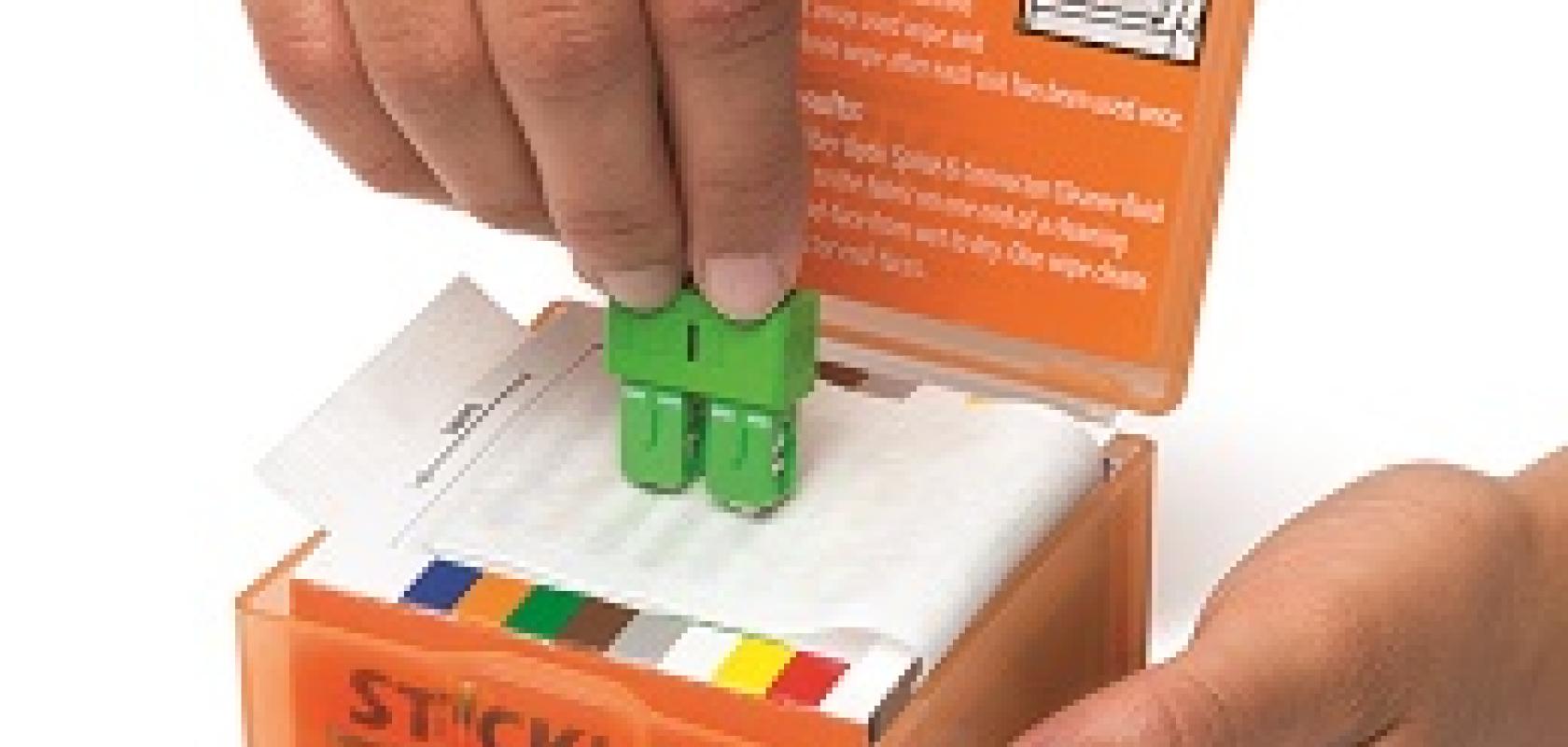 The Sticklers fibre-optic cleaning line has expanded with the addition of the CleanWipes 640 optical-grade cleaning wipes. Engineered to deliver 'perfectly clean' at the lowest possible cost, the CleanWipe fabric is ideal for both cleaning fibre-optic connector end-faces as well as bare fibre prior to cleaving and splicing. The multipurpose wipe also perfectly clean lenses, mirrors, diffraction gratings, prisms and test equipment.
The CleanWipes 640 is an update to the CleanWipes 400 cleaning tool. Techs will appreciate the subtle improvements included in this product. To start, the cleaning capacity has been increased to 640 wipes, a jump of more than 60 per cent. The wipes are dispensed ready to use; no assembly is required. The wipes are packaged in a rugged plastic box to maintain high performance cleaning, even when used in the punishing wet or dusty conditions often found in field-service environments.
The CleanWipes 640 package has eight CleanSwipe cleaning slots (up from four) which enable techs to perform many cleanings on the same piece of fabric without re-using any part of the wipe. By wiping end-faces in the slots, any fingerprints, oils, grime, polishing compounds, dust and lint are swept away. A single pass is all it takes for perfectly clean connectors.
The cleaning slots feature a tighter pitch (closer spacing) than the previous product, so the new package can be used to clean duplex connectors; avoiding time-wasting disassembly. The slots are colour-coded using the TIA-598-D scheme, which is widely recognised in the industry and is a helpful memory aid. The inner box has an improved static-dissipative lining.
The CleanWipes 640 product is made from a unique, 'high-modulus' fabric. This high-tech material out-performs cheap paper wipes made with cellulose and glue, resists shredding when cleaning LC connectors, and dissipates electrostatic charges.
MicroCare says all this new packaging and technology ensures end-users always get the best cleaning at the lowest possible cost. Using U.S. pricing as a benchmark, the expected cost-per-cleaning is 2.8¢ per connector.
The new Sticklers CleanWipes 640 will be shipping from 15 September. Pre-release samples are currently available from MicroCare using the part number #MCC-WCS640. The previous product, the WCS400, will be available while supplies last.