A Look Ahead at the Trends and Technologies Shaping the Optical Networking Market
The first months of 2019 – as with any year – are a good opportunity to look ahead to what the future holds in store for the networking and communication domains, and the key technologies that underpin them. In this blog post, we'll share some of our predictions for the optical networking market in particular, taking into account the myriad trends affecting infrastructure build-outs in the coming year and beyond.
What's driving the growth?
With the increasing number of subscribers, devices per subscriber and data per subscriber pervading our wireless and wireline networks, the data tsunami will only continue to gather speed. As cloud computing usage continues to skyrocket, so too will the capital expenditures for the leading cloud datacenter providers, reflecting the massive scope of their ongoing datacenter infrastructure build-outs – and the healthy ROI they continue to achieve as a result. 
Industry analysts counted 430 hyperscale datacenter facilities at the end of 2018, representing an 11% increase in facilities compared to 2017. Looking ahead to 2019, experts are tracking 132 new datacenter facilities that are at various stages of planning or building.
Accordingly, 2018 saw a nearly 40% ($22B) jump in hyperscale cloud datacenter capex over the previous period in 2017 (H1 2018 vs H1 2017), and industry experts anticipate that the global cloud computing market will exceed $200B in 2019 – a 20% increase over 2018, fueled in large part by increasing enterprise adoption for cloud services. As such, cloud datacenter operators may anticipate similarly large revenue gains on par with the 45% to 75% year over year gains reported by some operators in 2018 relative to 2017. 
We'll also be hearing a lot more about edge computing in 2019, driven in large part by 5G's anticipated enablement for applications requiring low latency. The advent of autonomous vehicles in particular has intensified the urgent need for near real-time network responsiveness to ensure the highest levels of passenger safety. Mission critical civil infrastructure could similarly benefit from dramatically reduced latency, as could a host of IoT, Industry 4.0 and smart city applications requiring precisely orchestrated real-time communication.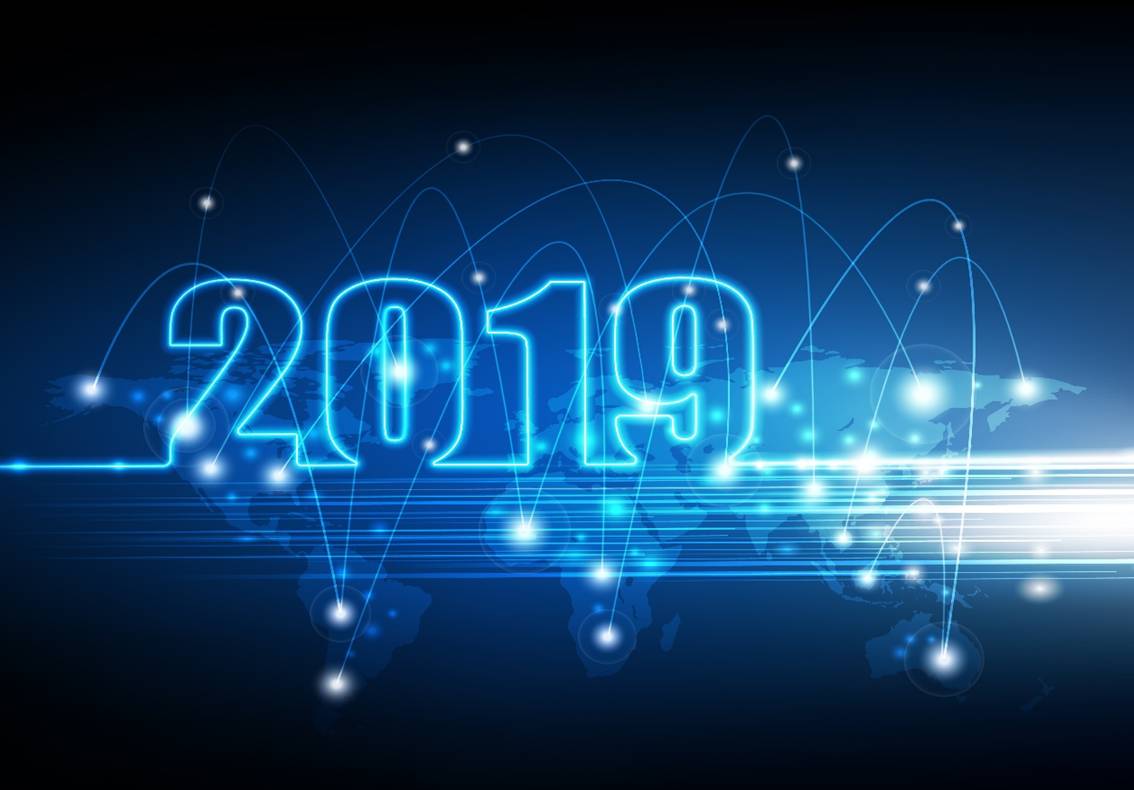 The industry's prominent focus on edge computing reflects the growing realization that for applications like these, it's imperative to bring datacenter-caliber processing capabilities and real-time automated decision making closer to where the data traffic originates. This in turn will evolve the way datacenters are interlinked together by impacting where and how data enters and exits the cloud, and will drive increased deployments of longer distance links, suggesting a steady growth for metro and long-haul infrastructure into 2019 and beyond. As a result, global deployments of PON and fiber backhaul infrastructure are expected to be healthy into 2019, as indicated by industry forecasts predicting coherent port count growth. 
Optical module predictions
In 2019, volume scale optical module deployments in cloud datacenters will continue to drive the cost structures and supply chain required to propagate the fastest and most cost-effective optical links to enterprise environments and outward throughout the network. 
To that end, cloud datacenters are still in the early stages of a long upgrade cycle to 100G and higher bandwidth. Industry customer forecasts project 2019 and 2020 to be strong growth years for CWDM4 modules in particular, with the potential for 100G unit demand in 2019 to more than double demand in 2019, reaching estimated volumes over 10 million units in 2019. Some experts predict that 100G CWDM4 modules will see market dominance as far as year 2022. 
While CWDM4 is expected to represent a vast majority of unit volumes over the next few years, 2019 is also expected to see meaningful adoption of single-lambda PAM-4. Industry watchers anticipate that single-lambda 100G modules will be deployed by several vendors, with volume shipments ramping up by the end of the year. The recent Ethernet Alliance Higher Speed Networking Plugfest hosted at the University of New Hampshire InterOperability Laboratory (UNH-IOL) featured PAM-4-based electrical and optical signaling technologies leveraging compatible offerings from a host of leading vendors, highlighting the gathering industry momentum for single-lambda 100G connectivity. 
Meanwhile, the market arrival of switch silicon solutions utilizing 50G electrical IO channels is enabling 2X the data throughput over copper PCB traces compared to legacy chipsets with 25G electrical signaling. This capability is significant in that it opens the door to more streamlined 100G module architectures (2 x 50G), and it's regarded as a key enabler for accelerating the adoption of higher bandwidth modules at 200G (4 x 50G) and onward to 400G. 
To this end, the growing demand for fully analog 200G optical modules holds key implications for the anticipated timing for the eventual mainstream adoption of 400G optical modules. Widely considered to be still in its infancy, 400G technology promises huge bandwidth gains in the future, but the cost curve must come down dramatically for it to achieve volume uptake in the cloud datacenter. In the meantime, fully analog 200G modules – with their many advantages over DSP-based offerings, including significantly lower latency, power consumption and cost – are coming to market now, and are seen by many as a viable, volume-scalable stepping-stone to 400G. So 2019 will be a pivotal year to see how 200G takes hold in the cloud datacenter, and intensifying industry collaboration on 200G standards and interoperability could help position this technology for sustained mainstream adoption while 400G continues to mature. 
As always, MACOM and our industry peers will be tracking these and other developments closely throughout the year, particularly as we approach OFC 2019 and onward to the CIOE and ECOC events in the Fall. We can safely anticipate a host of eye-opening revelations throughout the year – revelations that will no doubt help shape our market perspective as we ring in the next new year.