Multiple dwelling units: how to get on board for gigabit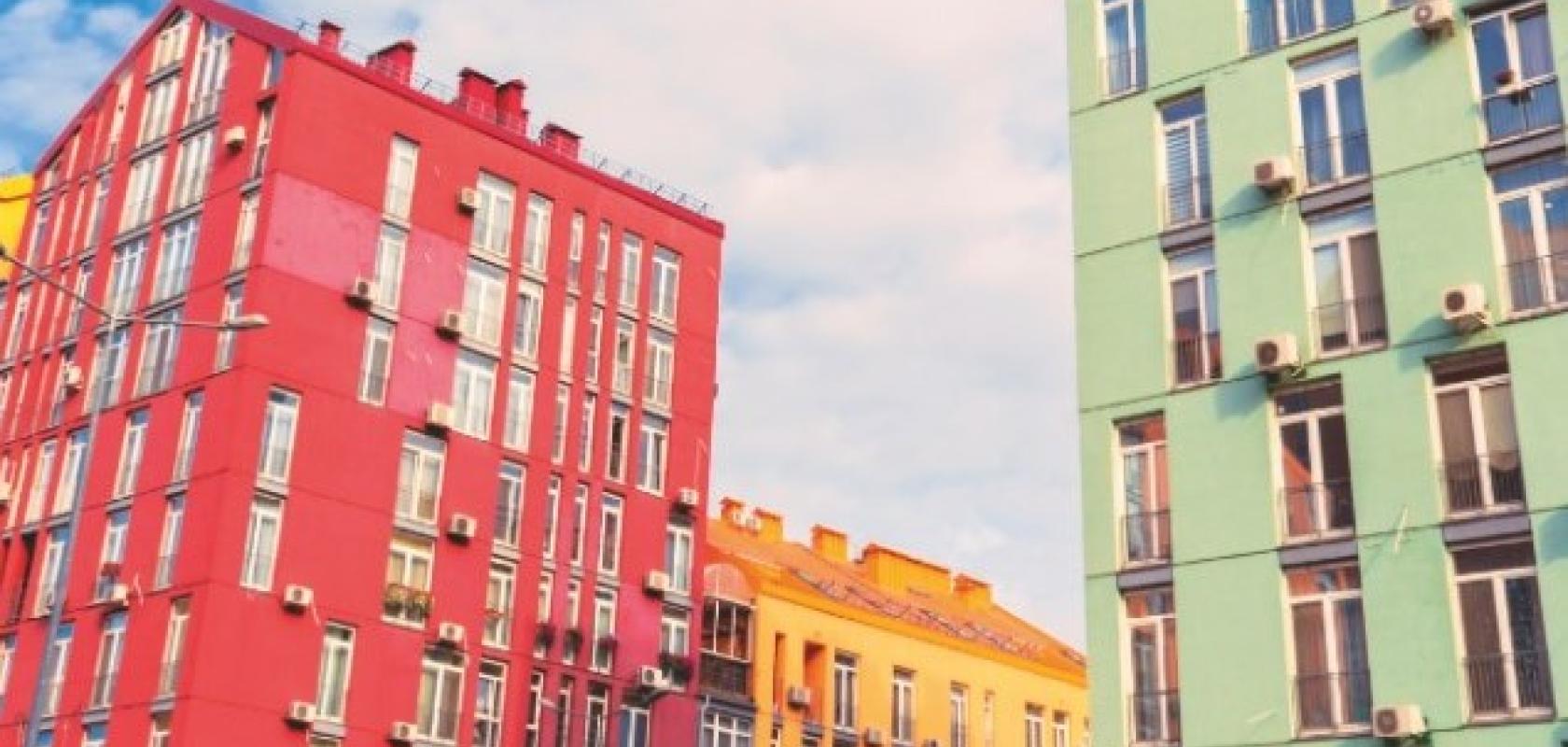 Since the mid-late 2000s, when fibre first became accepted commercially for broadband networks, things have developed at pace. Full-fibre is widely recognised as the only technology that can realise the kind of signal strength, bandwidth and connection speeds that are demanded for applications such as the internet of things (IoT), artificial and virtual reality (AR/VR) and, Industry 4.0 and more. So much so that governments in the majority of countries ensured that they set ambitious targets for country-wide full-fibre coverage, and investment in networks has skyrocketed.
The figures speak for themselves. According to the latest Market Panorama from the FTTH Council Europe, released at the recent FTTH Conference, FTTH reached 219 million homes in September 2022, compared to nearly 198.4 million in September 2021, and this itself was a jump from 176.3 million in September 2020. But there is still more that needs to be done, as people in unreachable areas or properties, such as MDUs are still on the sideline when it comes to fibre connectivity to their home.
The Market Panorama report cited Germany and Italy as two nations that still had a way to go when it comes to coverage. Interestingly, the European Commission's latest Housing in Europe report also cited these two nations amongst those with a higher percentage of the population living in flats rather than houses. Germany was found to have 56.4% of the population living in a flat or other multi-dwelling unit (MDU), while Italy stood at 54.9%
Installing fibre into MDUs can be challenging for a number of reasons. Not least is the physical infrastructure of the building, which may not have been designed to accommodate fibre optic cabling. Retrofitting older buildings with fibre cabling can be particularly difficult and may require drilling through walls or other barriers, which can be costly and time-consuming. Then there is the issue of access to the individual units within the building. Property owners or managers may be reluctant to allow installation teams to enter individual units, which can slow down the installation process and make it more difficult to coordinate. There may also be regulatory hurdles to overcome, such as obtaining permits or negotiating access rights with local authorities or building management.
Fibre extension solutions can be a saviour for those struggling with the above challenges. Fortunately, there are several solutions available, including fixed wireless access (FWA) that uses 4G or 5G wireless spectrum to offer a pseudo-fixed connection, and G.fast, a more cost-effective option that delivers impressive performance.
In most MDUs, the in-building wiring is already in place, and G.fast can use this existing coaxial or copper twisted pair cabling to deliver broadband speeds and latencies comparable to pure FTTH services. G.fast uses time-division duplexing to multiplex upstream and downstream data, allowing operators to split the capacity between services or adjust it automatically according to demand. The latest 212MHz profile and coordinated Dynamic Time Assignment (cDTA) allows for gigabit download and upload speed. Latency is less than a millisecond, making it perfect for activities like video streaming, video calls and cloud gaming.
A G.fast node, also known as a distribution point unit (DPU), is most often installed in the basement of the MDU, where the fibre network can be terminated. It connects to the in-building wiring that serves each apartment, and with software-defined access networking (SDAN), deployment, provisioning and updating tasks are automated, making it a plug-and-play activity. This means that installation is fast, efficient, and negates the need for a highly skilled technician on-site.
Managing multiple technologies like G.fast and GPON on the same network can be complex, but operators can simplify things by choosing a solution that hides the complexity of G.fast and manages it in the same way as fibre lines. Powering G.fast nodes can also be a challenge, but reverse power feeding that uses the coaxial or twisted-pair cabling can avoid the need for a dedicated power line.
Choosing G.fast can be a game-changer for operators who want to deliver gigabit broadband services to MDUs and plug any service gaps that could lead to customer attrition, regulator scrutiny or competitor incursions. Recent modelling shows that the net present value of completing an FTTH rollout with G.fast for MDU connectivity can be up to 40% higher than not connecting MDUs and about 20% higher than waiting for every MDU to be fiberised.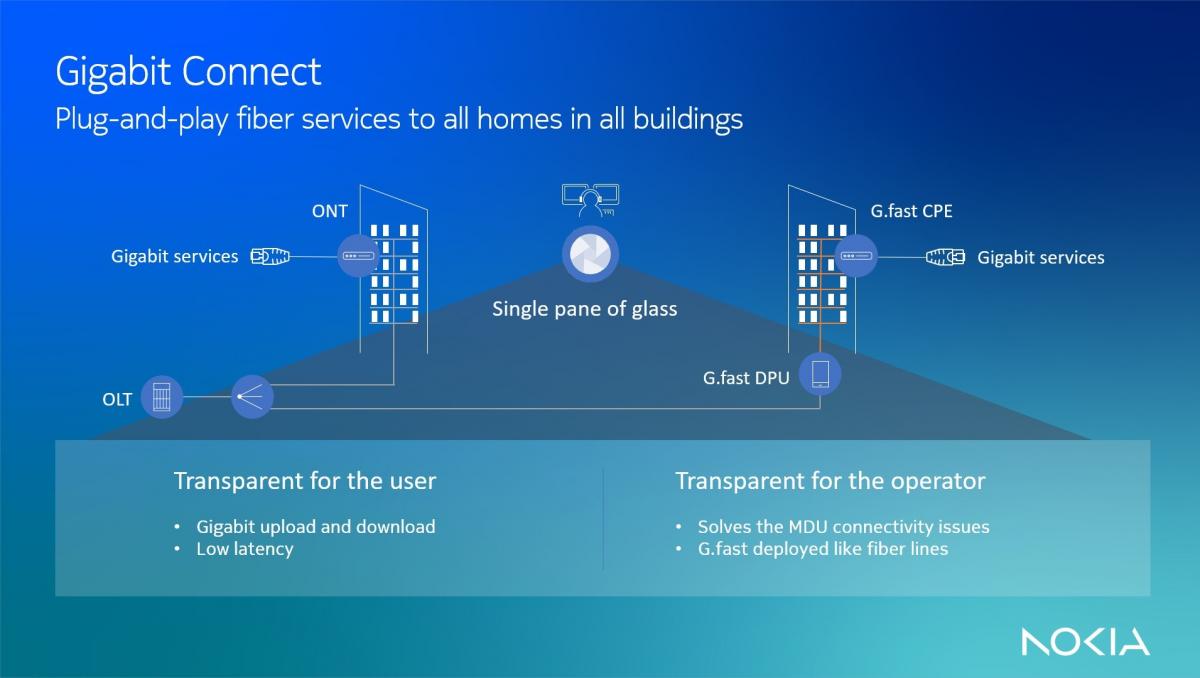 Nokia's Gigabit Connect portfolio with G.fast DPUs is ideal for MDU connectivity, and we now expand the range with the new Lightspan SX-4F, SX-8F and SX-16F access nodes. These are specifically designed and optimised to address fibre deployments in MDUs. The new DPUs allow operators to offer gigabit services by using existing twisted pair cabling infrastructure in the most efficient way. The great thing about our G.fast solution is that it offers transparency, both for the user, with the same speed and low latency as with fibre, and also the operator, as G.fast equipment can be deployed as fibre. Lightspan SX-4F, SX-8F and SX-16F provide efficiency for small scale, high-capacity deployments.
It may never be possible to fiberise some MDUs, and there will be many others that will take a long time to get there. But operators still need to ensure everyone, including MDU residents, can receive a fast, reliable broadband service. G.fast offers a viable solution and a compelling business case that can accelerate time to revenue, boost average revenue per user and provide immediate cash flow that can be reinvested into further fibre rollouts.
Find out more about our latest G.fast DPUs optimised for MDU deployments by visiting us at ANGA COM on B50 in Hall 8. You can also find out more about our Gigabit Connect solution by visiting our website.
Zsolt Adamy is Product Marketing Manager at Nokia Fixed Networks