Supporting 800GbE and next-gen optics with end-to-end interconnect testing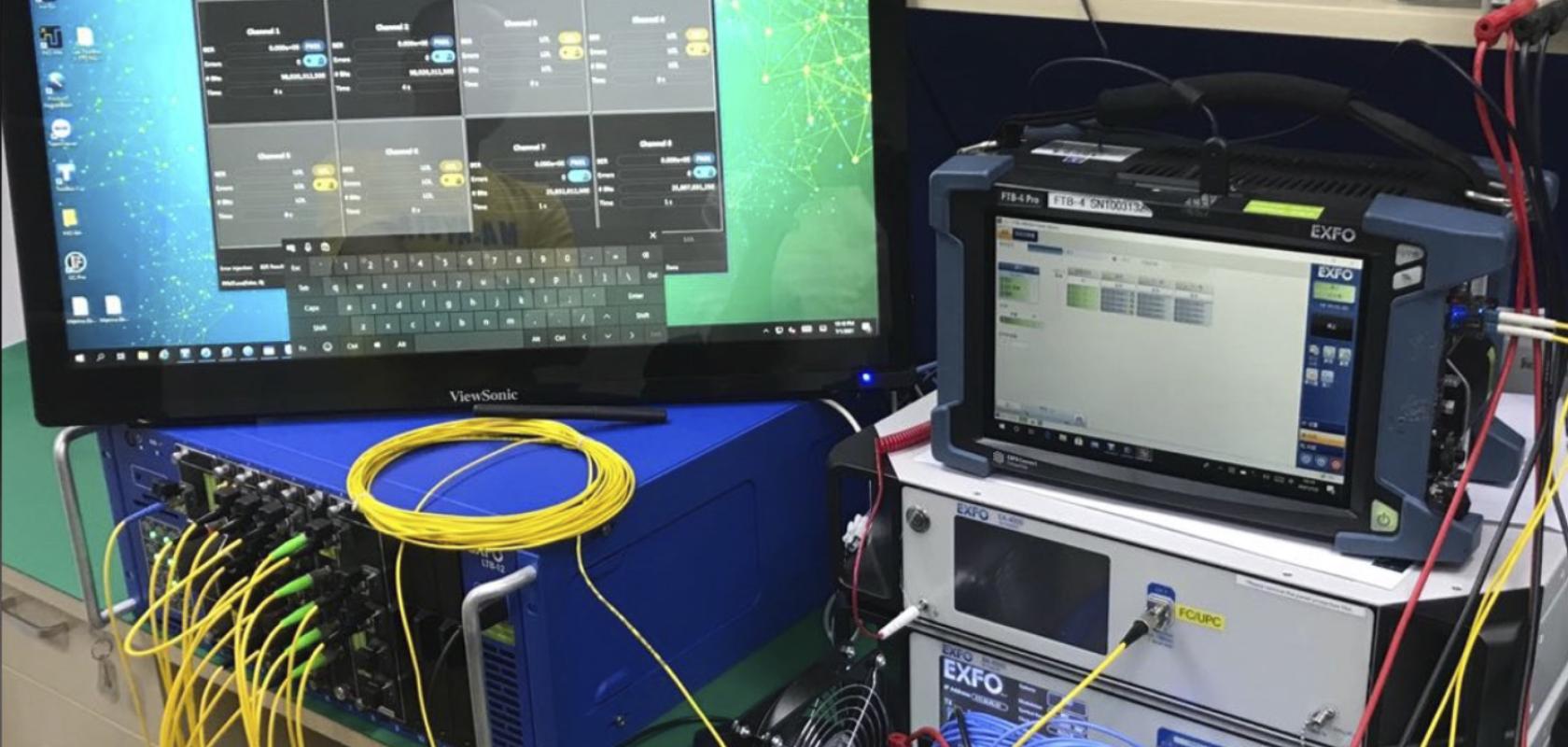 The ability to integrate and test high-speed 400/800GbE networking equipment, to validate interconnect solutions enabling data centre advancement, is key to network evolution.
Today's networks are experiencing data centre transport speeds nearing those of carrier transport rates that have accelerated to support tech innovations. 5G mobility, high-speed 400/800Gb Ethernet switch ports, mission-critical storage applications, and burgeoning cloud-based services have necessitated ever-increasing speeds and feeds. Requirements for bandwidth growth in data centres are expected to increase by more than 50 per cent year-on-year going forward. 
To meet these connectivity challenges, network managers and data centre operators are deploying 400GbE interconnection solutions in their data centres and core networks while simultaneously scaling up to support 800GbE-enabled infrastructures. 
The road to 800GbE connectivity is paved with test solutions that can validate the new wave of high-speed devices while also ensuring interoperation with legacy products and applications. End-to-end testing is of paramount importance to all members of the ecosystem -- from silicon verification to Network Equipment Manufacturers (NEMs), service providers, and hyperscalers/data centre operators -- who are all challenged to keep pace with webscale service demands. In this converging environment, data connectivity over transport interconnects means no margin for error at every point of connectivity – in the lab or the field.
One of the key elements of success in deploying high-speed devices is ensuring interoperability and standards conformance.  Interop testing facilitates ease of deployment, reduced support and service issues, and improved user confidence when integrating new technologies. Interconnect solutions are critical to support the rise in enterprise and data centre adoption of high-speed and optical interfaces, as well as to accommodate legacy deployments.
EXFO participated in the Ethernet Alliance interop demo at this year's OFC event in San Diego which showcased best-in-class products, services, and solutions for the legacy and high-speed Ethernet market.  The live interoperability demo featured leading-edge 400GbE and 800GbE offerings, interworking with legacy speeds.
It's especially noteworthy that 7 of the 15 participating member companies were from the Test & Measurement (T&M) community. In fact, this was the strongest showing for T&M companies in both number and percentage at any Ethernet Alliance-sponsored interoperability demonstration.  This fact reaffirms the importance of the T&M community and T&M members' commitment to vendor interoperability and standards compliance. 
EXFO also participated in the OIF interop demo at OFC that involved close to 30 participating member companies demonstrating interoperability in 5 key areas of optical interconnect technology advancement: 400ZR optics; co-packaging architectures; Common Electrical I/O (CEI) channels; Common Management Interface Specification (CMIS) implementations and FlexE (Flex Ethernet) definitions.  The demos furthered the importance of T&M for ensuring these leading-edge interconnect technologies can and will come to market. 
EXFO has a robust history of pioneering unique interconnect solutions enabling interoperability and supporting ecosystem collaboration, with client-side testers and a comprehensive suite of analysis tools to quickly and easily validate interfaces. These test solutions address the full spectrum of interconnect testing, from 10/25GbE through 800GbE.  
Programmatic testing that's repeatable, accurate, and consistent is critical. EXFO delivers seamless end-to-end solutions for legacy, next-gen, and high-speed transmission.  Thorough and consistent lab and manufacturing testing before field deployment can avoid operators being overrun with service interruptions. 
Some of the key testing challenges that EXFO addresses include:
Migration for NRZ, PAM4, and coherent signaling solutions;
25GbE to 50/100GbE lanes supporting 100/400/800GbE aggregated connections

Physical layer testing enabling the path for 800G standards including:

Advanced Forward Error Correction (FEC) observation and validation

Bit Error Rate (BER) testing for 800GbE including pre-post FEC verification capabilities using EXFO's BA-4000.
As Ethernet standards evolve, EXFO can help network and data centre operators assess what they need to test for end-to-end optimization.  This is especially important for leading-edge solutions like coherent optics.  Leveraging our unique open transceiver system (OTS), our test solutions support next-gen 400/800GbE optical interconnection solutions (pluggables and captive assemblies) to test Ethernet and other indispensable data transport options. 
EXFO has expanded its range of essential electrical and optical test solutions by integrating technology acquired from InOpticals Inc. into our T&M portfolio to deliver comprehensive, modular test solutions that integrate seamlessly into existing customer lab and manufacturing processes. 
Overall, the end game is ensuring that mission-critical, bandwidth-intensive applications and services are maintained and advanced via improved network capacity and data centre density.  The ability to integrate and test high-speed 400/800GbE networking equipment, to validate interconnect solutions enabling data centre advancement, is key to network evolution. At EXFO we help our customers 'design for test' from the lab through manufacturing and deployment, ensuring data integrity and reliability for best Quality of Service.