Cignal AI: 400G+ coherent shipments tripled last year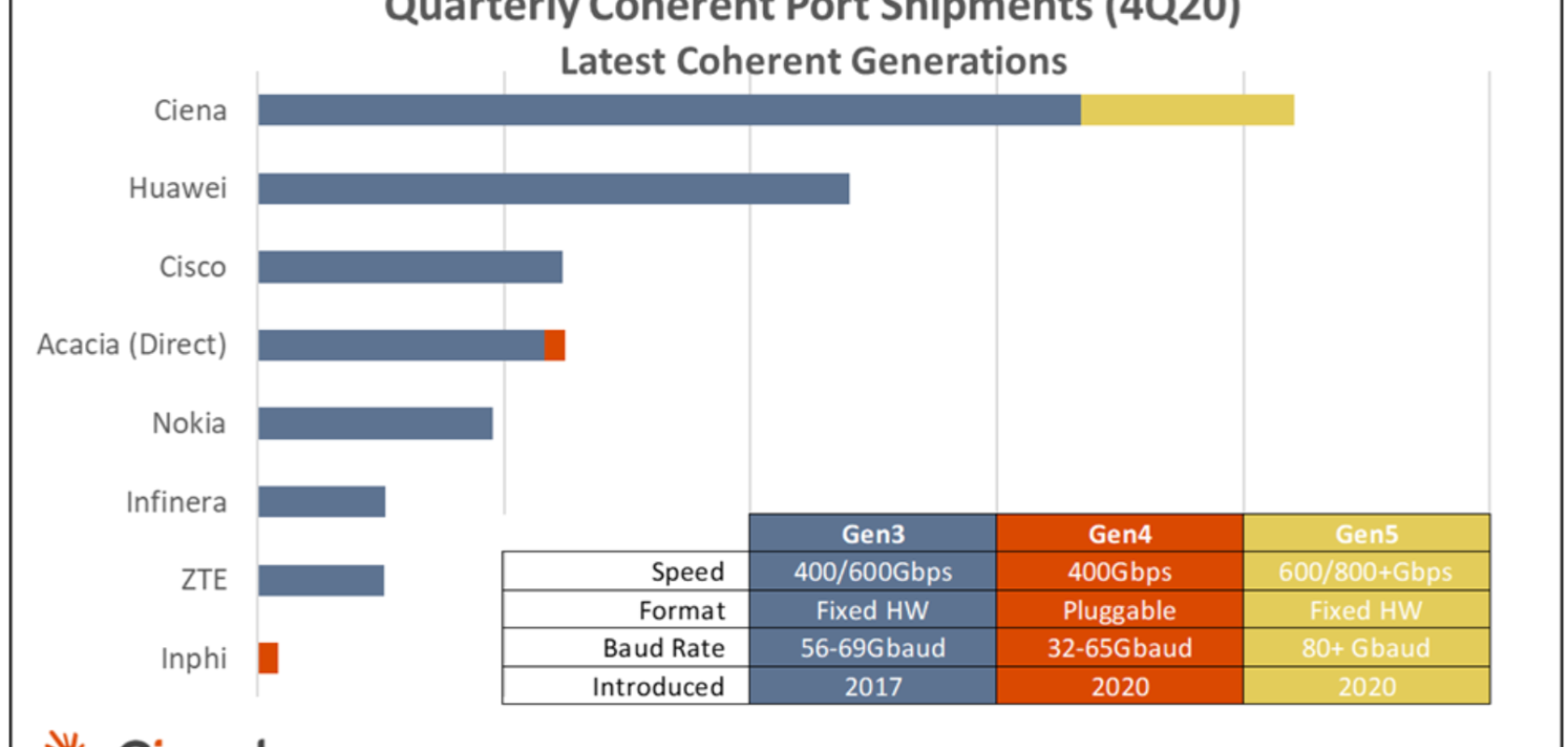 Market research firm Cignal AI has published its latest Transport Applications Report, covering the fourth quarter of last year.
According to the latest findings, there was a surge in shipments of the most advanced third generation (400/600Gb/s) and fifth generation coherent (800Gb.s) WDM technology, as network operators upgraded to the latest transmission hardware. 
The Transport Applications Report is designed to help provide perspective on the transformative product segments of the optical and packet transport markets, including comprehensive market share and forecasts of compact modular and packet-OTN as well as coherent port shipments. Vendors examined include in the report include Acacia (Cisco), Adtran, ADVA, Ciena, Cisco, Ekinops, Fujitsu, Huawei, Infinera, Inphi, NEC, Nokia, NTT Electronics (NEL), Ribbon and ZTE.
Other findings in the report include a rise in compact modular sales in the quarter of more than 30 per cent, which the research firm said significantly outperformed the overall optical market.
In addition, the report demonstrated that Ciena lost its compact modular market share during the period as Nokia and Huawei grew sales primarily in APAC. Outside of APAC, Ciena still claimed nearly 50 per cent of the market. The APAC region itself, accounted for more than 60  per cent of Packet-OTN switching sales for the fourth quarter and for the entire year. APAC also led all regions in the growth of Packet-OTN sales for 2020 as OTN-based architectures continue to gain traction in the region.
The latest report also highlighted that 400ZR early production shipments from Acacia and Inphi grew in 4Q20. All technical risk of these products has been eliminated, said the company, and demand is expected to outstrip production capability in 2021.
While Ciena continues to lead shipments of advanced coherent technology, the 4Q20 Transport Applications Report also detailed that Cisco, Infinera, Huawei, and Nokia began to take share in 4Q20. Acacia also continued to ship thousands of coherent ports to support a cloud operator's optical whitebox deployment.
Andrew Schmitt, directing analyst at Cignal AI said: 'Vendors beyond Ciena are finally ramping production of third generation coherent technology and accelerating the growth of this new market. Fourth generation coherent 400ZR and 400ZR+ technology will be the next market share battleground entering 2022.'
2022 forecasts for 400ZR+ shipments were raised based on stronger than expected interest from non-cloud operators for 400ZR+.