Comcast, ECI, Sparkle, Tata and Viavi win 2016 MEF Excellence Award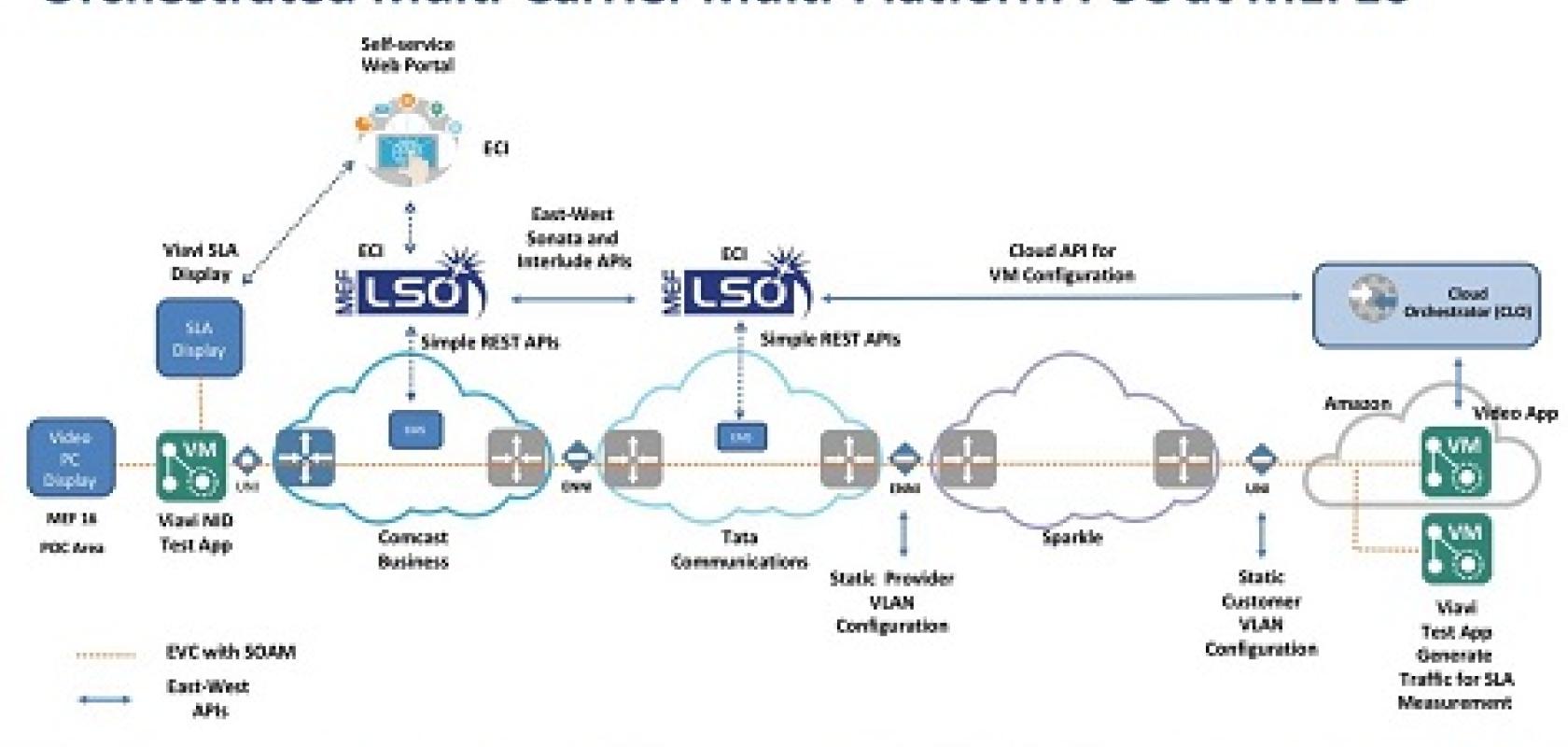 PHILADELPHIA, PA; PETACH TIKVA, ISRAEL; ROME, ITALY; LONDON, UK; MILPITAS, CA – Comcast Business, ECI, Sparkle, Tata Communications and Viavi Solutions (NASDAQ: VIAV) have collectively won one of two 2016 MEF Excellence Award for its Third Network Proof of Concept innovation. The companies collaborated on an orchestrated, multi-carrier, multi-platform demonstration as part of the Proof of Concept (PoC) Showcase at MEF16, November 7-9 in Baltimore, Maryland.
Recognizing that enterprises today have diverse requirements; the Third Network combines the performance and security assurances together with the agility and ubiquity of the Internet and brings a new network experience to millions of new users.
This award-winning collaboration was designed to showcase how a customer could gain access to flexible bandwidth and applications on-demand without human intervention – enabling unprecedented levels of network control for new and evolving types of cloud-centric applications, for network connectivity services within current network architectures as well as emerging SDN and NFV implementations. For service providers, additional upsides include the drastic reduction of service turn-up time.
During the PoC, the joint innovation simulated the delivery of Ethernet services through the three different network service providers, via an orchestrated environment with flexible bandwidth deployed on demand and connectivity bursting to Amazon Web Services (AWS) when needed.
"The Proof of Concept Showcase allowed MEF16 attendees to witness, first-hand, leading-edge implementations of agile/dynamic, assured, and orchestrated Third Network services powered by LSO, SDN, NFV, and CE 2.0," said Nan Chen, president of MEF. "We congratulate Comcast Business, Sparkle, Tata Communications, ECI, and Viavi on winning a coveted Proof of Concept Award for demonstrating the ability to provision on-demand Carrier Ethernet services across multiple network operators and multiple technology platforms."
The PoC showcased how a CE 2.0 E-Line service with a bandwidth on-demand requirement can be provisioned and orchestrated across multiple service and cloud providers using the MEF LSO Reference Architecture. Comcast Business, Tata Communications and Sparkle provided the originating network, the intermediate network and the direct connection into the cloud, respectively. ECI's EPIC platform with fulfillment functionality developed as part of the OpenLSO fulfillment project provided the means to seamlessly connect these disparate domains. Viavi's VNF-based service acceptance and testing technology verified the newly created service meets previously defined SLA requirements. The EPIC open source platform works towards a "vendor-agnostic" vision to deliver real-time control and assure network performance across carriers.
More information about the PoC can be found here.