First 'Superfast Essex' fibre broadband cabinet arrives in Uttlesford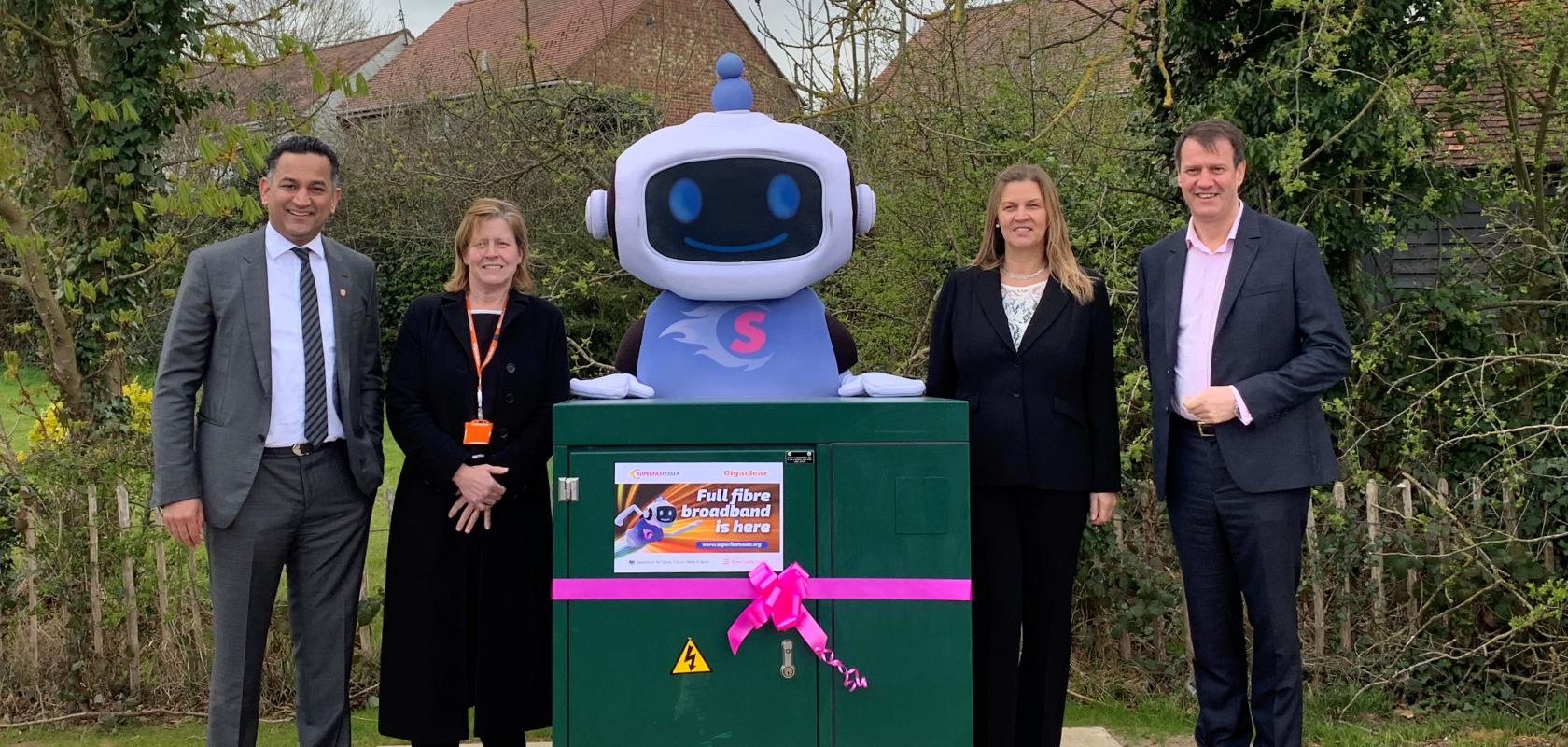 Gigaclear has installed its first pure fibre broadband cabinet in Birchanger, Uttlesford, under Essex County Council's broadband improvement programme, Superfast Essex.
The cabinet is providing 212 properties in Birchanger with a connection to a pure fibre broadband network, with more properties becoming enabled across Uttlesford in the coming months, including more in Birchanger, as even more cabinets are installed, and network connections built. The network is capable of delivering download and upload speeds of up to 900Mb/s.
The ultrafast rural broadband network operator is committed to delivering fibre broadband to more than 4,600 properties in Uttlesford District, as part of Phase 3 of its work with Superfast Essex. The £6.8 million contract is funded by an investment from Essex County Council, a local funding contribution from Uttlesford District Council, a matching government grant from Broadband Delivery UK (BDUK) in the Department for Digital, Culture, Media and Sport (DCMS) and a significant investment from Gigaclear. It was a significant civil engineering project that saw Gigaclear contractor Kier dig up 5.3km of carriageway, footway and verge to lay just over 6.5km of fibre.
Essex County Councillor Gagan Mohindra, cabinet member for economic development commented: 'I'm thrilled residents can now buy ultrafast broadband in Birchanger because of Superfast Essex's work with Gigaclear. This is the first of many cabinet areas due to be connected, meaning shortly even more Uttlesford homes and businesses will be able to benefit too. Building a brand-new broadband network is no easy feat, but the long-term benefits to the economy and quality of home life makes it a very worthwhile project for Essex County Council to invest in.'
Drew Ritchie, chief operating officer at Gigaclear added: 'This marks the start of a hugely exciting time for residents and businesses who live and work across the Uttlesford District. We believe passionately in the importance of digital inclusion for all, no matter how rural their chosen home or business is, and we are delighted that our network is bringing world-class broadband speeds to residents of Birchanger in partnership with Superfast Essex.'
Gigaclear has an existing partnership with Superfast Essex that has allowed approximately 4,000 homes and businesses in the Epping Forest District to benefit from the full fibre network.