OFC 2023: Ethernet Alliance celebrates 50 years of innovation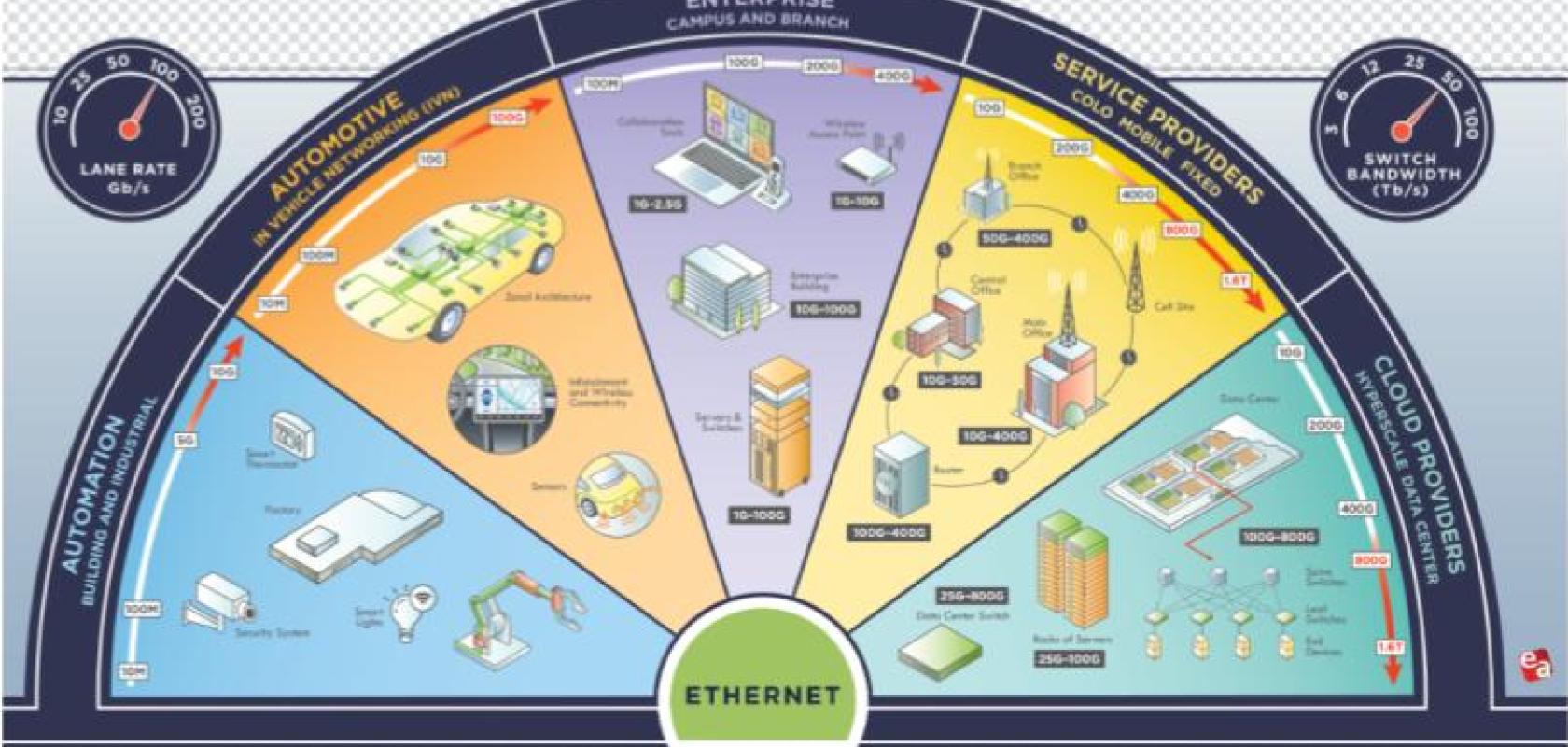 The Ethernet Alliance, a global consortium dedicated to the continued success and advancement of Ethernet technologies is undertaking a multi-vendor demonstration at OFC this week, featuring 18 participating member companies.
Ethernet was first created in 1973 by a team of experts at the Xerox Corporation's Palo Alto Research Center in California. The team was led by American electrical engineer Robert Metcalfe, and wanted to create a technology that could connect many computers over long distances. 50 years later, the Ethernet Alliance's demonstration spans a wide range of Ethernet technologies, from 10 800GbE, showing how far things have come. 
There is also a live network between the Ethernet Alliance and the Optical Internetworking Forum (OIF), Exfo Spirent Communications, and Viavi Solutions booths. This leverages single-mode optical fibres with high-speed traffic originating from an array of switches, routers, interconnects, including copper and optical cables. It will also showcase various interconnects using multiple pluggable form factors such as OSFP, QSFP-DD, QSFP, and SFP, and multiple interface types including OIF 400ZR, OpenZR+ MSA 400ZR+, and 800G-ETC-CR8. 
Finally, there are live demonstrations from BERT and AN/LT test equipment. The display is designed to capture Ethernet's 50-year track record of success, illustrate the need for a "living lab" of next-generation technologies, and set the stage for its next evolutionary phase. Peter Jones, chairman at the Ethernet Alliance explains: "We're now at the half-century mark, and Ethernet's star continues to rise. As a profoundly resilient technology that's getting progressively faster,  it is an innovation engine that drives market diversification and fuels business growth. As the volume and variety of applications expand, bridging between legacy systems and emerging technologies is increasingly critical. The Ethernet Alliance OFC 2023 demo underscores the importance of interoperability and perfectly frames Ethernet's ability to operate seamlessly across disparate industries and environments." 
Adds Ethernet Alliance OFC 2023 technical leads Jean-Marie Vilain of Exfo, Bob Wagner of Panduit, and David Estes of Spirent: "Our 2023 interoperability demo is formidable, given the manifold technologies, interconnects, and speeds on display, and mirrors the challenges facing the industry. Highly representative of real-world deployments, it interweaves the newest generation of switches, servers and test equipment at speeds of up to 800G, proving the Ethernet ecosystem is ready for 800G's broad adoption."
The Ethernet Alliance is also showcasing the 2023 edition of its Ethernet roadmap at OFC. The industry's only Ethernet roadmap is designed to reflect the latest advancements, speeds, and milestones, such as Ethernet's 50th anniversary, time-sensitive networking (TSN), synchronous ethernet (SyncE), and ongoing standardisation efforts. Available both digitally and in print, complimentary copies are available at the Ethernet Alliance booth, #5417.