Outlook positive for components despite slow Q3, says LightCounting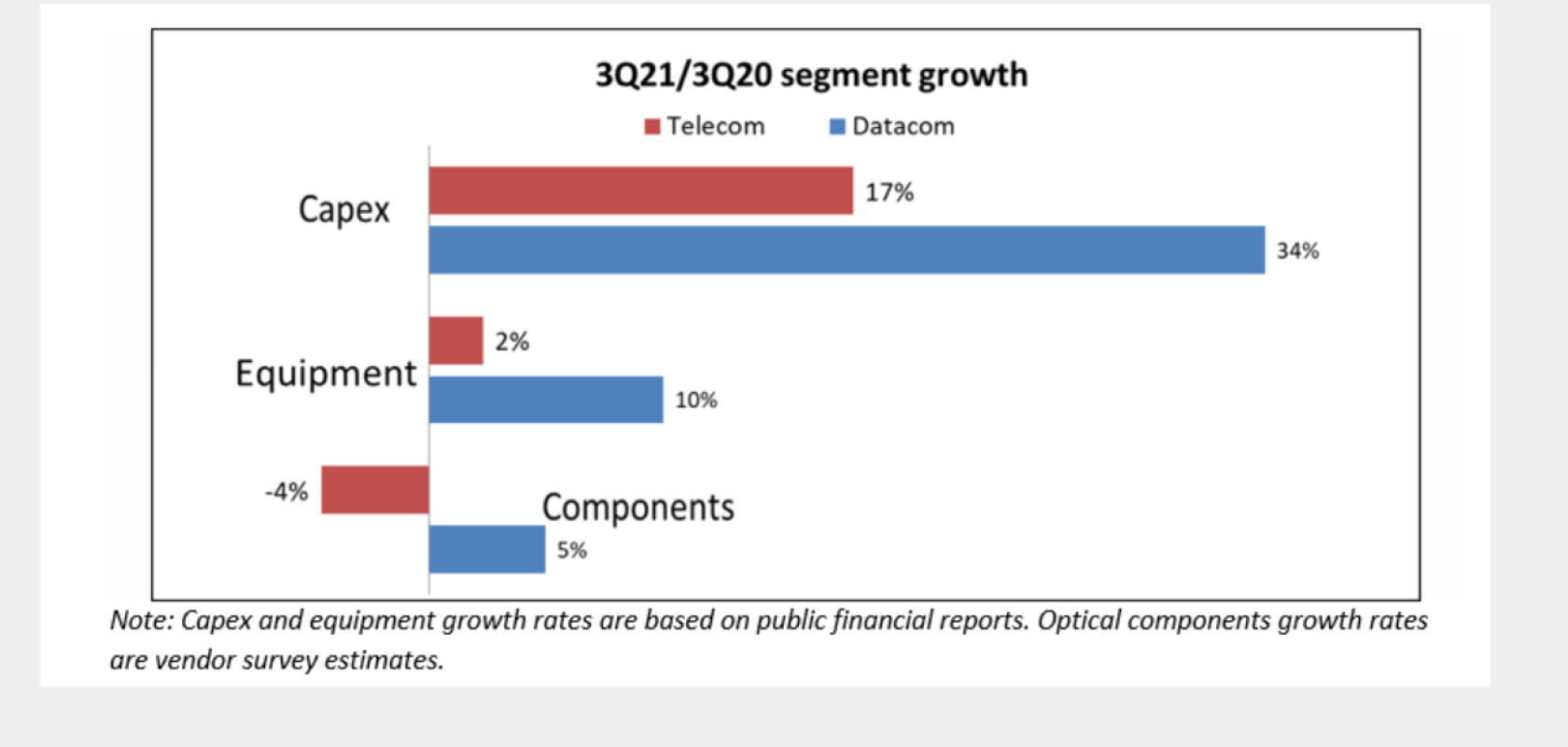 Industry research firm, LightCounting has published its December 2021 Quarterly Market Update
Amongst some of the notable findings were the Q3 2021 financial results across the industry supply chain, which were looked at in comparison with the same quarter of 2020. The datacom side of the industry, said LightCounting, saw growth from top to bottom, while on the telecom side, growth in CSP capex and telecom network equipment did not carry over to the telecom components segment. 
For component vendors, beating Q3 2020 was difficult, according to the report, because it was such a strong quarter for component sales last year. However, LightCounting said: 'We expect to see higher year-on-year growth rates for components in Q4 2021.'
In optical networking, Ciena had record high sales, of more than $1bn for the first time, growing 26 per cent year-on-year while the top 15 network equipment manufacturers collectively grew only 2 per cent. The report also noted that, despite continued problems in smartphone sales, Huawei's optical business was down, but in terms of DWDM port shipments, on par with 2020. A lack of new projects was cited as the most likely reason for the discrepancy between sales and port shipments. The semiconductor segment overall extended its streak of double-digit sales growth to seven quarters, with 12 of 14 companies double-digits ahead of last year.
Despite all the above, said the firm, Q3 component vendor company revenues in aggregate were 12 per cent lower than in Q3 2020, but flat compared to Q2 2021. On the bright side, Broadex, HiSense, Innolight, Lumentum, and Neophotonics all reported Q3 sales higher than Q2 2021.
When it came to optical transceivers, the report found that sales were flat versus Q3 2020, but up 7 per cent sequentially, with more growth expected in Q4. Sales of 400ZR/ZR+ will return the telecom components market to positive territory, predicted LightCounting, but IC shortages, shipping delays and surcharges continued to impact supplier revenues in the quarter.
In commentary, Lightcouning said: 'The outlook for 2022 is a volatile mix of positive and negative factors. Demand remains strong in most segments, and the pace of product innovation and commercialisation continues unabated. Yet component supply shortages and shipping issues continue to restrain companies from taking full advantage, and could lead to excess inventories down the road. The money-printing ICPs face growing regulatory threats which could dampen spending, in spite of Meta's planned increase, and 5G deployment continues on something of a slow burn. The overheated macro-economy is also showing signs of strain, with inflation starting to look more than transitory, and major debt defaults in China now a reality. Thus, we head into 2022 with both heightened opportunity and uncertainty, which will challenge every vendor in the communications industry.'