PRODUCT
LL-580 optical splicing and distribution enclosure
10 July 2013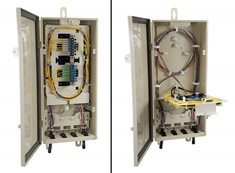 AFL has launched the LL-580 optical splicing and distribution enclosure, designed for organising, splicing and interconnecting fibres.
The enclosure addresses the need to patch, patch and splice, express cut/drop fibres and manage wavelengths (WDM or splitters) in a single enclosure. AFL says that, given its flexibility, the enclosure is an ideal fit for business service hand-offs, MDU distribution and connectivity, cellular backhaul and other commercial services that require weather-proof field connectivity.
'Many weather-proof enclosures exist on the market today, but very few are specifically designed to house and protect optical components beyond a fusion splice or a simple adapter connection point,' said Chuck Turner, product manager for AFL.
'The LL-580 manages both of those applications with ease; however, it expands upon that by being fully compatible with LGX-compatible modules.'