Viavi turbocharges network test and assurance with Nitro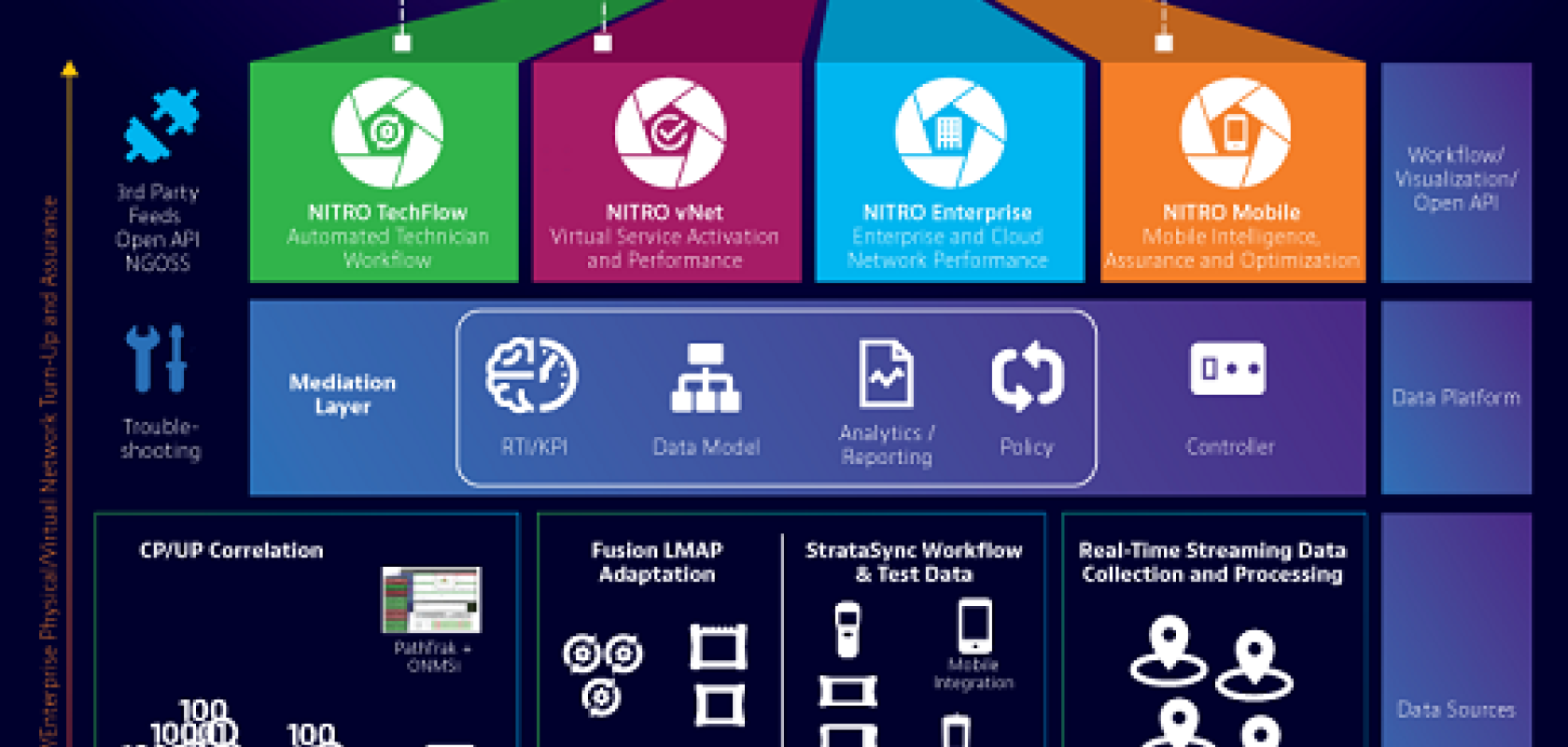 Networks are becoming cloudy in more ways than one. Test equipment vendors are already using cloud systems to manage tools and test results, and now Viavi Solutions has connected the results from its test instruments to network management platforms for the first time.
This represents the first step on a journey towards network automation, where operators use real-time data from embedded sensors and live test tools in their network to monitor and react to the conditions. Ultimately this should help service providers and enterprises reduce costs and complexity while optimising performance throughout the entire network lifecycle.
Viavi's new software platform is called Nitro, standing for Network Integrated Test, Real-time analytics and Optimization. The company claims it is the first real-time intelligence platform that seamlessly connects network test and activation data to software-based network planning, provisioning, assurance and optimisation applications.
The software is designed to help companies bridge the chasm between their legacy, physical networks and the new software-defined networking environment. Virtualization is not going to happen overnight, and service providers need to ensure that the transition will not negatively impact customer experience and profitability. This means they need test processes that can evolve with their network, according to Viavi.
Working seamlessly across mobile, fibre, cable, cloud and enterprise networks, the new Nitro platform works with existing Viavi instruments and software, presently deployed by over 200 network operators globally, to help operators maximise the value of their current investments.
"Nitro leverages intelligence gathered throughout the entire network and across the service lifecycle to overcome the increasingly complex challenges presented by evolving physical, virtualised, and hybrid networks," said Paul McNab, chief marketing and strategy officer, Viavi Solutions. "With a common platform that introduces greater automation, real-time analytics and virtualisation, Nitro enables service providers and enterprises to reduce complexity and manual intervention while maximising the value they gain from the broad line of scalable Viavi test and measurement instruments and software, including their current Viavi installed base."
Nitro will be the foundation for four distinct product sets:
Nitro vNet — virtual service activation and performance
Nitro Enterprise — enterprise and cloud network performance
Nitro Mobile — mobile intelligence, assurance and optimisation
Nitro TechFlow — automated technician workflow
Unveiled today, the first offering in this new family is Nitro vNet Fusion, a next-generation virtual Ethernet lifecycle management platform for test, service activation, performance monitoring and troubleshooting on all network layers. Fusion provides the tools to deliver repeatable, standards-based test methodologies to monitor and ensure network performance and verify service level agreements in both virtual and legacy mixed networks. This enables service providers and enterprises to resolve customer complaints faster, increase customer satisfaction with Ethernet and IP services, divert technician truck rolls with helpdesk based remote testing, and reduce technician coordination for RFC6349-compliant TrueSpeed tests.