ANGA COM 2023: Topics, technology and news
The ANGA COM conference and exhibition took place from 23-25 May in Cologne. Here is a round-up of just some of the technology announcements, demonstrations and news from the event.
This year's ANGA COM conference and exhibition took place from 23-25 May in Cologne. Following a successful post-Covid event in 2022, the 2023 event played host to more than 470 exhibitors from 35 countries, which the organisers say is a 30% uplift in bookings from last year. In particular, according to. Peter Charissé, CEO of ANGA COM, new fibre investors greatly expanded their presence in the exhibition halls.
On the conference side, there were some 58 panel discussions and more than 220 speakers covering the topics one might expect, such as streaming, OTT, connectivity and how to achieve new growth in TV and video. Reflecting the fibre boom, one of the biggest new developments that Fibre Systems readers should note is the International FTTH Summit, which began with a podium discussion between international vendors and follow up with a showcase on fibre optic expansion in Europe from both vendors and network operators.
Also new for this year was the Theme Day Fiber & Municipalities, which took place on Thursday 25 May. This saw nine fibre-optic network operators present their roll-out concepts to cities and municipalities. Speakers represented names such as: Deutsche GigaNetz, Deutsche Glasfaser, LEONET, OXG Glasfaser, Tele Columbus, Deutsche Giga Access, Infrafibre Germany, Vattenfall Eurofiber and VX Fiber. The programme will be completed by the "atene KOM Broadband Forum for Municipalities" with presentations on up-to-date industry topics.
Optical communications technology announcements at ANGA COM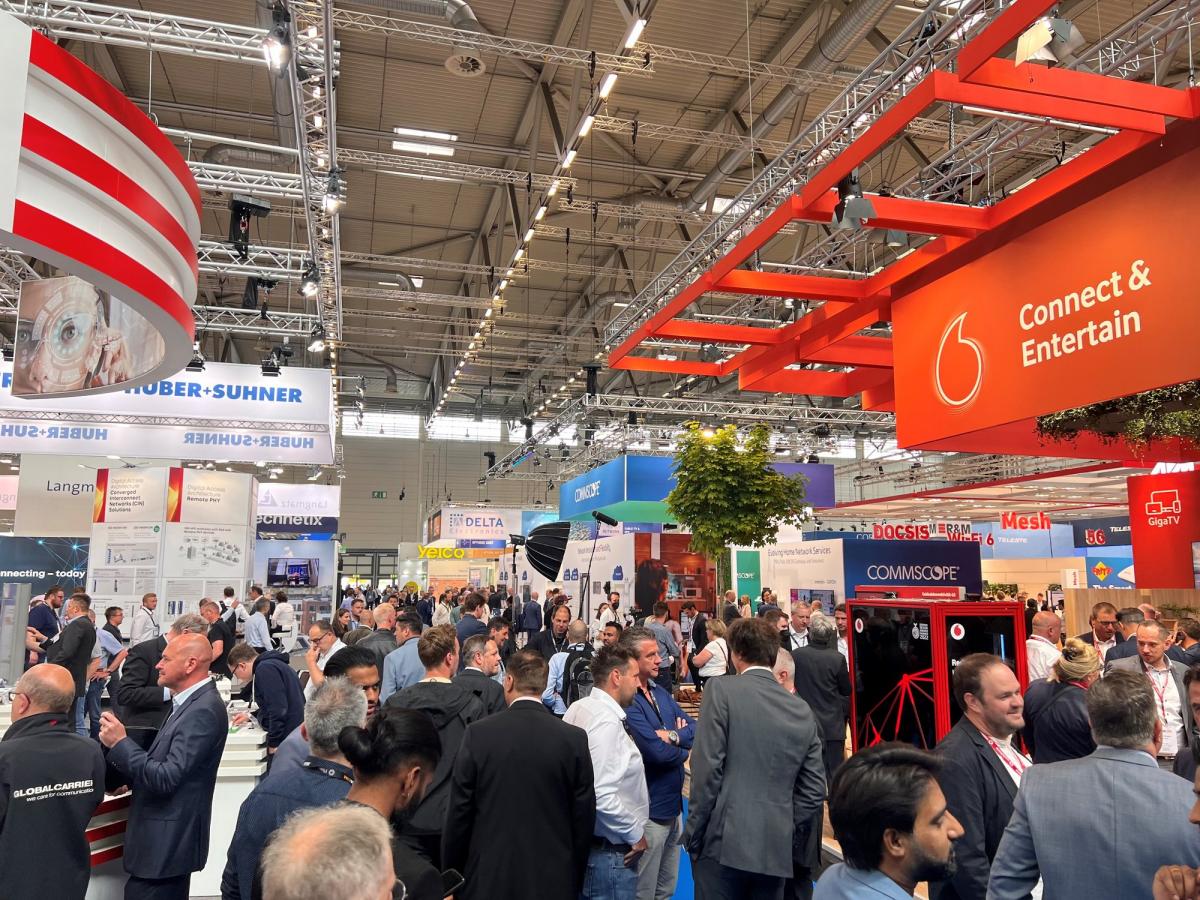 Here is a roundup of some of the latest technology announcements and products that were released during ANGA COM 2023. 
Acome demonstrated its high-density mini cables, which are designed to help reduce capex, as well as lower carbon footprints by up to 30%. The MCD1521- HD cable range allows the traditional density of fibres to be doubled without the need for additional cables – therefore helping to save time, money and resources.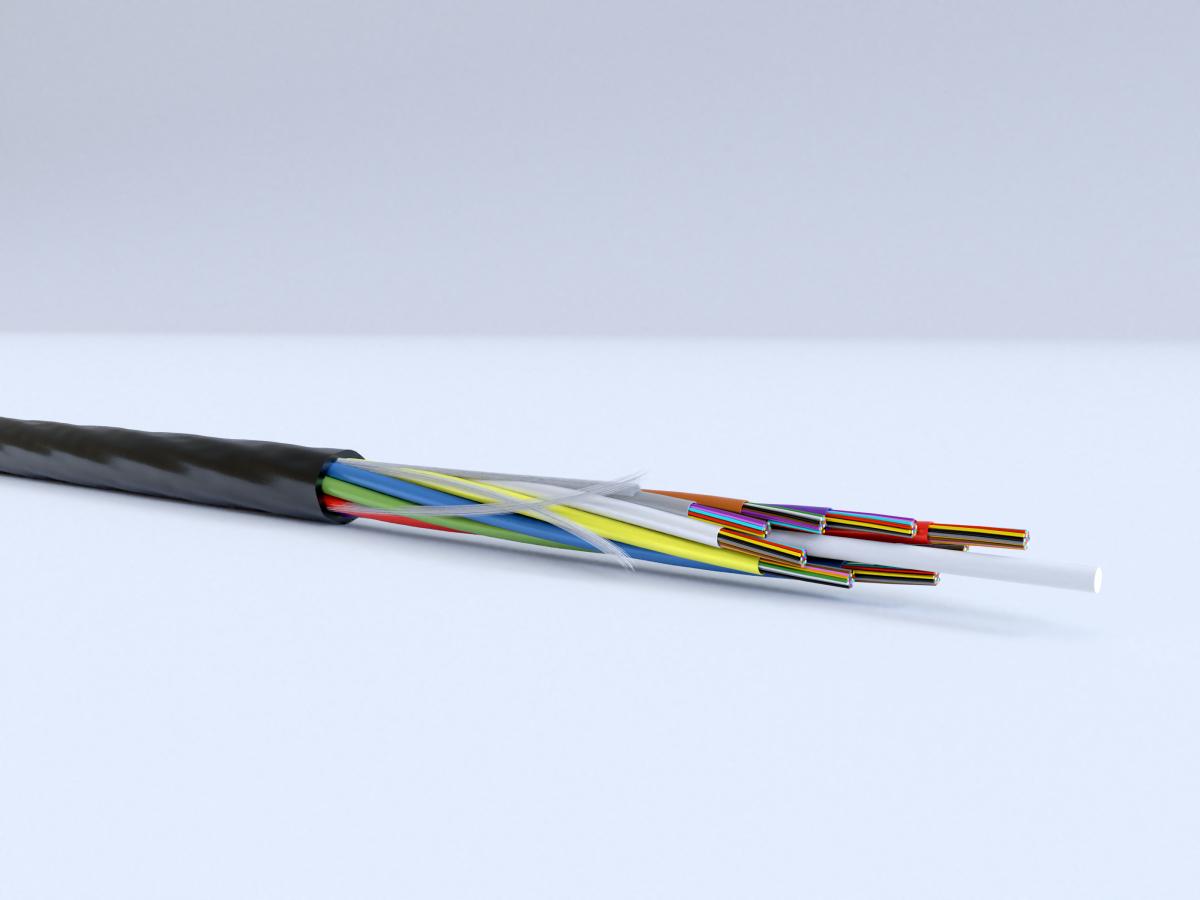 AFL showcased its new Focis Lightning2 multi-fibre optic connector inspection system and the FlowScout PON optical power meter. The Focis Lightning2 is a connector inspection tool for single fibre and MPO connectors. The FlowScout PON Optical Power Meter identifies, measures, and qualifies both downstream and upstream signal levels in FTTx PON networks. It has a large touchscreen display, detects multiple wavelengths automatically, includes integrated QR code reporting and requires no setup. Both devices are designed for novice and expert technicians so require no setup and little training. 
CommScope displayed its newly launched HomeVantage line of fibre gateways and optical network units (ONUs). The portfolio expansion of fibre gateways is designed to providea cost-effective solution for service providers to deliver the full 2.5Gb/s broadband speed of GPON around the home. The HomeVantage home networking solutions is a portfolio of high-performance gateways powered by advanced, open-source firmware stacks.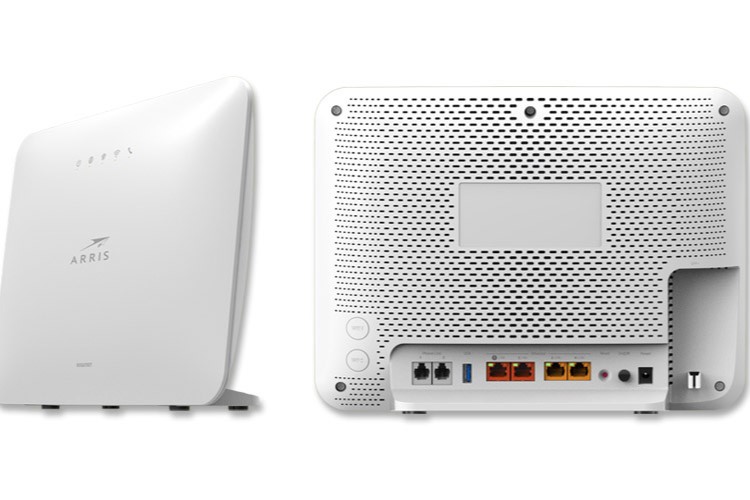 Corning showcased its FTTx solutions for a sustainable future, including the Evolv Solution with Pushlok Technology. This is designed to be an advanced, future-ready solution made for 5G and beyond. It features a smaller preconn terminal for portability and Pushlok mating to enable split-second connectivity. The company's alternative deployment methods will be on display, including the Thin-Film Bundle Drop Solution for nano-trenching and Outdoor Pathway Tape – a strong, flexible and efficient fibre optic surface tape. Corning will also present end-to-end solutions from the central office to the multi-dwelling unit (MDU), built to last while minimising adverse environmental impact.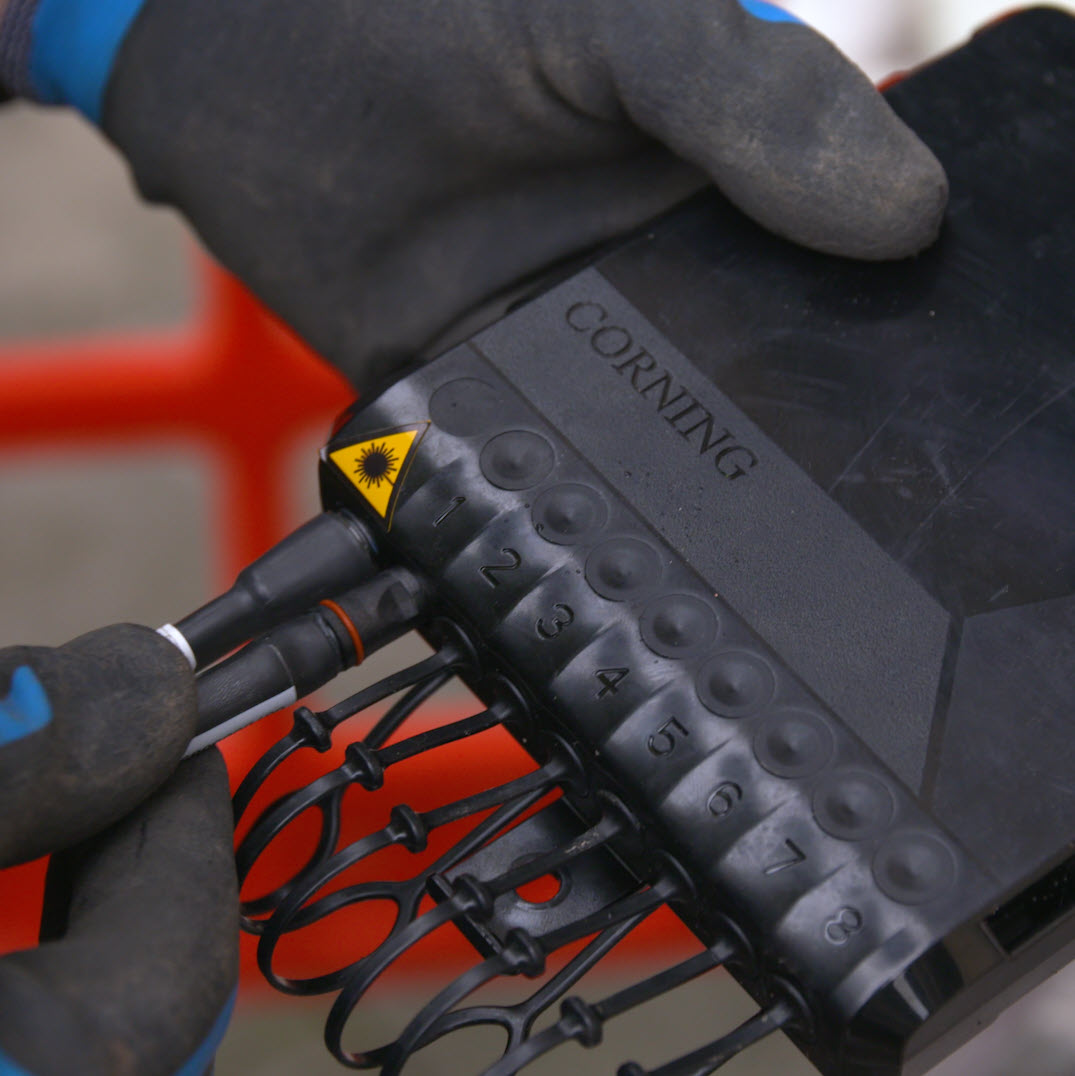 Eero, an Amazon company, showcased the eero Wi-Fi mesh system that is designed to provide fast, reliable, and secure internet connectivity to service providers' customers. The system can dynamically route traffic to avoid congestion, ensuring that each device in the home is connected. It is designed to be easy to set up and manage, even for non-technical users, and it integrates seamlessly with existing operator services and hardware, making it easy to add it to offerings and provide customers with a complete solution. 
Ekinops brought its Ekinops360 range to the event. The range was originally designed to enable the migration to 10G, and then to 100G, 200G and now to 600G and it will continue to a terabit and further. The range includes an extended temperature range-certified product line to the event. This was designed to overcome the challenges ofmore nodes being deployed at the edge and the increase with FTTH traffic, which mean that the portion of optical transport networks that lives in street cabinets is increasing. The product line consists of active and passive networking components capable of normal operation even in temperature extremes stretching from -40°C to +65°C. 
Huber+Suhner demonstrated products and system solutions to help accelerate the deployment of FTTH in suburban and residential regions. On display will be the RESA modular system, which was developed to address typical deployment issues such as high installation costs and resource constraints. Other solutions will include SYLFA HD, a fibre management system that provides customers with an easy-to-install space-saving solution for fixed access network applications. New for this year is the BKTEL XON1000 media converter, which is designed for use in all PtP or PON networks to enable convenient connections to public use information and service points. This enables the monitoring of e-charging stations or public Wi-Fi access points in real time.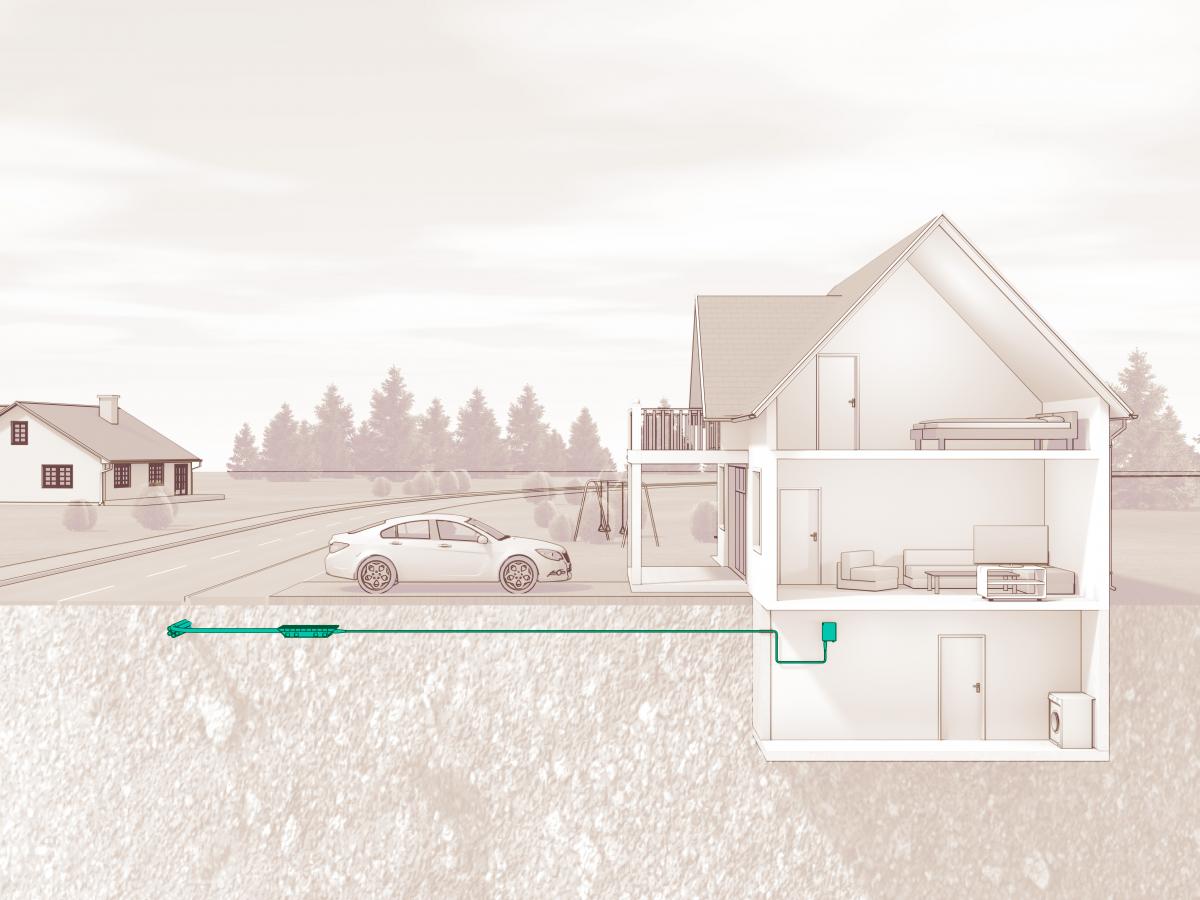 Layjet technology was also on display. This is a novel laying method for rapid laying of a fibre optic network in non-urban areas. The patented Layjet milling process was developed by road construction experts in cooperation with the Vienna University of Technology and the Graz University of Technology. It is designed to be one of the gentlest laying methods in the road shoulder. Several thousand kilometres have already been successfully laid in Germany and Austria since 2017.
As well as participating in a number of workshops and conference sessions, Nokia demonstrated its active optical equipment and customer premise equipment. Visitors can find out about the company's Fiber for Everything solutions including 25G PON and Lightspan MF fibre access nodes, with some new additions to the range on display. Nokia will also showcase its Wi-Fi solutions for improved in-home experience, and fixed wireless access range. The firm recently revealed its sixth-generation coherent photonic service engine, the PSE-6s. 
Pacific Broadband Networks (PBN) showcased its netWatch2 solutions. netWatch2 offers a robust software platform for managing DOCSIS and PON technologies. It enables efficient provisioning and ACS capabilities, allowing network operators to quickly provision and configure devices; as well as comprehensive monitoring of power supply and UPS/battery systems. 
The Pro360 touchless cleaner from Sticklers is designed to quickly and efficiently remove oils and dust across the entire end face surface of both male and female connectors. The portable Pro360 features a handset to inject a micro-dose of atomised, high-purity cleaning fluid within a Coanda effect airstream to clean and dry fibre optic connector end faces. Contamination is removed from across the entire end face with a touchless cleaning process. The cleaning fluid is classified as non-hazardous and is non-regulated for transport by sea, ground and air. Packaged in convenient spill proof canisters to guarantee solvent purity, each canister has capacity to clean more than 2000 connectors.  The cleaning fluid cartridge contains less than 100ml of fluid and can be conveniently carried through airport security screening in service kits or carry-on luggage.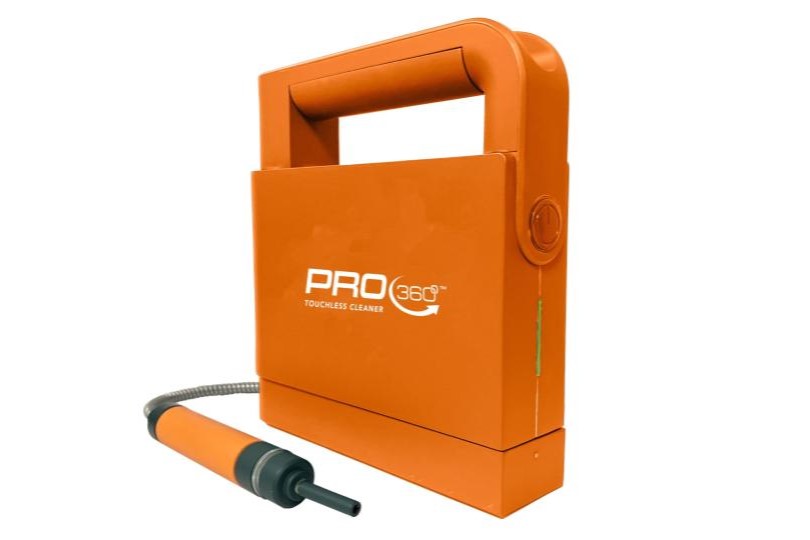 Teleste demonstrated its line of optical passives for FTTx rollouts and headend optics for traditional network segmentation over distributed access. These have been designed to help make network build easier, faster and more flexible. Also on display are 1.8GHz amplifiers and a range of passives to help bring operators to the cable industry's 10G era. Products and solutions for distributed access architectures (DAA) and high-speed DAA-based broadband for multi-dwelling units will also be showcased, and there will be demonstrations of the CATVisor Argus network management software that supports powerful batch operations for Luminato 4X4 digital headend clusters.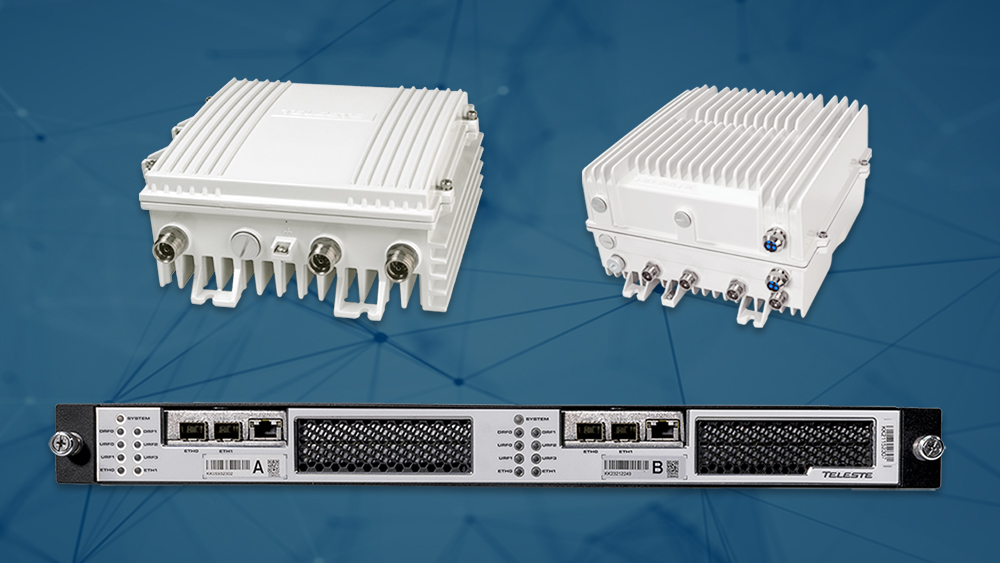 Technetix showcased its range of solutions for fibre, HFC, wireless and power at ANGA COM. These include the Technetix One Touch Solution, featuring DOCSIS 4.0 ready, 1.8GHz direction neutral network range of amplifiers and splitters. In addition, visitors can see the 1.8GHz modular XGT multitaps, designed to save up to 80% on inventory by using only 13 SKUs. There will also be a live demonstration of a remote OLT for rapid deployment of 10G symmetrical FTTH/P broadband services.