Collaboration to offer fibre opportunities in Cambridgeshire, UK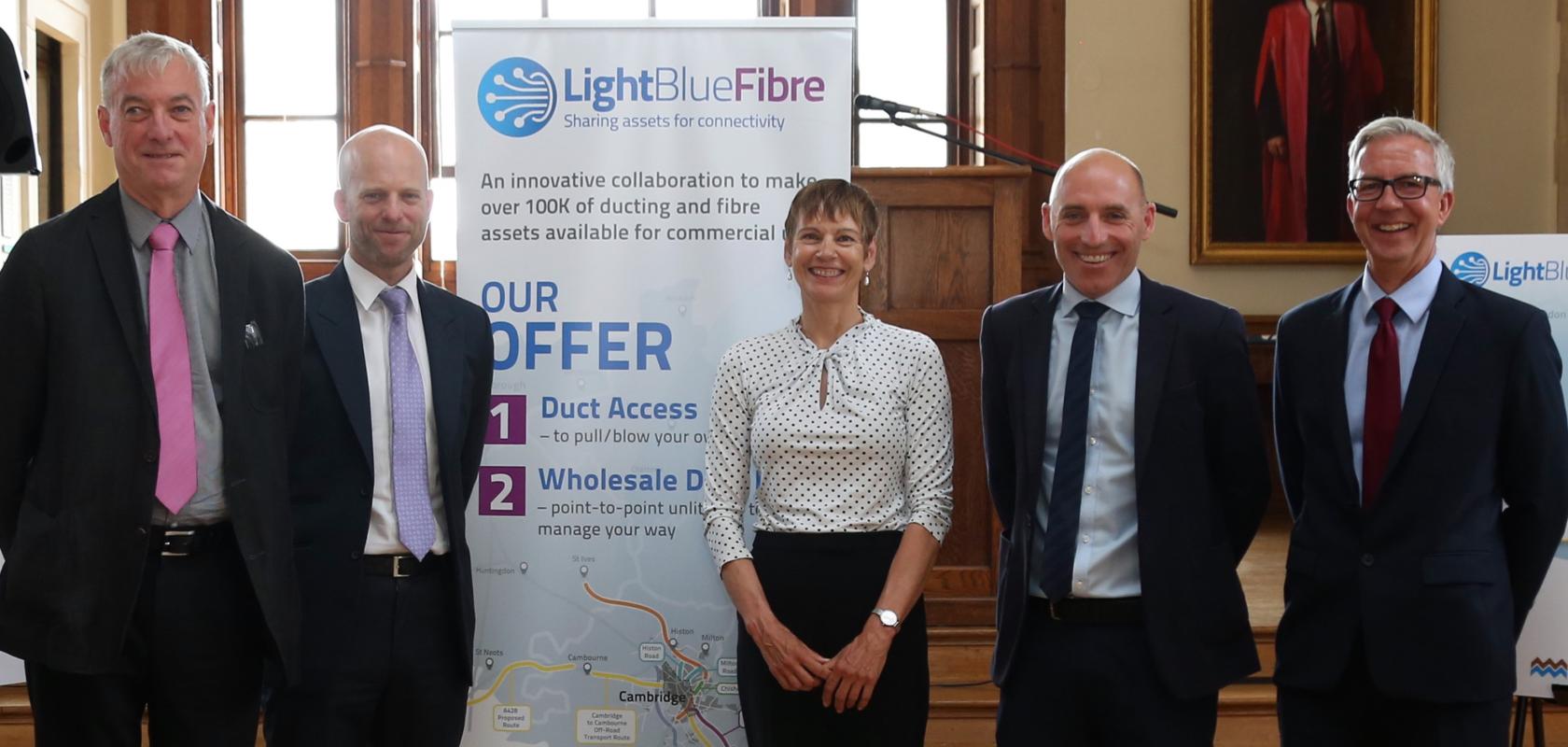 A joint venture has been launched between the University of Cambridge and Cambridgeshire County Council to open up new opportunities for full-fibre networks to expand the county's digital infrastructure.
Board Members from both parties formally signed an agreement to create the joint venture – known as Light Blue Fibre – in May, and the official launch took place in July. The university and the council have plans to further expand their duct and fibre assets and this collaboration will help businesses to access infrastructure that would otherwise be unavailable to them. Light Blue Fibre aims to attract telecoms companies, infrastructure providers and local technology businesses who understand the importance of full-fibre connectivity and are looking to reduce the need for expensive and time-consuming infrastructure developments.
The County Council's available fibre assets include ducting that is already incorporated into the construction of the Guided Busway, and will be included in all new major road, path and cycle projects following recently approved council policy to include fibre ducting during construction to extensively expand council's network of infrastructure over the coming years.
The Granta Backbone Network (GBN) is the University's privately-owned optical fibre network. Covering a large proportion of the historic city already, it radiates out to strategic locations delivering high speed, high-availability network services to colleges, institutions and research bodies linked to the University.
Professor Ian Leslie, chair of the board for Light Blue Fibre, said: 'The development of Light Blue Fibre will make the existing and future ducting and fibre assets of two major networks in Cambridgeshire available for community and commercial use. It will provide local businesses, government, health and the education sector with cutting edge digital infrastructure, capable of meeting their data connectivity and communication needs for now and into the future and it gives the university more opportunities for wider connectivity.'
Noelle Godfrey, board member for Cambridgeshire County Council added: 'Connectivity is a vital element of the government's national digital strategy which provides a foundation for economic strength, thriving communities and successful localities. Cambridgeshire County Council and University Information Services' network team have developed a strong collaboration over a number of years of joint working to the benefit of the local community and businesses alike, and this is the next step.'
Margot James, minster for digital and the creative industries, also added: 'Through our modern Industrial Strategy we're building a nationwide full-fibre network to make the UK fit for the future. Local partnerships in Cambridgeshire are sharing resources and infrastructure in a new way to help realise this vision, bringing about a significant boost in gigabit speeds for the benefit of homes and businesses in rural areas.'