Salisbury to be first UK city to access FTTP under Openreach 'Fibre First' programme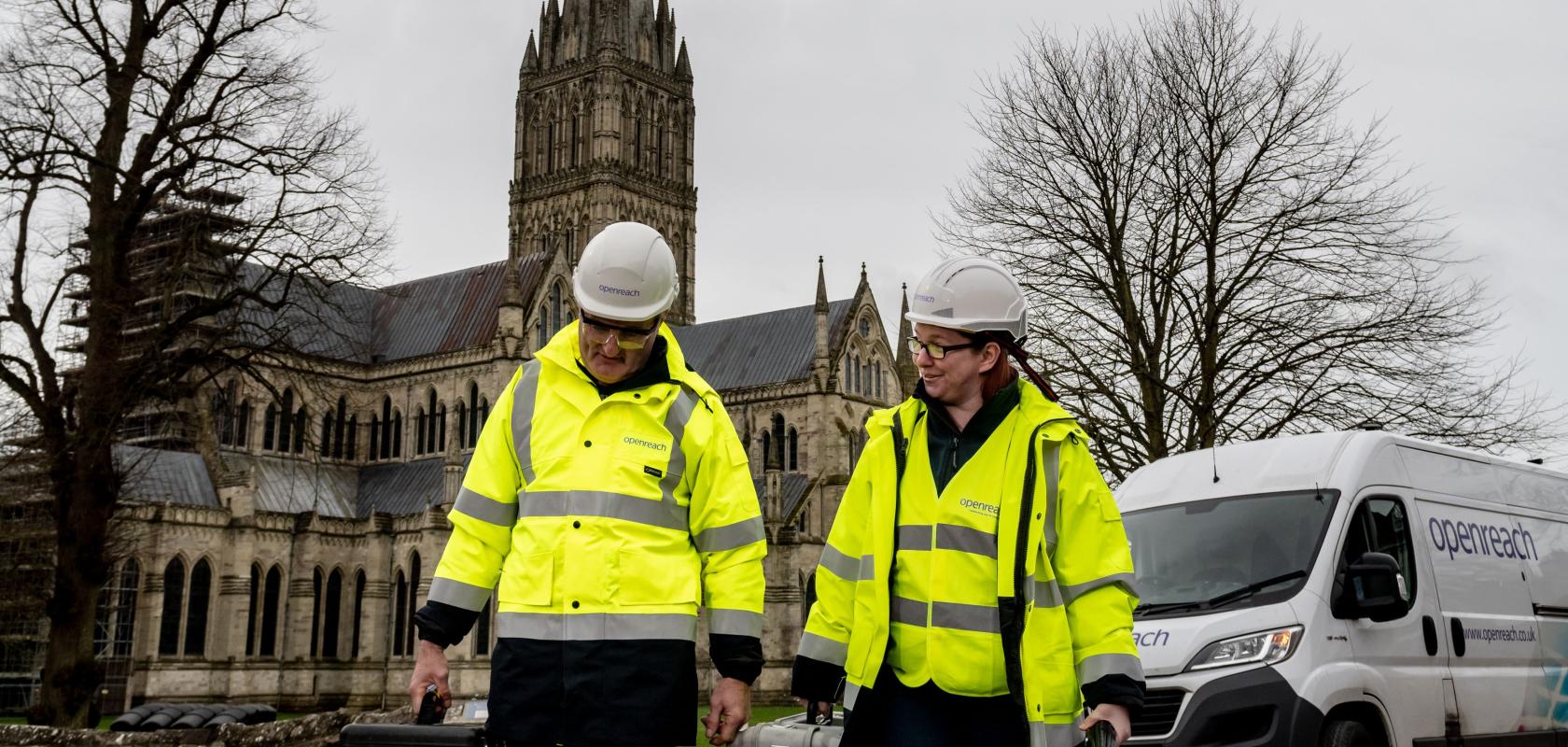 Salisbury has been announced as the UK's first entire city to gain access to Openreach's new fibre to the premises (FTTP) technology under the company's Fibre First programme.
Early last year, Openreach pledged to bring high-speed broadband to three million UK premises by the end of 2020 as part of the programme. The company is aiming for the programme to be completed in Salisbury within a year. It will deliver fibre optic broadband cables from the exchange directly to more than 20,000 premises across the city.
Openreach says that it is working closely with partners across the city to ensure the infrastructure build can happen quickly and with minimal disruption to local residents. It is hoped that the new services will be ready to order throughout the city by April 2020. The organisations have also identifying new use cases for the city's residents, businesses and public services in order to help them to exploit the new platform.
Clive Selley, CEO at Openreach, said: 'For Salisbury's homes, shops, GP surgeries and schools, it will mean fewer broadband faults, faster connections, and a consistent reliable network that will serve the city for decades to come. This is the first location in the UK where we're aiming to upgrade an entire city network in a single year, so it's a hugely ambitious project. As a medieval city, Salisbury's narrow streets won't be the easiest for our engineers to access and work in, but we're confident that it's achievable thanks to the close partnership we've built with the Council and the unrivalled experience and skill of our engineering teams.'
Commented John Glen, MP for Salisbury and South Wiltshire: 'Following early discussions I had with Openreach last year, I am absolutely delighted by their decision to make Salisbury the first Openreach city in the UK to gain access to full fibre broadband.  Full fibre will significantly improve the attractiveness of Salisbury for companies looking for a location with cutting-edge connectivity, boosting the number of high-quality job opportunities for constituents. With speeds of 1Gb/s, I very much look forward to seeing how this investment will transform opportunities for local residents and businesses, as well as driving innovation in the provision of public services.'
Concluded Councillor Pauline Church, cabinet member for economic development and South Wiltshire recovery at Wiltshire Council: 'We are looking forward to fibre broadband coming to Salisbury and enjoying the benefits of full-fibre technology in the city. This new network will provide a platform for Salisbury's future economic and social prosperity, and we welcome Openreach's commitment to ensure a safe, fast and quality build that minimises disruption in our historic city.'
The UK's push for high speed broadband was reflected in this year's Market Panorama figures, which were released at the recent FTTH Conference in Amsterdam. The market entered the European rankings for the first time with a penetration rate of 1.3 per cent and take-up rate of 13.1 per cent, and forecasts predict that the UK will catch up to become second in the ranking in 2025, ahead of France and Spain.