High-speed fibre sees strong growth in OECD countries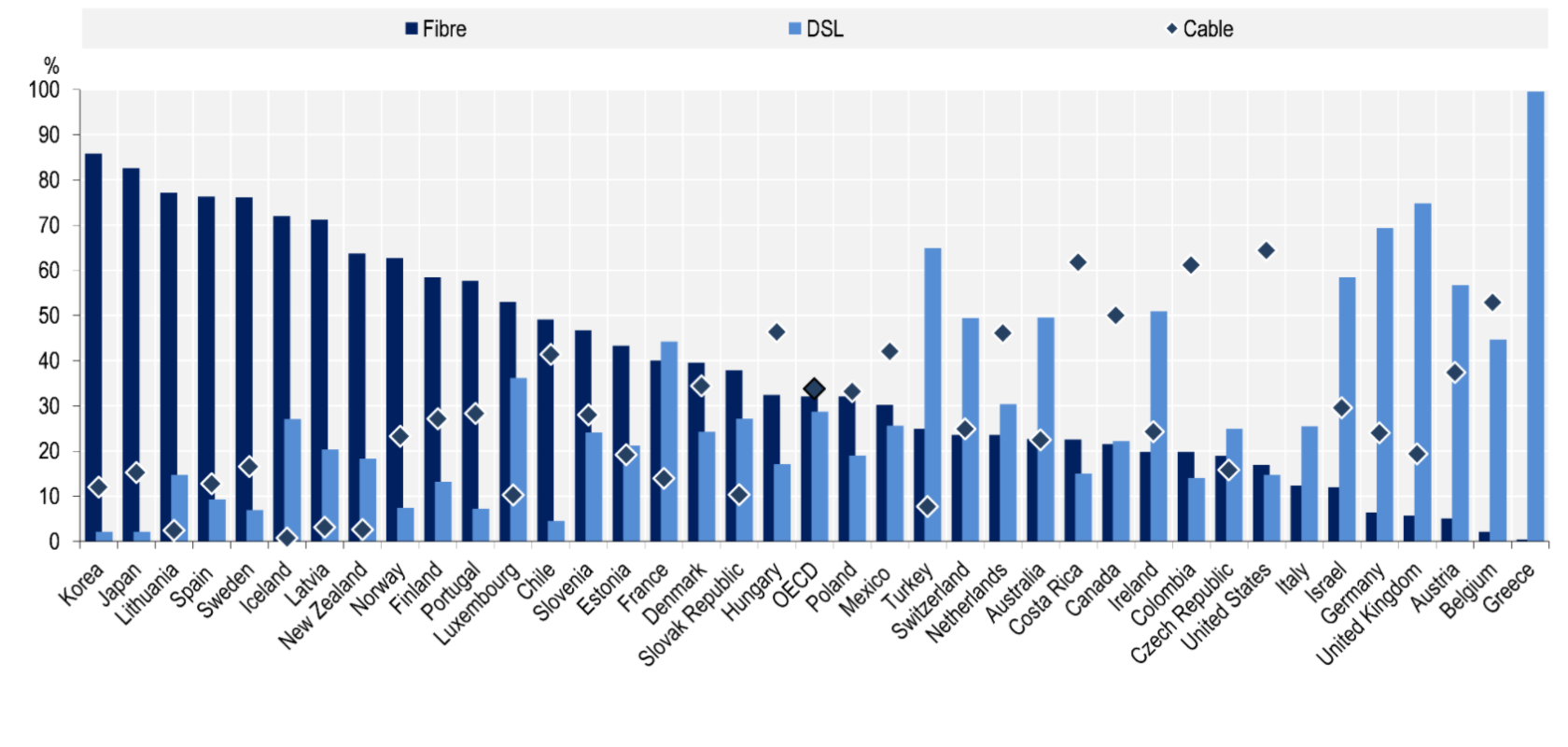 The Organisation for Economic Co-operation and Development (OECD) has released the latest update to its broadband portal, which demonstrates that high-speed fibre subscriptions grew by 15 per cent across member countries from June 2020 to June 2021.
Fibre now makes up 32 per cent of fixed broadband subscriptions across the OECD's 38 member countries. This is up from 12 per cent a decade ago, and is outpacing a 4.5 per cent rise in overall fixed broadband subscriptions. 
According to the organisation, member countries use different technology mixes, but 23 of the 38 now have a higher share of fibre than copper-wire DSL in their total fixed broadband connections, up from 20 countries a year ago.
Cable showed more modest growth of 4 per cent in the year to June 2021, and is now declining in 15 countries, yet it remains the main fixed broadband technology for nine OECD countries. DSL subscriptions declined by 6% over the same period, with several OECD countries showing sharp declines.
Latin American OECD countries saw significant increases in fibre with growth rates of 74 per cent for Costa Rica, 71 per cent for Chile, 43 per cent for Colombia and 26 per cent for Mexico. Other countries with strong growth in fibre connections include Israel with 76 per cent, Ireland with 54 per cent and Italy with 53 per cent. Seven countries now have a fibre share of above 70 per cent of their fixed broadband subscriptions: Korea with 86 per cent, Japan with 83 per cent, Lithuania with 77 per cent, Spain with 76 per cent, Sweden with 76 per cent, Iceland with 72 per cent and Latvia with 71 per cent.
Cable remains dominant in North and South America, said OECD, accounting for 64 per cent of subscriptions in the U.S., 62 per cent in Costa Rica, 61 per cent in Colombia, 50 per cent in Canada, 42 per cent in Mexico and 41.4 per cent in Chile, where fibre has overtaken it. In Europe cable is the dominant technology in Belgium (53 Per cent), Hungary (46.4 per cent), and The Netherlands (46 per cent).  
DSL connections, meanwhile, saw sharp declines of more than 30 per cent in Chile (-37 per cent), New Zealand (-32 per cent), Norway (-40 per cent), Spain (-32 per cent), and Sweden (-31 per cent). Some operators in OECD countries are in the process of shutting down copper connections altogether, for instance in France, Japan, Estonia, Finland, Sweden and Spain. 
Overall, fixed broadband subscriptions in OECD countries totalled 462.5 million as of June 2021, up from 443 million a year earlier, to average 33.8 subscriptions per 100 inhabitants. Mobile broadband subscriptions totalled 1.67 billion as of June 2021, up from 1.57 billion a year earlier, and averaged 122 subscriptions per 100 inhabitants.