EXFO launches TestFlow cloud-based test automation
EXFO has launched TestFlow, its new process automation and compliance application that helps mobile network operators to streamline and automate complex testing procedures during the construction and service turn-up phases of fibre-based mobile networks, including centralised radio access network (C-RAN), fibre-to-the-antenna (FTTA), distributed antenna system (DAS) and small cell deployments.
TestFlow is a cloud-based application that automates the test process and ensures compliance to operator-specific methods and procedures. Backed by EXFO's industry expertise, TestFlow empowers operators to track deployment progress, audit test results in real time, and analyse process inefficiencies to optimise fronthaul mobile network deployment and performance.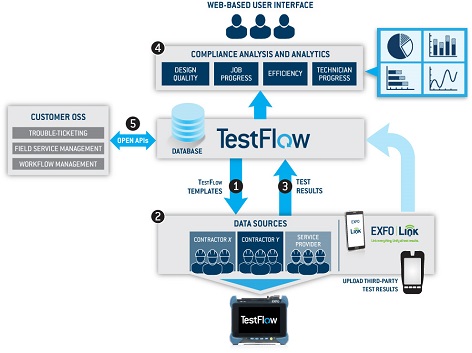 The TestFlow works with EXFO's ecosystem of FTB field testing platforms, as well as third-party field test devices. TestFlow breaks down complex test procedures into a step-by-step automated sequence that guarantees field technicians have access to the right test parameters and procedures, in turn certifying that network construction and installation jobs are completed correctly and to the right specifications/thresholds. The end result is fewer installation issues and project errors, and a significant reduction in repeat truck rolls.
TestFlow also comes with powerful reporting capabilities—all test data is centrally stored to facilitate assessment via contextually relevant analytics. This gives operators real-time visibility into field-testing performance, and the ability to quickly identify performance trends and project status for informed business decisions.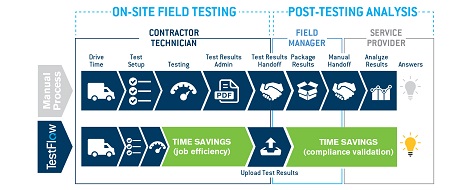 "With TestFlow, EXFO is bringing forward a highly differentiated application to comprehensively address field test process automation and compliance for operators. Our aim is to drive efficiency and reduce operating expenses by automating the flow of information effectively and accurately throughout critical testing phases in the field, and to empower decision-makers with access to actionable, real-time and trusted data," said Stéphane Chabot, vice president of EXFO's physical layer test division. "TestFlow ultimately ensures highly efficient and better-quality jobs, enabling service providers to maximize return on investment through on schedule project delivery and a significant reduction in future service issues."