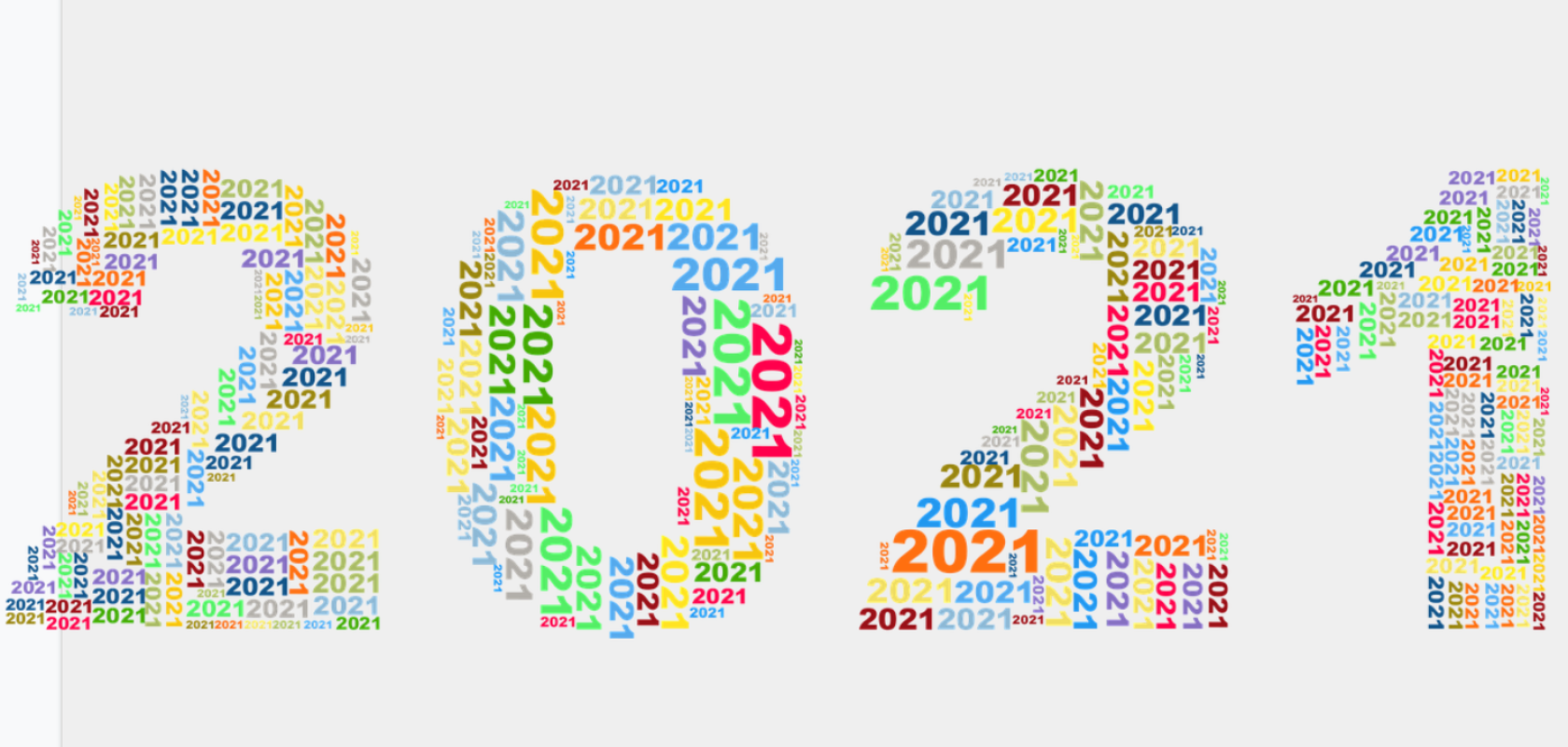 Some of the most-viewed and industry-shaping stories of 2021
January
Looking back at this very same feature from last year, it was apparent that there was an appetite for news surrounding mergers and acquisitions. After 12 months, several lockdowns, supply chain issues and other pandemic-related challenges, it's clear that the acquisition trail is still one of the hottest topics for our readers, as evidenced by the most popular stories in January.
It may be little surprise to note that the most-read story on the Fibre Systems website in January 2021 was the news that Lumentum had bid to acquire Coherent for $5.7bn, bringing the latter's photonics and lasers businesses into the former's telecom, datacom, and 3D sensing photonics businesses.
Alan Lowe, Lumentum president and CEO said at the time: 'Coherent brings one of the most recognisable and respected brands in the photonics industry and a very talented and innovative team. By increasing our scale, expanding our portfolio, and bolstering our R&D capabilities at a time when global markets are increasingly relying on photonics products and technologies, we are confident in our combined ability to pursue exciting new growth opportunities.'
Of course, this was not to be the end of the story, and there will be more on that as we move through the year. But it was interesting to note that the other story with which our readers most widely interacted was the news of a report published by Bloomberg Intelligence (BI), which said that consolidation could make a comeback in the European telecom market for 2021.
The Europe Telecommunications 2021 Outlook report said that the sector could see the return of market consolidation with carriers looking to test EU regulators following the court challenge to the EU's decision to block the Three-O2 deal. Due to the pandemic, it was predicted that the previously strict merger and acquisition (M&A) regulation could be loosened a little, with mergers in the telecom sector looked upon 'more favorably' by regulators than before.
Telecom team industry analyst at BI, Erhan Gurses explained: 'The pandemic pushed industry valuations to a record low, but a subdued cash-flow outlook may hinder re-rating potential. M&A could support valuations if private equity interest is sustained.'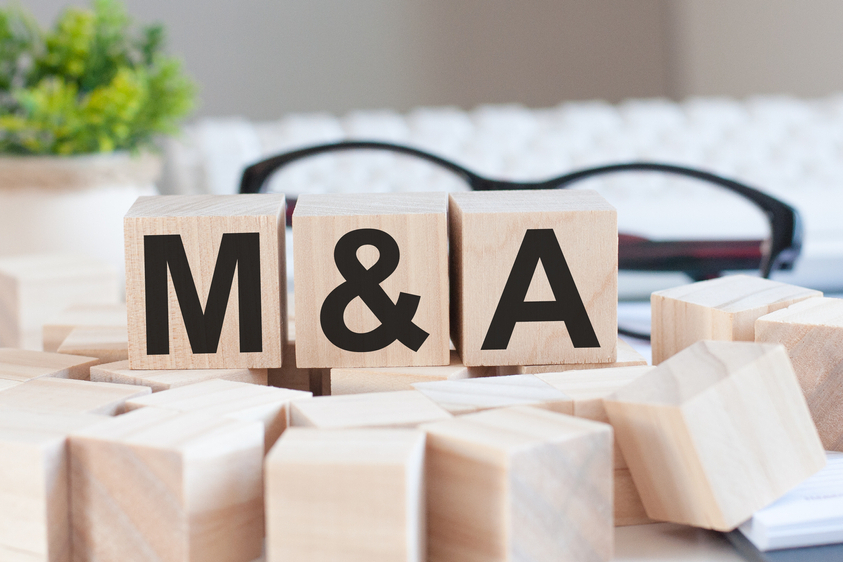 Image credit: Maks_Lab/Shutterstock.com
February
The race to acquire Coherent took another turn in February as both MKS Instruments and II-VI announced that they too had made an offer for the laser technology firm. MKS Instruments made a $6bn acquisition proposal, and under II-VI's initial proposal, Coherent's shareholders would receive $130 in cash and 1.3055 II-VI common shares for each Coherent share. The deal would work out at around $6.4bn.
Vincent Mattera, chief executive officer at II-VI said: 'We firmly believe our proposal is far superior to Coherent's existing merger agreement with Lumentum and the recent acquisition proposal from MKS Instruments, as it is a more compelling strategic fit and would provide Coherent's shareholders with meaningful upside opportunity. Moreover, we are confident that our transaction would have greater certainty of closing. In particular, we have not identified any competitive overlaps between Coherent's and II-VI's respective businesses in China. We believe we would have significant and diversified opportunities to accelerate our growth through complementary technology platforms, to increase our competitiveness by using scale across the value chain, to demonstrate deeper market intelligence and expertise, and to further diversify our businesses and revenue streams.'
However, this story was set to run for a little while longer...
Also widely-read in February was the news that EllaLink completed the marine installation stage of its trans-Atlantic cable system between Europe and Latin America.
The EllaLink submarine cable system is a four-fibre-pair submarine system designed to satisfy the demand for traffic between Europe and Latin America. Linking data centres in Madrid, Lisbon, Marseille, Fortaleza and São Paulo, it provides express subsea connectivity, and offers what the company claimed to be the first ever direct fibre pair between the two continents. The project was announced in 2018, with work beginning the following year.
With installation work complete, the next stage was to light the network, for which EllaLink selected Infinera's ICE6 technology to provide a direct single hop transmission path between data centres in each continent. The ICE6 800G coherent technology was chosen to help enable EllaLink to offer advanced customer products and services, supporting over 100 terabits between Portugal and Brazil. Furthermore, the network will support a 30Tb/s link from Portugal to Madeira, with an additional 40Tb/s path between Portugal and Morocco in the future.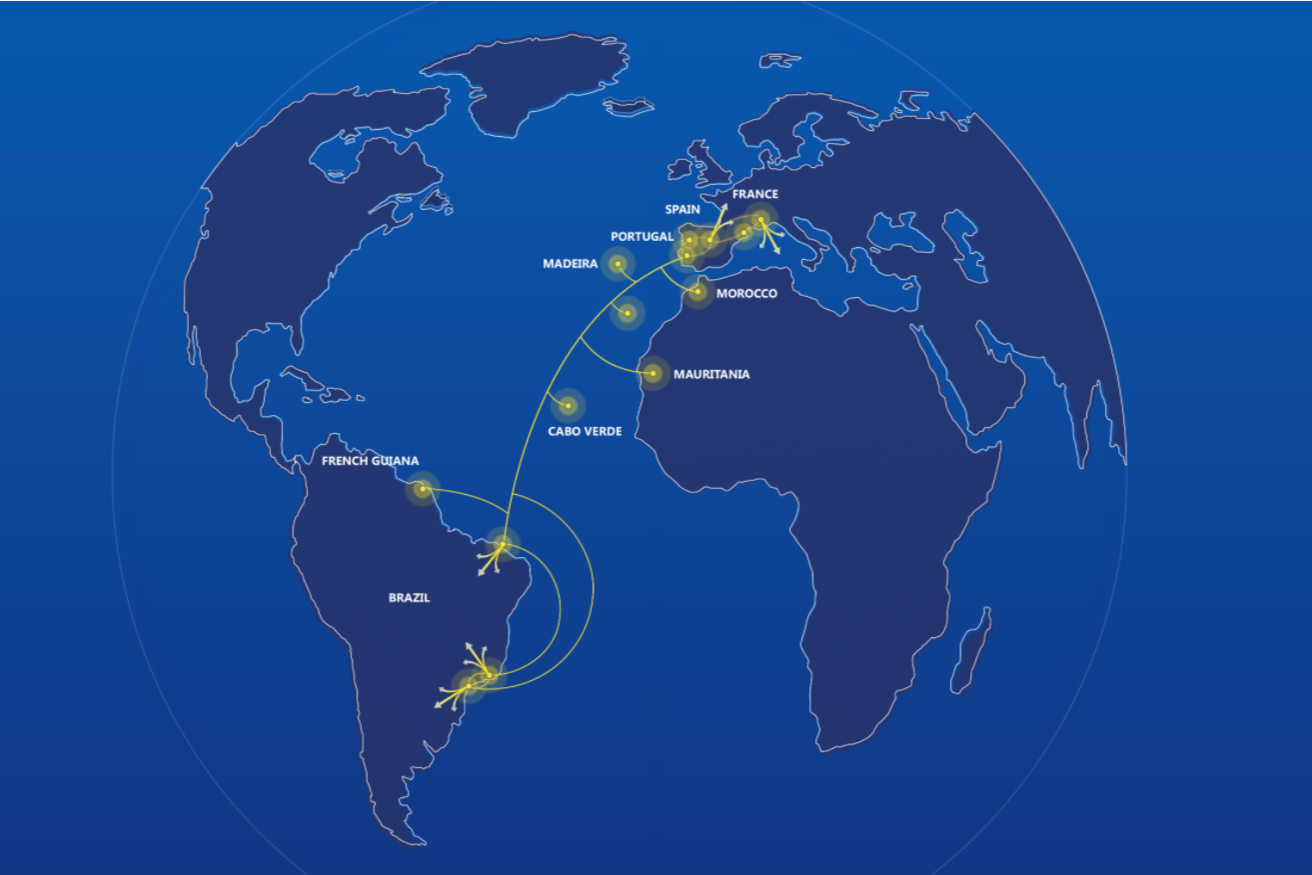 March
Following the aforementioned lengthy bidding battle, March was the month that saw II-VI Incorporated successfully bid to acquire Coherent for approximately $7.01bn.
Due to the terms of the merger agreement previously signed with Lumentum, Coherent was required to pay a $217.6m termination fee to the firm.
'In making its determination, the Coherent board of directors evaluated the comparative benefits and risks of the II-VI and Lumentum proposals, including the near-term and long-term financial opportunities and risks presented by each proposal, the potential synergies available through a combination with each company, and the complementary businesses of each company,' Coherent said in a statement.
Commenting on the accepted proposal, II-VI CEO Dr Vincent Mattera Jr said: 'We are pleased to have reached an agreement with Coherent to create a global leader in photonic solutions, compound semiconductors and laser technology and systems. Together, we will have significant opportunities to accelerate our growth through complementary technology platforms, strengthen our competitiveness by using our combined scale across the value chain, benefit from deeper market intelligence and expertise, and further diversify our businesses by end market and geography. Moreover, the combination of II-VI and Coherent will increase our collective exposure to irreversible megatrends for decades to come. We are excited to welcome the talented Coherent team to II-VI and look forward to working together to deliver significant value to all stakeholders, including both companies' shareholders, customers, employees, and business partners.'
In an announcement, Lumentum noted: 'Coherent's board of directors chose to accept an offer that is inferior in overall value and cash consideration. Using the closing prices as of 24 March 2021, Lumentum's offer had a value of $283.12 [per Coherent share] while the value of II–VI Incorporated's offer was $281.21.'
April
Fibre cable technology came to the forefront in April, with the news that bandwidth infrastructure firm euNetworks deployed a new business network in London, based on hollow core fibre technology.
The network runs in the financial district of the UK's capital, between Interxion, a digital realty company, and the London Stock Exchange. It is designed to provide the kind of significant latency savings demanded by financial trading applications.
For the technology, Southampton University spin out, Lumenisity supplied its CoreSmart cable solution, based on NANF hollow core fibres, in what was thought to be the first commercially available deployment of this technology. It was part of an agreement covering additional deployments over the coming years between trading venues and other locations.
Tony Pearson, business development director at Lumenisity said at the time: 'We're very pleased to partner with euNetworks to enable them to provide the lowest latency performance to a major trading exchange using our CoreSmart cable. We are excited to be collaborating with such an established carrier and to already have hollow core deployed, carrying traffic as part of this development.'
Brady Rafuse, chief executive officer of euNetworks added: 'We continue to focus on delivering lowest latency services for our customers. We focus on identifying new and innovative technologies that can be deployed on our network to provide the best possible bandwidth solutions. We're excited to be working with Lumenisity, helping to develop and deploy hollow core fibre. We're confident that with this technology we can achieve market leading fibre-based latencies much closer to radio frequency systems, without the constraints that are inherently present with those radio frequency solutions.'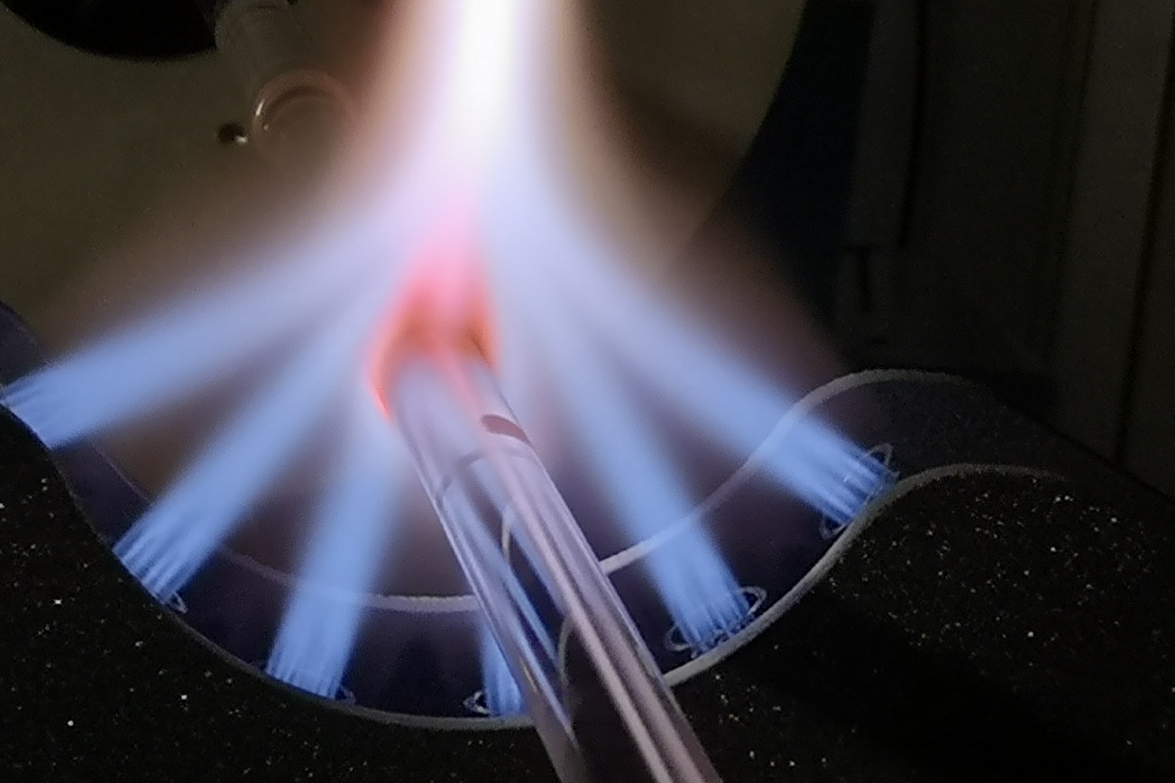 May
The most widely-read story in May also had a technology flavour, this time surrounding coherent optics as Australia's wholesale open-access broadband provider, NBN Co completed a successful proof of concept trial of Infinera's XR optics-based point-to-multipoint coherent optical technology.
The trial demonstrated XR optics' compatibility within the provider's Transit Network, a DWDM-based network that spans more than 65,000km across Australia. It highlighted the ability of the technology to simplify transport network architecture with the aim of reducing CapEx and OpEx across diverse applications.
Providing multiple 100Gb/s of capacity efficiently subdivided into discrete subcarriers, XR optics is designed to enable capacity management and optimisation. The demonstration was designed to inform how NBN Co considers options to evolve its transport network to support growing data demands in the future.
Ray Owen, chief technology officer at NBN Co commented: 'The nbn Transit Network is our national backbone, supporting the growing data needs of Australians as they rely more on broadband for their work, education, social and entertainment needs. It is important that we keep track of new innovations to guide how we evolve our network to help meet changing needs in the future.'
Also in May came the release of the FTTH Council Europe's 2021 Market Panorama in association with Idate, outlining fibre deployment trends in Europe.
Amongst the findings, the report found that the total number of homes passed with FTTH and FTTB in the EU39 reached nearly 182.6 million in September 2020, compared to 172 million in September 2019. A key milestone was also reached, as FTTH/B coverage in EU39 now amounts to more than half of total homes. By September 2020, said the report, EU39 reached a 52.5 per cent coverage of FTTH/B networks, showing a clear upward trend from the September 2015 figures when the coverage was at 39.8 per cent.
The main movers in terms of homes passed in absolute numbers are France, Italy, Germany and the UK, while the top five of the annual growth rates in terms of homes passed is led by Belgium (+155 per cent), Serbia (+110 per cent), Germany (+66 per cent), United Kingdom (+65 per cent) and Ireland (+49 per cent).
The number of FTTH and FTTB subscribers increased by 16.6 per cent in the region, with 81.9 million subscribers in September 2020. Leading the charge was France, which added 2,787, 000 new subscriptions, with Russia second at 1,681,000 new FTTH/B subscribers. Spain rounded out the top 3 with 1,436,000.
The Market Panorama also found that the alternative network and internet service providers (altnets) still constitute the largest portion of FTTH/B players, with a contribution of around 57 per cent of the total fibre expansion. Interestingly, many countries in which legacy infrastructure still dominates have modified their strategies, deploying more FTTH solutions, migrating from existing copper-based and cable-based networks towards fibre and are even intensifying copper switch-off. However, three historically copper-strong countries (UK, Germany and Italy) accounting for almost 60 per cent of homes left to be passed with fibre in the EU27+UK region.
When it came to the all-important rankings, Iceland retained its place at the top, with a 70.7 per cent penetration rate, followed closely by Belarus (70,4 per cent). Spain took third position from Sweden. This year also saw four countries enter the ranking (after no new no entries last year), namely Belgium, Israel, Malta and Cyprus.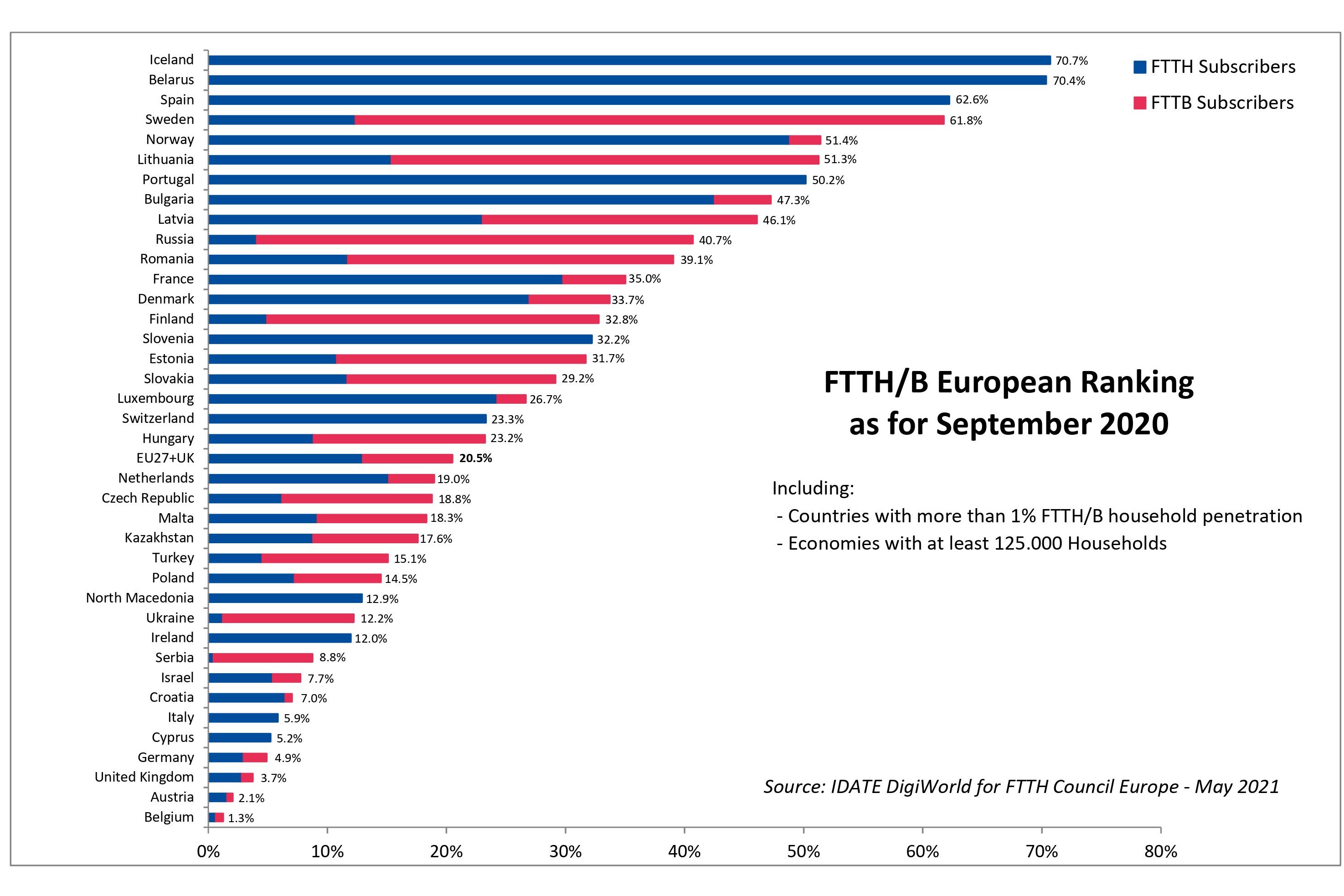 June
June saw an appetite for investment, as new UK ISP and network builder, Upp announced its commitment to investing £1bn to deploy a full fibre network to 1 million premises in eastern England by 2025.
The newco, which began its life in 2020 (then known as FibreMe), said that it plans to boost the UK's competitive position in the European digital market and create more than 600 new jobs in a sustainable way. The company's management team aims to level up market towns and coastal areas across Norfolk and Lincolnshire that are currently underserved.
The funding for the plan was fully committed by international investment business LetterOne. Having secured the necessary regulatory approvals, Upp has been deploying its own regional fibre backhaul networks, with contractors already building in towns in Norfolk and Lincolnshire. During the build phase, Upp has been extensively using Openreach's ducts and poles, as well as access assets from other infrastructure owners to accelerate deployment and minimise traffic disruption.
The ISP said that it would use next-generation technology to power the new network, supported by partner suppliers such as Nokia, Linksys, Fujikura and Salesforce.com. Supply chain partners were carefully selected based on their commitment to social, environmental and sustainability priorities.
Drew Ritchie, Upp's chief executive officer commented at the time: 'I am thrilled to lead such a talented, dedicated and experienced team. We are excited to partner with an investor who not only matched our passion and ambition for the opportunity but are committed to developing the UK's digital infrastructure.'
July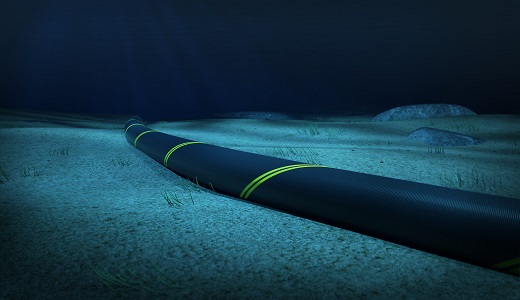 Image credit: Vismar UK/Shutterstock.com
Subsea was the topic that piqued Fibre Systems readers' interest in July, with the announcement that Zayo would deploy a diverse subsea cable route named 'Zeus,' connecting the UK to mainland Europe.
The highly fortified, hybrid, ultra-low-loss (ULL) cable will be operational by the end of the first quarter of 2022, and run parallel but diverse to the company's existing Circe North subsea route, directly connecting the UK to mainland Europe via Lowestoft, in the UK and Zandvoort, in the Netherlands.
This could provide an upgrade in capabilities, with a potential capacity of more than 4,000Tb/s. Zayo says that the project will adhere to the highest engineering and sustainability standards, with measures in place to ensure low emissions. These include the selection of a DEME Group Living Stone vessel powered by dual-fuel capabilities for installation of the marine cable. The vessel will also use biodegradable grease and oil in addition to heat recuperation to decrease fuel consumption, and minimise carbon dioxide, nitrogen oxide and sulphur oxide emissions.
In addition, to mitigate the impact of accidental damage from humans - which the International Cable Protection Committee estimates to take place between 100 and 200 times per year, the cable will have a target burial depth of two to three metres below the surface of the sea bed, providing enhanced protection and increased service availability. Hexatronic's high-fibre-count cable was selected for the project, which includes high-capacity 192 fibre, 100 per cent double armoured cable with increased crush resistance and ULL fibre technology, for additional resilience.
Jesper Aagaard, president of Zayo, Europe commented: 'The deployment of the subsea Zeus route demonstrates our commitment to expanding our network footprint in Europe while also providing high-quality, essential connections for customers between key global markets. This investment will support the steep rise in global demand for bandwidth and capacity in data use and transfer across multiple sectors, primarily driven by a shift towards cloud services and the rapidly expanding number of networked devices and connections.
July also saw a team of researchers from the National Institute of Information and Communications Technology (NICT) in Japan set a new world record for internet speed at 319Tb/s, beating the previous record of 178Tb/s set by the University College of London in 2020. The Japanese team has demonstrated S, C and L-bands transmission over long-haul distances in a 4-core optical fibre with standard outer diameter (0.125mm).
The team, which was led by Benjamin Puttnam, constructed a transmission system that makes use of wavelength division multiplexing (WDM) technology by combining different amplifier technologies, to achieve a transmission demonstration with data-rate of 319Tb/s, over a distance of 3,001km.
In this demonstration, in addition to the C and L-bands, typically used for high-data-rate, long-haul transmission, the team also used the transmission bandwidth of the S-band, which, they said, had not previously been used for further than single span transmission. The combined more than 120nm transmission bandwidth allowed 552 wavelength-division multiplexed channels by adopting two kinds of doped-fibre amplifiers together with distributed Raman amplification, to enable recirculating transmission of the wideband signal.
The standard cladding diameter, four-core optical fibre can be cabled with existing equipment, and it was hoped that such fibres can enable practical high data-rate transmission in the near-term, contributing to the realisation of the backbone communications system, necessary for the spread of new communication services such as 5G and beyond.
August
Mergers, acquisitions and investments came back to the fore in August, firstly with the announcement that London altnet, Community Fibre acquired a majority stake in Box Broadband, a Surrey-based full fibre network operator.
Box Broadband provides a full fibre network in Surrey and West Sussex and has passed 7,000 homes. Community Fibre's investment is designed to help accelerate the roll-out to 200,000 homes across the South of England by 2024. It will also enable Community Fibre to continue its focus on building in London while expanding its FTTH platform in the UK.
The acquisition is supported by Community Fibre shareholders Warburg Pincus LLC, DTCP, Amber Infrastructure and Railpen. Box Broadband will remain an independent company, trading under the Box brand in the South of England. Box Broadband's CEO, Graham Sargood will continue to lead the business.
Graeme Oxby, CEO at Community Fibre said: 'Box Broadband has already established itself as a provider of fast and reliable trusted services to communities in Surrey and West Sussex that are underserved from a speed perspective. As such, this is an exciting opportunity for us to invest in a company that shares our vision of affordable connectivity for all, and to expand across the South.'
In the same month, Netherlands provider Delta Fiber secured €2bn for the roll out of its XGS-PON fibre network throughout the Netherlands.
The network expansion was designed to see the firm grow to two million fibre connections in 2025, with higher internet speeds than previously available. The financing was secured by underwriters ABN AMRO, ING, SEB, Santander and Deutsche Bank, who will place the loan with a consortium of national and international banks.
CEO Marco Visser said: 'We are making gigabit-plus speeds the new standard and we want to make high speeds accessible to as many people as possible. This financing allows us to accelerate our fibre roll out significantly and to expand our network to reach 25 per cent of The Netherlands by connecting two million homes and businesses, predominantly in the smaller villages and towns throughout the Netherlands. The fact that we have been able to conclude this significant financing package on attractive terms shows the trust that lenders have in us.'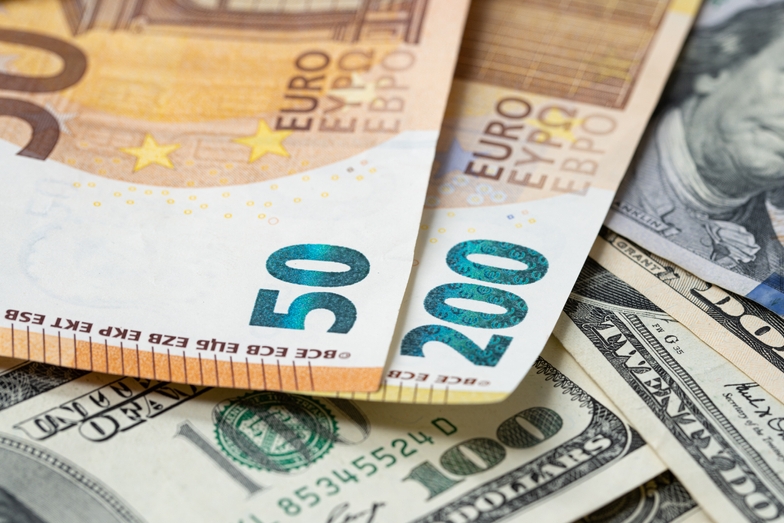 Image credit: Rabanser/Shutterstock.com
September
Widely-read in September was the news that passive equipment vendor, Folan was to acquire British counterpart, Mainframe Communications in a move designed to gain a greater foothold in the UK fibre market.
Created in 1988 and owned until now by founders, brothers Ian and Bill Carter, Mainframe Communications specialises in the design, assembly and distribution of passive optical equipment, solutions and connectivity for FTTx, industry, data centres and optical LAN. The collaboration will provide a greater capacity to meet the needs of British clients.
As well as providing a foothold in the potentially lucrative UK market, the acquisition of Mainframe Communications was designed to lead to an acceleration of Folan's international operations, its contribution eventually increasing to 40 per cent of its income, compared with 15 per cent at present.
Ludovic Robert, President and CEO of Folan's parent company, Groupe R&D said: 'By gaining a foothold in the UK through Mainframe Communications, which is well-known and fully embedded in the country, we are continuing our project to expand both the group and Folan, strengthening the capacity of this national player and enabling it to seize the opportunities provided by the simmering fibre market in the UK.'
In the same month, Adtran and Adva entered into a business combination agreement to merge the two companies.
The aim was to create a global, scaled provider of end-to-end fibre networking solutions for communications service provider, enterprise and government customers. The combined business will offer a wider portfolio for providing homes, businesses and 5G infrastructure with scalable, secure and assured fibre connectivity, paired with cloud-managed Wi-Fi connectivity and SaaS applications.
The $930m merger of the two companies is also expected to create significant value for the shareholders of each, with approximately $52m in pre-tax annual cost synergies realised within two years post-closing, driven by identified supply chain efficiencies and operating model optimisation. Adtran and Adva will combine under a new holding company, which will be renamed Adtran Holdings once the transaction is closed during the second or third quarter of 2022.
Adtran Holdings will have global headquarters in Huntsville, AL and European headquarters in Munich, Germany. The new management team and board of directors will have a balanced mix of executives from both companies. Adtran's Chairman and CEO, Tom Stanton, will serve in the same capacity following the close of the transaction. Adva's CEO, Brian Protiva, will transition into the role of executive vice chairman. Adtran's CFO, Mike Foliano, will remain in his current role and Adva's CTO, Christoph Glingener, will serve in the same capacity for the combined business.
Commented Stanton: 'We expect the transaction will create significant long-term value for both companies' stakeholders by increasing our scale and improving our ability to serve as a trusted supplier for customers worldwide.'
October
In October, the most popular story on the Fibre Systems website was the news that Facebook is to launch its first subsea cable connecting Europe to the U.S.
The social media giant announced its commitment during an Inside the Lab event in which its engineers shared some of the company's latest developments in connectivity technologies. 
The new cable is reportedly designed to provide 200 times more internet capacity than the transatlantic cables of the 2000s. Facebook has yet to confirm when the project will be completed, but it has selected a build partner in NEC Corporation.
Earlier in the year, NEC and subsidiary OCC Corporation completed full qualification of subsea repeaters and optical cable containing up to 24 fibre pairs (48 fibres). This development could allow cable owners like Facebook to construct subsea telecom cables with higher traffic capacity and lower cost-per-bit of the wet plant, in line with space division multiplexing (SDM) system architectures.
Facebook's latest subsea investment builds on other recent expansions, including a new segment of the existing 2Africa cable called 2Africa Pearls. This will connect Africa, Europe, and Asia and bring the total length of the 2Africa cable system to more than 45,000km. Facebook said that 2Africa Pearls will be the longest subsea cable system in the world.
November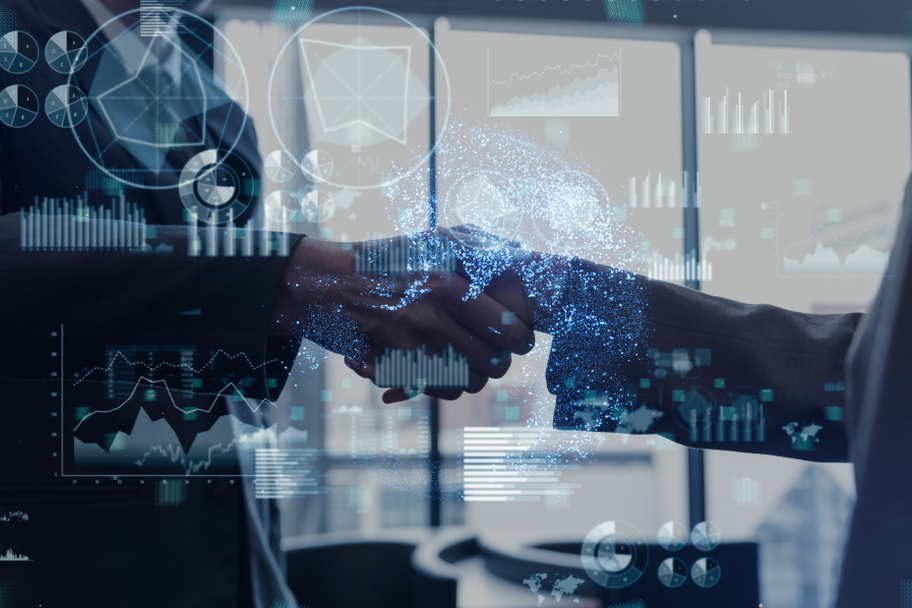 Image credit: metamorworks/Shutterstock.com
Readers flocked to the Fibre Systems website in November to read the news that Deutsche Telekom agreed a long-term partnership with IFM Investors, via the IFM Global Infrastructure Fund (IFM GIF) to bring gigabit-capable FTTH broadband to more than four million homes in rural areas of Germany by 2028.
Under the partnership, IFM GIF acquires a 50 per cent stake in the new venture, fibre roll-out company, GlasfaserPlus for €0.9bn. GlasfaserPlus will be headquartered in the Cologne area and is expected to build FTTH connections to more than four million homes across Germany from 2022 to 2028.
Its fibre network will operate under an open access model, which means it will be open to Deutsche Telekom as well as its competitors on a non-discriminatory basis. Deutsche Telekom will sign a wholesale agreement with GlasfaserPlus at closing.
Kyle Mangini, global head of infrastructure at IFM Investors said: 'This is an attractive investment for IFM's Global Infrastructure Fund – the GlasfaserPlus joint venture has strong socio-economic benefits as well as long-term cash-flow predictability, which will help us deliver on our purpose, which is to protect and grow the long-term retirement savings of working people.'
Srini Gopalan, the Deutsche Telekom board of management member responsible for Deutsche Telekom's business in Germany added: 'Partnerships are indispensable for the successful digitisation of our country. We are therefore very pleased that we were able to attract IFM GIF for our joint venture. This is a clear commitment to Germany as a business location and a signal that we will work together to build the digital backbone of our future society. Including the investments of the GlasfaserPlus joint venture, by 2030 we plan to invest more than €30 billion in fibre alone, so that all households and businesses will benefit from a gigabit-capable fibre connection. GlasfaserPlus helps us to decisively accelerate the digitisation of rural areas.'